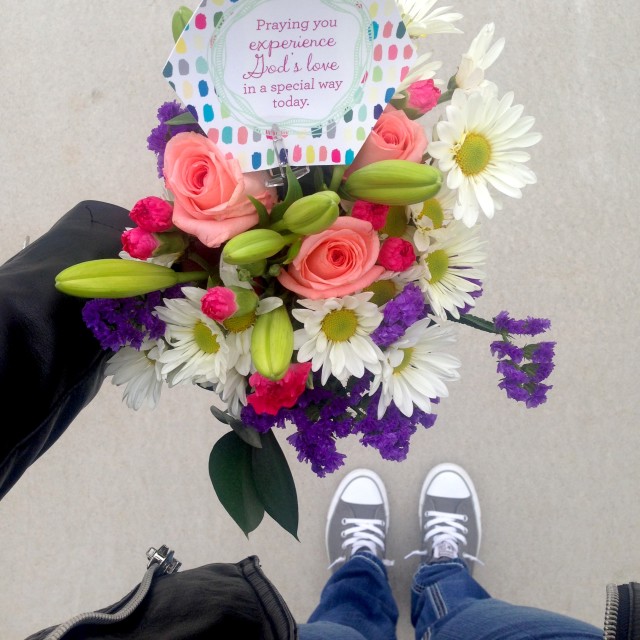 flowers are for the living (plus a $100 giveaway)
I grew up in a little town with a lot of old folks, and it seemed like every other week, Mom walked us uptown to the old funeral chapel, where we'd say goodbye to another of our old friends, who'd taken the offramp toward heaven.
The sight of our old friends in velvet-lined boxes made my feel queasy, so I spent most of the time looking at the flower arrangements and reading the little cards inside the bouquets. One week, we got word that Margaret had passed away. I loved Margaret. She had a high-pitched voice, a kind smile, and soft hands. I suppose she was an old lady, but to me, she was a little girl about my age who happened to have wrinkles and white hair.
Everybody loved Margaret. When I went to visit her at the funeral home, the front of the funeral chapel was filled with flower arrangements. I knew instinctively that this meant she was well-loved.
But the sight of all those flowers made me sad. Why, I wondered, do we wait for people to die before we give them flowers?
Flowers are for the living.
I thought of Margaret twice last week.
The first time was when the doorbell rang. The FedEx man stood at my door, holding a long box.
"Looks like someone sent you some flowers," he said.
I opened the black box to find long stems, blooms, waxy green leaves, and a personal note from a ministry colleague, thanking me for sharing my faith with others.
Then, last weekend, as I was leaving a retreat where I served in Wisconsin, a woman met me at the door, thrust a bouquet into my hands, and whispered, "These are for you!" I gave her a hug so big that I thought I might break the flowers between us!
The scent of those fresh blooms filled my car as I drove five hours home.
This morning, I woke to find those two beautiful bouquets in vases. They reminded me of Margaret.
And they reminded me how flowers are made for the living.
Last year, when I took that happiness dare I've been telling you about, I was super-intentional about creating happiness in my own life. But I was also intentional about creating happiness for others.
One day, my friend Jenn and I went on a random acts of kindness spree, which I wrote about in my latest book.
Jenn and I slipped into the grocery store, and I purchased two bouquets of flowers from the cooler. One of my favorite moments happened when we delivered one of the bouquets to a women's drug rehab center. A woman who was undergoing treatment said with surprise, "These are for us?" I nodded and smiled a big smile.
And then I teared up when she hugged me so long, and with such love, that I forgot that the world could sometimes be a pretty awful place. I lost it a little when she spoke these words: "I can't believe that someone cares about us."
To the women at the rehab center, we care.
To the hard-working teachers at our schools, we care.
To all the Margarets of the whole world, we care.
To our mothers and grandmothers, our neighbors, our sisters, our church secretaries, our bus drivers, our hairstylists, our grocery store clerks, our pharmacists, our nurses, our janitors, our hospitalized friends and our healthy friends, we care about you.
You are loved. These flowers are for YOU.
A $100 Giveaway
UPDATE: GIVEAWAY IS NOW CLOSED. The winner is Sarah Bautista, who commented and shared this post on Facebook!
In honor of all the Margarets of the world, FTD Flowers and Dayspring cards is allowing me to give one of you a $100 gift card for any bouquet over here! This is a new collaboration between FTD and Dayspring to offer spiritual encouragement through the gift of flowers. Check out the beautiful bouquets by clicking here. (I'm holding one of the bouquets sent to me, in the photo above.)
To enter:
1 – Leave a comment below telling me what your favorite flower is: Roses? Lilacs? Lilies? (Email subscribers click here to leave a comment.)
2 – For extra entries, share this post on Facebook or Twitter. Or share my latest Instagram post at @dukeslee. Be sure to let me know in the comments where you shared. Every share is worth an extra entry!
3 – I will randomly select a winner and notify the winner by tomorrow morning, in case you want the flowers delivered to someone for Mother's Day.