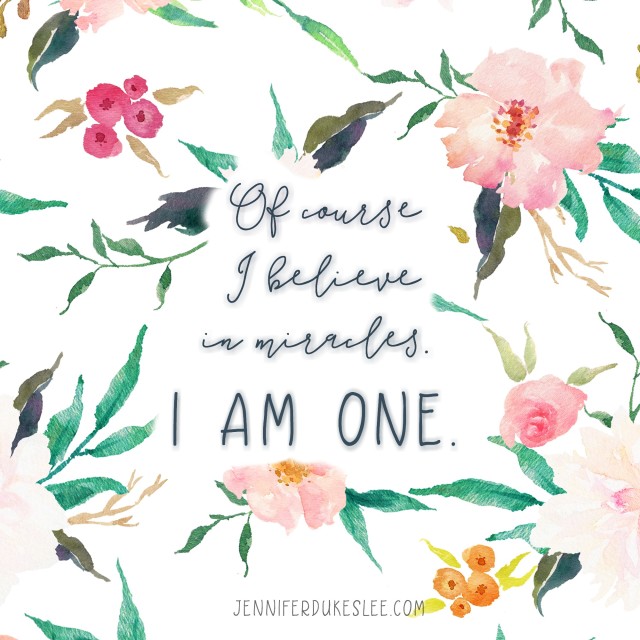 if you're in need of a miracle – #tellhisstory
For years, I lived a life without faith. I put Jesus in the same category as comic-book action figures: strong and mighty on paper, but pure fiction and utterly useless in times of need.
I remained faithless until I responded to this strong sense, thumping inside of me, that I finally needed to tell someone about the depth of my doubt. I didn't know until later that the nudge was the Holy Spirit.
That was 16 years ago.
Last week, I drove to Wisconsin to share the gospel at a women's conference. In a few months, I have a new book releasing. For the last eight years, I have been writing stories of faith on this blog. If you would have told me 16 years ago, that I would have a speaking and writing ministry for Jesus, I would have told you that you were crazy.
Sometimes people ask me if I believe in miracles. I always tell them, "Of course I believe in miracles. I am one." My miracle started with a single first step of faith — at a time when I didn't even have a mustard seed of faith.
Maybe you are in need of a miracle, too. Maybe it's a miracle of faith, of healing, of reconciliation. Maybe God is whispering to you today: Take the first step. Listen to the nudge … in you!
Every miracle begins with a single step of faith:
"Have the people sit down," Jesus told his disciples, when thousands of hungry people needed food. (John 6:10)
"Get up! Pick up your mat and walk," Jesus told a sick man. (John 5:8)
"Go, wash in the Pool of Siloam," Jesus commanded the blind man. (John 9:7)
"Lazarus, come out!" Jesus called out to a dead man. (John 11:43)
Each miracle began with a single act of faith. In each of those stories, the person on the receiving end of the miracle had to respond to the command of Jesus. It was the original call-and-response.
As the saying goes, "you can't walk on water if you don't get out of the boat."
Jesus is calling to you, out on the water, "Come."
Take the first step, he says. Because that's where the miracle begins.
#TellHisStory
Hey Tell His Story crew! It is a joy to gather here every week with you. The linkup goes live each Tuesday at 4 p.m. (CT). If you would use the badge on your blog, found here, that would be great! And if you would visit at least one other blogger in the link-up and encourage them with a comment, that would be beautiful! Be sure to check the sidebar later. I'll be featuring one of you over there! Our featured writer this week is Alisa Nicaud. Too often, we shy away from talking about the broken and barren places. That's why I wanted to make sure to share Alisa's encouraging words with you today. Find Alisa here. To be considered as our featured writer, be sure to use our badge or a link to my blog from your post. 🙂 xo Jennifer