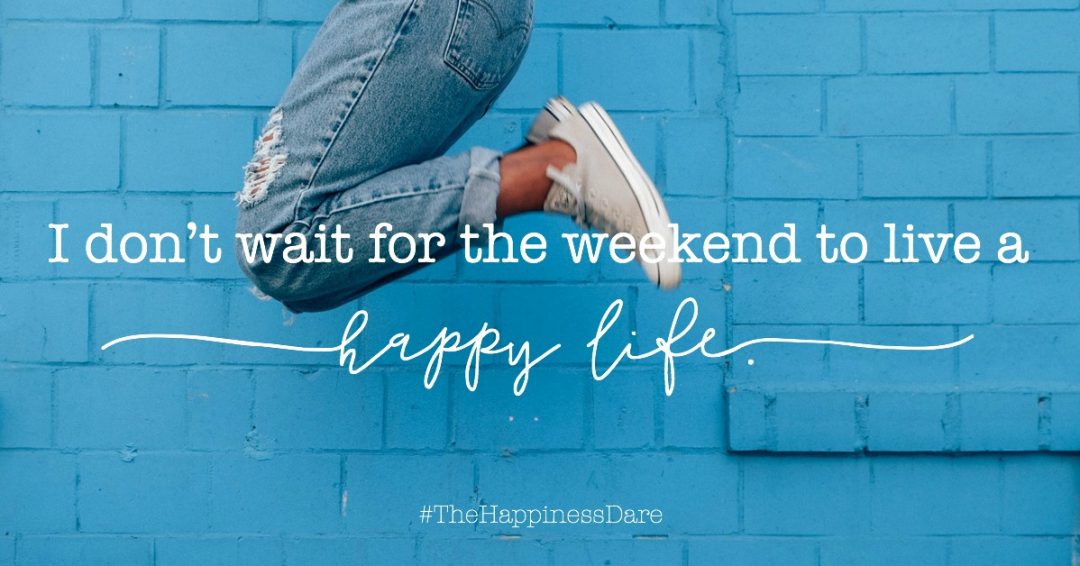 Don't Wait for The Weekend to Live a Happy Life
I'm a Doer. I love tasks, to-do lists, and the satisfaction of a good day's work. I'm as giddy at 8 a.m. on a Monday morning, as some people are at 5 p.m. on a Friday!
I used to feel guilty about all of that. I would think to myself: If I were a better Christian, I'd be a little less Martha, and a lot more Mary.
But then I took my own dare toward happiness, and I realized something very important about myself. My "Doing" is evidence that I'm made in the image of God, too.
As Doers, we can draw great happiness from our work, knowing it brings glory to God. "Whatever you do," Paul wrote, "work at it with all your heart, as working for the Lord, not for human masters" (Colossians 3:23).
Furthermore, I have discovered that — as a Doer — I am in good company.
God was the ultimate Doer!
"Once upon a time, God created the world that we're living in. For six days straight, he showed up at work and made stuff. He was a Doer, happily creating protozoa and polar caps, puffer fish and pansies and peacocks. How can we be so sure he was happy while breathing stars and sculpting the Cliffs of Moher? Because he declared it good. God saw what he made and took pleasure in it. A Creator who declares his work good is a Creator who is delighted. Imagine him with a smile at the end of his workday, not as some frustrated guy in middle management who shuffles out the door at five o'clock while rolling his eyes. God is a happy Doer. And he made us the same way." (The Happiness Dare, p. 80-81)
On the sixth day of creation, God kicked his doing up to a whole other level. He made Adam. But before he gave Adam a mate, he gave him work. Before he gave him an outfit to wear, he gave him a job.
Doers show us what it's like to draw happiness from our work. Doers take delight in making meals, writing poems, straightening teeth, x-raying broken bones, nursing babies, and even mopping floors.
What does that mean for us? It means we have permission to actually enjoy our jobs, our productivity, and our accomplishments. We can take delight in finishing our tasks — big or small. And we can know that when we're doing it, we're reflecting the Ultimate Doer himself: God.
Be affirmed today if you describe yourself as a Doer. You don't wait for the weekend to live a happy life!
What's your Happiness Style?
You can take the Happiness Style Assessment by clicking right here. In five minutes or less, you'll discover what truly makes you happy. Don't worry if you don't end up as a Doer! God encompasses all the other styles, too. 🙂
By taking the test, you'll discover your strengths, and also some "red flags." Take the test here.
Thousands of people have already discovered their "happiness style." Do you know yours? Take the test, and find out in five minutes what truly makes you happy. Find it right here:  https://jenniferdukeslee.com/happiness-style/