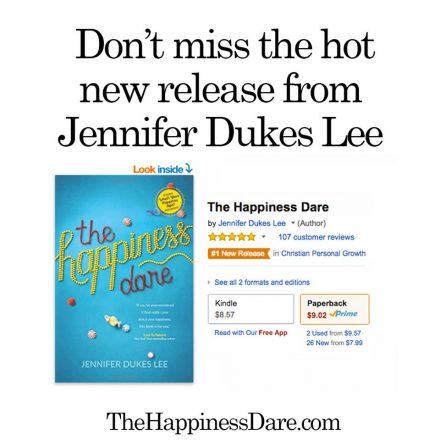 The Happiness Dare: #1 Hot New Release!
Wow, what a week!
Thank you to everyone who has cheered, prayed, encouraged, ordered the book, supplied me with candy, held my hand, believed in the message, spoke truth, understood that happiness leaves room for tears, helped me laugh at myself, loaned me your enthusiasm on days when mine waned, and ran alongside me in this relentless pursuit of holy happiness.
Most of all, thank you Jesus for giving me the most important reason of all to be happy.
Here's a roundup of what has happened with this little blue book in the last few days:
The Happiness Dare ended up as a #1 Hot New Release for Christian Personal Growth on Amazon.com.
Thousands of you have discovered what truly makes you happy by taking The Happiness Style Assessment. What's your style?
And yesterday, Vi Bella Jewelry unveiled two new gorgeous pieces of jewelry — made by artisans in Haiti! They are now available for order!
Here's what Amy Brietmann, Vi Bella's Vice President of Marketing, has to say:
It is with GREAT happiness that we are linking arms with Jennifer Lee once again in the launch of her new book that hit shelves just this week.

It began with a conversation about some jewelry pieces that would speak the message of her book, The Happiness Dare. Vi Bella designers went to work creating two pieces that would carry her important message. This jewelry would also provide continued employment for the artisans who had become some of Jennifer's dearest sisters in Christ. Jennifer had written a book and she wanted her friends, all of them, to be part of the happiness story.

During our recent trip to Haiti in June, Jennifer and her girls Anna and Lydia joined us. We transported jewelry in suitcases. That week we gathered on the shore in Haiti and in a church in a small village and leaned in close around tables singing praise songs.  It was the best kind of happiness.

To learn more about the jewelry, and to purchase pieces, click here.
Today, I'm going to the lake to relax with my husband (it's his 45th birthday!) and our girls. Meanwhile, I'm gonna leave these hilarious images here for your enjoyment and use. Feel free to save any of the images to your computer and share. They're just too fun.
"Thank you. Thank you very much." – Elvis
Oh, the pleasure is all ours, Mr. Presley.
We know why she's smiling.
Life, liberty, … and the pursuit of happiness.
As the Partridge Family says, "Come on, get happy!"
"Heaven, I'm in Heaven.
And my heart beats so that I can hardly speak.
And I seem to find the happiness I seek,
when we're out together dancing, cheek to cheek."
Oh, Fred, stop. You're making us blush.
It's okay, Lucy. It's not a secret anymore. Go ahead; tell your friends!
Have a HAPPY weekend, friends! 
Love, Jennifer