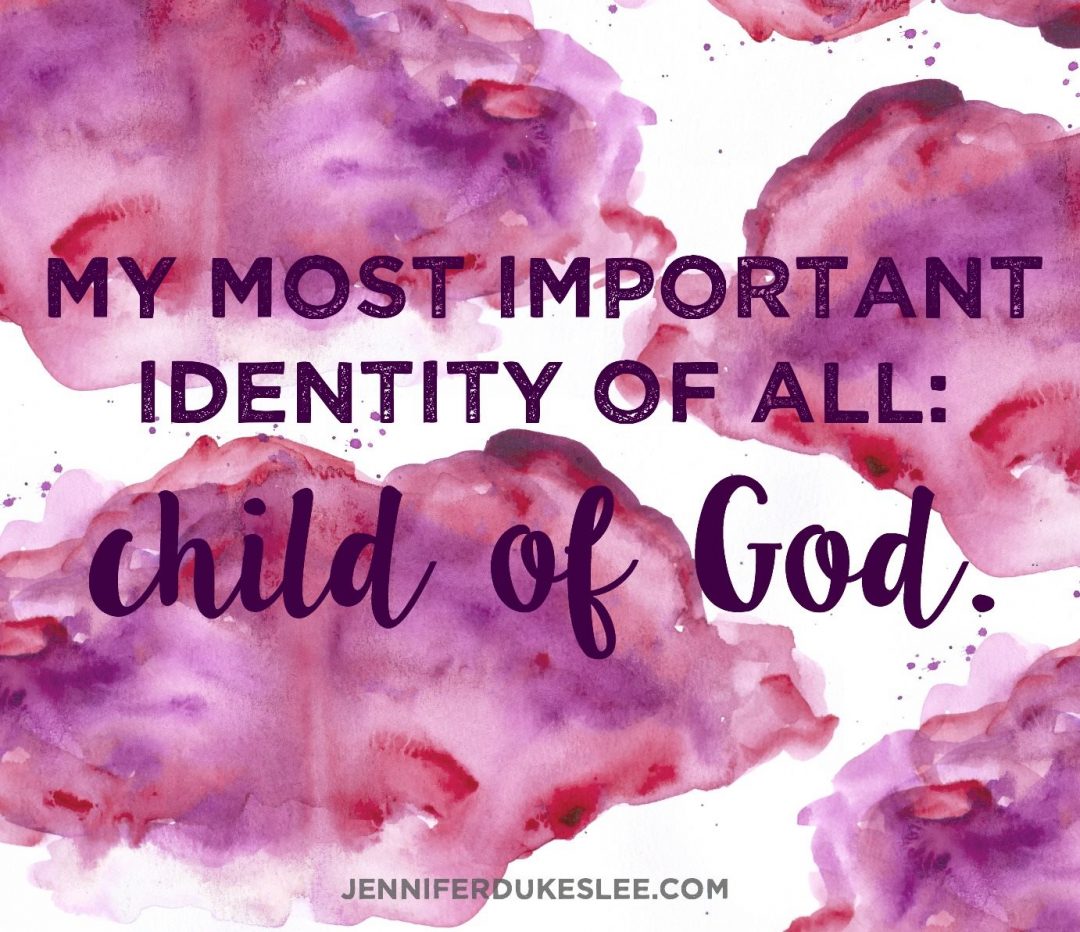 In Case You've Forgotten Who You REALLY Are
I filled out a questionnaire recently for a nonprofit organization. It wanted to know my favorite hobbies, my job, my marital status, the ages of my children. It asked what I did, but nowhere did it ask who I really am.
I'm not blaming the creators of the questionnaire. But I think it shows how easy it is for us to define ourselves by what we do, instead of who we are.
It's so tempting to define ourselves by the words we type out on in our bios, resumes, and email signatures. As for me, I am most certainly a wife and a mother. I write. I pack lunches. I look for lost shoes. I teach Sunday school. I excavate expired sour cream from the back of the refrigerator. I sing loudly in the shower.
But I am more than a mama, a wife, a writer, a wannabe rock star, and a rad air guitarist. Those are all great things. But my most important identity of all isn't something that fits neatly on a questionnaire. My most important identity of all is this: Child of God.
I am my Father's daughter. No one can ever take that away from me. Everything else could be taken away — my job, my church, my ability to speak or write or think or cook or strum or hum. Even the people I love could be taken away. But nothing can steal my truest identity of all — daughter of the King, sister of Jesus, temple for His Spirit.
"But to all who believed him and accepted him, he gave the right to become children of God. They are reborn—not with a physical birth resulting from human passion or plan, but a birth that comes from God" (John 1:12-13).
Here's who you really are:
1 – You are made by God — "Even before He made the world" God made you! Furthermore, He decided clear back then to love you. His decision to love you is still valid today. (Ephesians 1:4)
2 – You are saved by Jesus — "So we can confidently say, 'The Lord is my helper; I will not fear; what can man do to me?'" (Hebrews 13:6)
3 – You are held by the Holy Spirit — Jesus did not leave us alone, as orphans, but gave us the gift of His Holy Spirit. We carry that strength in us, to help us through every circumstance. Jesus is not far away, but as close as your own heartbeat. (John 14:18)
4 – You are dependent on His grace — This is a grace that He generously gives, even in our weakness. We aren't saved by our works today or tomorrow. We are saved through faith, "so that no one can boast." (Ephesians 2:9)
Praying for you…
Love, Jennifer
Important Notice for the #TellHisStory Community
Yesterday I opened the launch team/book club to help spread the news about The Happiness Dare. My publisher made plans for a 300-member launch team, but those spots were filled in just three hours! They added 100 extra spots, and then those spots were filled! So I didn't even get to officially invite my #TellHisStory blogger crew! The official application process is now closed, but here's the good news. My publisher has saved a few extra spots exclusively for members of #TellHisStory!
If you want to be on the launch team, I need you to do the following:
1 – Email me at [email protected].
2 – Write "Happiness Dare launch team" in the subject line.
3 – Give me your email, name, Facebook name, and a brief explanation about why you'd like to be on the team.
I couldn't do this without my #TellHisStory peeps!
For details about the launch, click here.
#TellHisStory
Hey Tell His Story crew! It is a joy to gather here every week with you. The linkup goes live each Tuesday at 4 p.m. (CT). If you would use the badge on your blog, found here, that would be great! And if you would visit at least one other blogger in the link-up and encourage them with a comment, that would be beautiful! Be sure to check the sidebar later. I'll be featuring one of you over there! Our featured writer this week is Angela Craig. She writes about broken perfectionism and this is one post that we all truly need to read. (Especially if you saw part of yourself in my first book, Love Idol.) Find Angela here. To be considered as our featured writer, be sure to use our badge or a link to my blog from your post. 🙂 xo Jennifer