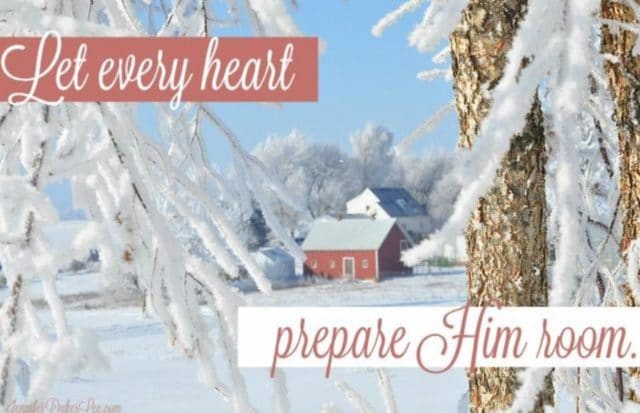 Recently, we went to an outdoor, live nativity. I felt that familiar Christmas lump rising up in my throat, as the actors played the parts of the familiar characters. A REAL BABY played the part of Jesus, in swaddling cloths. So precious.
As I sat there on the risers, in my parka, I kept thinking about the night of Jesus' birth. The animals would have been hurriedly led away from the feeding troughs to make room for their overnight guests. Because a REAL BABY was coming soon!
They had to prepare him room.
All these year's later, Christmas is still about preparing room. It's not about filling rooms, or boxes or plates with more. It's not about preparing dinner, preparing the tree, preparing the gift wrap, or even preparing the worship service you might help lead.
Christmas is about preparing room — a contradiction to a world that constantly crowds out the best, in favor of the loudest. Let's prepare room, because a REAL BABY is coming soon.
Every year, I love to sing "Joy to the World." The song includes one of my favorite lyrics of all the Christmas carols: "Let every heart prepare Him room."
Christmas is about removing the clutter in our hearts and lives to prepare Him room. At Christmas time, less is more.
Look to the manger for proof. See the sacred smallness of a barn in Bethlehem. Our Savior did not come to earth with great fanfare. His birth wasn't advertised alongside the Black Friday specials from Best Buy. He came quietly, like a whisper, into the humblest of places… into a barn.
Less is more.
Christmas is an opportunity to begin again, to believe that less is more. When we clear away the clutter from our lives and our hearts, we prepare Him room – not just for a season, not just for one Christmas, not just for one night…,
but for a life. For a REAL BABY.
And that REAL BABY grew up to die for us, leaving us with a promise. "I will prepare a place for you."
Will we prepare a place for Him?
A Book Recommendation as You Prepare Room
Our family is commemorating Advent this year by going through Ann Voskamp's new The Wonder of Christmas: An Interactive Family Celebration of Advent
. This is a daily devotion, and a family keepsake, all wrapped into one. "Each December, families can celebrate the coming of Jesus by opening the book to see a stunning 13-inch, three-dimensional Jesse Tree pop up from the page. At its foot are 25 doors, one for each day of Advent, which hide meaningful, beautifully detailed ornaments―including the Christmas star―that are ready to be hung on the tree. Also inside is a simple devotional book with a reading for each ornament."
Highly recommended activity for kids and adults.
(Disclosure: The above contains affiliate links to Amazon, which means I receive a small amount of Amazon credit for recommending the book.
I will never recommend a book that I don't love, or haven't read/endorsed.)
#TellHisStory
Hey Tell His Story crew! It is a joy to gather here every week with you. The linkup goes live each Tuesday at 4 p.m. (CT). If you would use the badge on your blog, found here, that would be great! And if you would visit at least one other blogger in the link-up and encourage them with a comment, that would be beautiful! Be sure to check the sidebar later. I'll be featuring one of you over there!
Our featured writer this week is Richella Parham. As she says, it's tempting to only post Pinterest-perfect or magazine worthy images on social media… especially during the holidays! I appreciated her words (and images!) of real-life Christmas preparations in her household. Find Richella here.
To be considered as our featured writer, be sure to use our badge or a link to my blog from your post. xo Jennifer