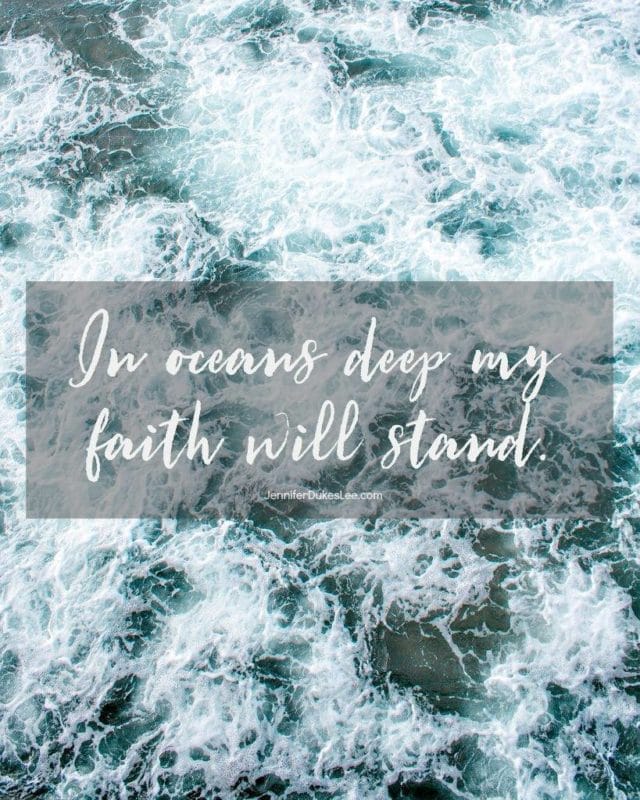 Hey there, friend.
It's Jennifer. Because I want to serve you well in 2018, I'm wondering if you could take three minutes to give me your feedback, by taking this short survey.
I've been blogging for nearly ten years, and for the first time, I am surveying my readers! I want to know what you care about, and how I can continue to encourage you in the years ahead with blogs, books, and more.
Would you take a couple of minutes to give me your feedback? I'd love that so much.
Find the survey here.
Gratefully yours,
Jennifer
A Special Welcome to Our New Friends
So many of you have been with us since 2009, but we've added lots of new friends in the last few weeks and months. If you're new here, welcome! Below, you'll find the kind of content that I provide (usually once a week, on Tuesdays), right here on the blog, as well as on my social media channels: Instagram and Facebook.
Read on for encouragement …
In Oceans Deep, My Faith Will Stand
It's one remarkable moment in history. With a single word, Jesus calls Peter out upon the waters. "Come."
Peter started out with good intentions, but faltered and began to sink. When his faith fell, Peter reached out for Jesus.
"Immediately, Jesus reached out his hand and caught him" (Matthew 14:31).

Do you know the song "Oceans" by Hillsong United? Every time I sing it, I think of that moment between Peter and Jesus, where Jesus IMMEDIATELY reaches out a hand.
When I sing that song, I sing it with all my heart: "In oceans deep, my faith will stand."
But here's what I know, it's not my OWN self that keeps me afloat. It's not my boot-strappiness, my ambition, my energy level, my abilities, or my intellect. Yes, my faith will stand — but never on its own.
Without Jesus in the water with me, I will sink. Every time.
In oceans deep, my faith will stand — but only, only, ONLY because Jesus holds me and my faith in His hands.
Where are you today? Are you sinking? Is your faith faltering?
Look for Jesus. "Immediately, Jesus reached out his hand."
Dear Lord, Thank you for being faithful, even when we are faithless. Thank you for taking our mustard seeds and moving mountains. Thank you for immediately reaching out for us, even when we fall. Thank you for loving us, not for how far we walk on water, but simply for the fact that we are stepping out and walking toward you. "Spirit, lead me where my trust is without borders. Let me walk upon the waters," straight to you… In Jesus' name, Amen.
#TellHisStory
Hey Tell His Story crew! It is a joy to gather here every week with you. The linkup goes live each Tuesday at 4 p.m. (CT). If you would use the badge on your blog, found here, that would be great! And if you would visit at least one other blogger in the link-up and encourage them with a comment, that would be beautiful! Be sure to check the sidebar later. I'll be featuring one of you over there!
Our featured writer this week is Tara Ulrich. If you've seen The Greatest Showman, I think you'll love her post. But even if you haven't seen the movie, her words about being beloved children of God are sure to encourage you. Find Tara here.
To be considered as our featured writer, be sure to use our badge or a link to my blog from your post. xo Jennifer
SaveSave