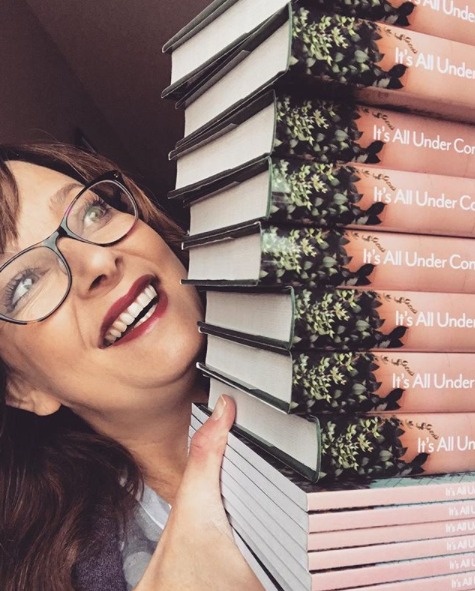 Are you a women's ministry leader? I have a gift for you.
See this stack of hardcover books and Bible studies for It's All Under Control? This is just a fraction of the books that have been sitting in boxes in my office for the last several months.
These are extra copies that were given to me by my publisher after the book released, to be used for publicity purposes. I sent lots of them to bloggers, podcasters, radio hosts, and more. But still, there are many more!
And then I had an idea: What if I gave them away as gifts to the amazing women who are planning to lead other women through It's All Under Control?
You see, for the last several months, I've been so tickled to get emails from women all over the USA who are going through the book AND the Bible study:
A group of 250 women in Arkansas.
42 women in Minnesota.
10 women (and 2 men!) just up the road at my very own country church.
8 women meeting together in a home in Illinois.
And on and on …
The thing is, while I've talked about the book quite a bit publicly, I've not talked much about the Bible study. Yet, people are finding out about it, by word of mouth. Already, thousands of people have taken the study and are watching the free videos available on my site. THIS IS THE POWER OF WORD OF MOUTH, PEOPLE, which is quite often even more effective than the most intentional advertising efforts!
Giveaway Details
So here's what I'm going to do. While supplies last, I'm going to give away a set (book + Bible study) to EVERY WOMAN who commits to lead a group in the near future. I will ship these at my cost. This is my tangible way to thank you to women's ministry and book club leaders.
This is based on the honor system. If you say yes to this gift, I'm counting on you to really commit to leading a group, because I need to be a good steward of these extra books. So if you aren't sure about leading a group, please bypass this opportunity so others who DO plan to lead a group can get the free book set. Is everyone cool with that? You guys are awesome.
So, if you commit to leading a study, please fill out this form, by clicking here, and I will send you your hardcover book and a copy of the Bible study. (Limited supplies available.)
About the Study
The It's All Under Control Bible Study is a companion to the book. It's set up as a six-week journey, but you can go at your own pace.
I have free videos for you if you click here and sign in.
I also have all kinds of graphics that you can use to publicize your study. You can click here and sign in to access all of those, and you are free to use them at no cost. Below are examples of the graphics you can use, sized for social media, PowerPoints and more!
Where to Purchase
You can find the book and Bible study on Amazon, or any of these retailers.