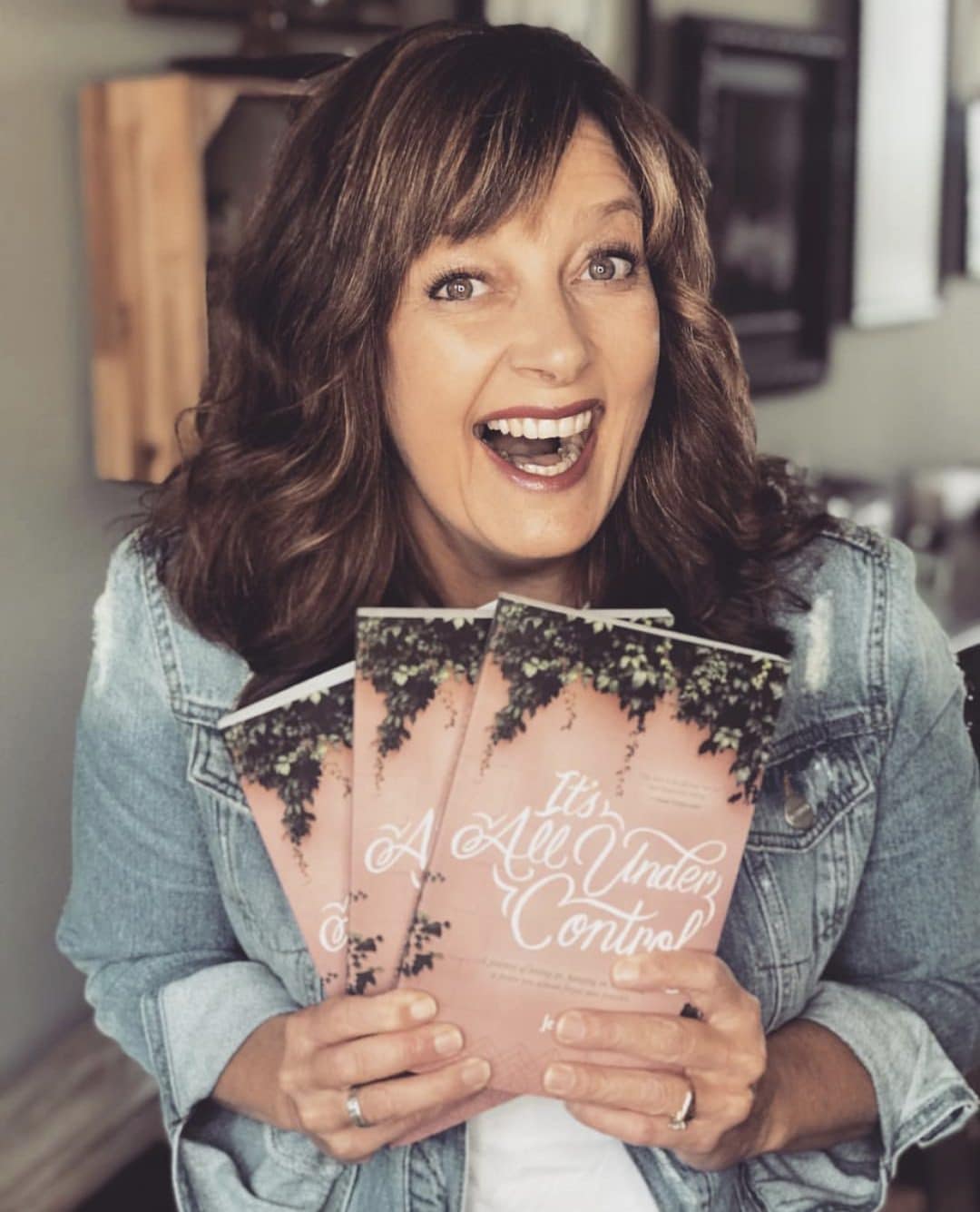 A lesson from the mammogram room … and a 50-book giveaway!
My book It's All Under Control launches today! Liftoff! I'm so excited to share this message with readers who need the steady reassurance that "God's Got It." I also believe that this book will affirm and encourage women who have been shamed for being busy, Type-A achievers.
Of all the stories in my book, the one I want to tell you about today, is this story from . . . the mammogram room.
Yep! The mammogram room. The one place on earth where I feel utterly out of control and, well . . . exposed. If you haven't had one yet, don't worry; it's not so bad. It's about as pleasant as you would imagine. For the uninitiated, try this to get a similar effect: Strip down in kitchen, open refrigerator door, insert one breast, allow strange woman to slam door on it, hold your breath, die a little inside. Switch sides. Repeat.
I got my yearly mammogram recently, and as usual, a familiar fidgety anxiety rose up in me. It's not the procedure itself that bothers me the most. It's the callback.
Every year, a nurse recommends that I return to the office for follow-up testing because my breast tissue is very dense, which makes tumor detection difficult. (I'm a little emotional over the fact that you and I have already become so close that, by paragraph five of this blog post, we can talk openly about breast density.)
Well, after my last mammogram, I got another callback and returned for a follow-up ultrasound. The ultrasounds are typically lengthy because my breasts are not only dense but scattered with cysts. Those cysts, on first glance, can look like tumors. As you can imagine, the ultrasound appointment is pretty stressful until they check everything out and give me the all clear.
At my recent appointment, the ultrasound technician remarked about my cystic, tangled breast tissue: "My, my," she said, waving an ultrasound wand at the screen, "you have very busy breasts."
Yep. Busy breasts. It's a thing.
 Go figure: Even my boobs are busy.
I've always been a busy girl.
 I've always been a girl who wanted to have it all … under control. 
I've been busy with my job responsibilities. Busy with my to-do lists. Busy with trying to manage outcomes. Busy trying to make sure I'm the best Mom I could be. Busy from head to foot — and clearly a couple places in between.
Busy, busy, busy … trying to control, control, control.
All of it left me feeling like a hot mess!
Something needed to change. So I took major steps a few years ago to loosen my grip on my life. What I discovered became a book. And that book releases today!
I wrote this book because I needed it. I have wanted to manage outcomes, make everything ok, protect everyone I love, …. and keep control over my kids, my emotions, my body, my food, my performance, and even what you thought about me.
After our two daughters were born, I gripped tighter than ever before, closing my fists tightly around them — not because I wanted to control them, but because I wanted to protect them. But that's no way to live. I had to loosen my grip so they could fly. So they could live. So they could make mistakes that would help them learn and grow. So they could learn on their own how much they need Jesus most of all.
Do you feel like maybe you need to live a little more open-handed, too? I would love it if you would consider my book, and my Bible study. This book is for the hot messes, and the try-hard girls. It's for anyone who looks like she has it all under control, and anyone who totally doesn't.
Yes, we take Jesus seriously in this book. But we don't take ourselves too seriously.
I hope it makes you laugh, and I hope it makes you think.
Love, Jennifer
P.S. Mammogram story adapted from It's All under Control: A Journey of Letting Go, Hanging On, and Finding a Peace You Almost Forgot Was Possible by Jennifer Dukes Lee, releasing today from Tyndale House Publishers.
Huge Giveaway
My publisher, Tyndale, is giving away 50 copies of the book in celebration of its release! Enter below to win. Giveaway ends September 30. Winners will be notified by Tyndale House Publishers.
Email subscribers can click here to enter.

It's All Under Control 50 Book Giveaway