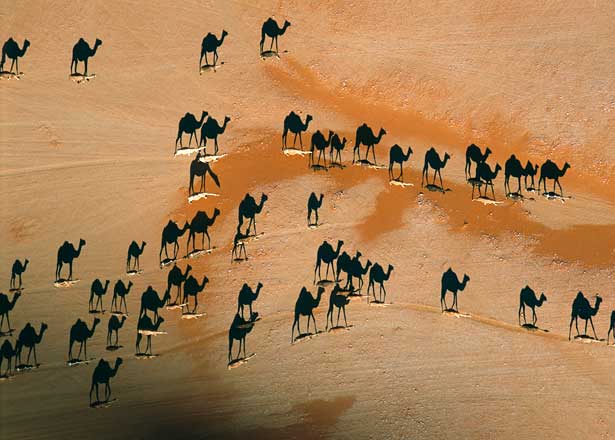 You're Making a Mark on the World — 100% Guaranteed
A photo of camels marching across the desert appeared in my Facebook news feed the other day. An aerial photographer had taken the photo at sunset, about 10 years ago. National Geographic magazine named it one of the best photos of that particular year.
Look closely, though. There's more to this image than you might think.
You thought the black shapes were the camels, didn't you? But the black shapes are just the shadows. The camels are the little cream-colored lines in the photo.
The camels, facing forward, seem unaware of their own shadow, looming large beside them. And from our vantage point, it's actually quite difficult to see the camels at all, unless you're looking for them. That's because our eyes are drawn to all of those majestic shadows, falling to the ground on account of a great light.
You have a shadow, friend. You are walking, face forward, in the midst of a great light. Maybe today you feel rather small and unseen, walking through a desert. But God sees something else in you.
He sees how big of a mark you're making on your world.
From where He sits, He can see what you can't. Trust that He has the best seat in the house. From His vantage point, God can see how your one beautiful life — small as it seems to you — fits into the bigger picture. He sees how all that you do is in the shape of who you are, and who you were created to be.
You may never know, until you get to Heaven, what a difference your life made. And when you get there, imagine what it will be like when your Father takes you by the arm and says, "Child, I have some people I want you to meet. Your life made such a difference."
All because you stood in the light. All because you gave yourself to a cause that was bigger than yourself. All because of Jesus.
Go, friend. Walk in the light of Christ. Let your shadow fall. It's bigger than you know.
Living PreApproved,
Jennifer