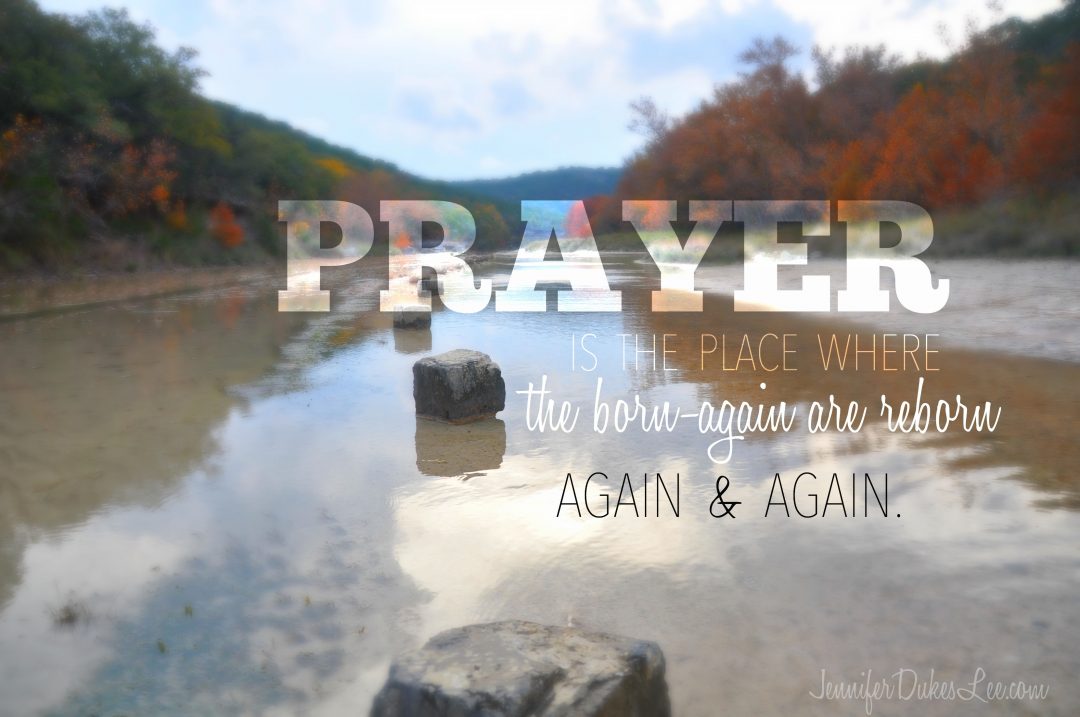 #TellHisStory: Why I Asked God to Break My Heart
God saved my life the day I changed my prayers. I stopped asking Him to fix things. And I started asking Him to break things. Namely, my heart.
God would need to break me out of the miserable heart-prison I was trapped in.
Yeah, I was saved. But I was stuck.
I would need Him to free me from every mirror, every tally sheet, every report card, everything that was telling me that I'm not (________) enough. I needed to know, down deep, that in Christ, I already was enough. I wrote a book about that, about how idol-factory hearts can keep Christians locked up in the punishing Prison of Not-Enough.
The key to the prison door? Prayer.
It's the kind of prayer that looks less like a list of anything, and more like a conversation about everything. It's deep spirit-to-spirit communion with God. It's gut-honest confession with the divine–the kind of gritty prayer my heart longed for. This is the intimate place where God reaches into souls to remind us, again and again, who we really are. Prayer is the place where the born-again are reborn, again and again. It's the place of second conversions, from bondage to deliverance. For me, prayer is the place where God gently unlocked my heart, by reminding me that the only life worth living is the one where everything else is counted as loss: every resume, every credential, every shred of approval that I think I need from people. Prayer is the place where God never tires of telling us that life's not about earning anyone's love, but believing that we already are His beloved. Like so many Christians I know, I've got a bossy inner critic who tells me that I must try harder, work faster, perform better. Our own hearts betray us, sending us on crusades to seek someone's approval or someone's applause. No one is immune.
I know mothers who think they're not mother enough, pastors who think they're not pastor enough. I know accomplished Christian writers who think they're not writer enough.
One of the most famous artists in history thought he wasn't artist enough: "I have offended God and mankind because my work didn't reach the quality it should have." So said Leonardo DaVinci, the artist who brush-stroked the face of Jesus in the most reproduced religion painting of all time: The Last Supper.
We've all had enough of those not-enoughs. And we are wooed to the place where the not-enoughs go to die–the feet of our Savior. And that's where I discovered the secret of a vibrant prayer life:
The secret of a vibrant prayer life means we stop asking for the fix, and we start asking for the break.
We stop asking Him to give us more of what our heart thinks it wants–some kind of quick fix to be enough in this world. And we start asking Him to break our hearts, to conform our will to His.
We ask Him to strip our hearts of the stuff that is crowding out Jesus. We ask Him to fill our hearts with more of Him, which is more satisfying than what our inner critics demand of us. He offers exceedingly more than we could ask or imagine.
God is not a glass half empty, or even a glass half full. He is the All in All, to the rim of your life. And then some. His faithfulness reaches to the heavens and plunges into the depths of your soul, way down to that hollow ache under your ribs. His attention is, at once, wholly on everyone, yet undividedly on you. God is "entirely faithful." –Psalm 89:8
And even when He breaks, He mends.
Let this be a house of prayer today. How can I pray for you? Has He mended you through brokenness?
#TellHisStory
Hey Tell His Story crew! It's always a joy to gather here every week. The linkup goes lives each Tuesday at 4 p.m. (CT). If you would use the badge on your blog, found here, that would be great. And if you would visit at least one other blogger in the link-up and encourage them with a comment, that would be beautiful! Be sure to check the sidebar later. I'll be featuring one of you over there! Jennifer Camp is our latest featured writer. She wrote a lovely piece about art and beauty. She writes: "Anything is a work of art if it speaks to us the language of beauty and of God."(To be considered as our featured writer, be sure to use our badge or a link to my blog from your post. 🙂 )
xo Jennifer