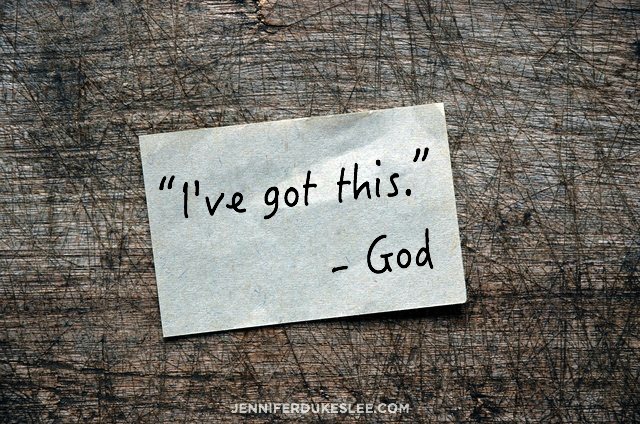 You'll need this when you're burned out and tired
I used to wear "busy" like a badge of honor. I've generally had a capacity to do a lot in a day, which means my calendar convinces me to say "yes."
But then I realized that just because I CAN, doesn't mean I have to.
At my best, I'm dependable. At my worst? I feel utterly trapped by all my "yeses."
I'm not alone. Friends often tell me that they feel wrung out, stressed, and sucked dry — because their responsibilities are the boss of them. I asked a group of women the other day, "What steals your joy?"
Over and over, they told me:
"I'm tired."
"I'm too busy, but don't know how to stop."
We feel like the weight of the world is on our shoulders, and it's our responsibility to figure it all out — to be all things to all people. We want to stop the merry-go-round. Yet we feel resigned to this crazy life.
I had to laugh when I read Mark 1:35-37 this morning. Jesus is up early, praying alone. But it doesn't last long. Simon and a friend interrupt him: "Everyone is looking for you!"
Sound familiar? Everyone is looking for you, too, aren't they? Everyone wants your yes. Everyone wants you to sign up for the room party, the committee, the meal drop-off, the Easter Sunrise Service breakfast. You don't want to disappoint anyone, so you say "yes," and just like that, your calendar becomes your master.
At the same time, we feel guilty that we feel so stressed. We look around and see mothers with five kids — homeschooling them, while running two nonprofits. We wonder, "how does everyone else do this?" So we minimize our pain, stuffing it because we think we have no right to fuss.
But what if we listened to our OWN lives? What if — when we heard our bodies begging, "go into lower gear" — we actually paid attention? This is the only YOU that you get.
You don't have to run it in the ground. You don't have to maintain a go-bananas pace.
You don't have to say "yes," even if you are generally capable of running at high capacity.
You don't have to always be the hero and the helper — sometimes the bravest thing you do is say, "I need help too."
You are in charge of your hours, not the other way around.
Today, maybe you feel like "everyone is looking for you." We all get to start our day like Jesus — alone, praying, and asking God for direction. Let Him guide your agenda, and trust that He's given you the ability to say "I can" or "not this time" — and the wisdom to know the difference.
It can be tempting to always say, "I got this" because you don't want to let anyone down. But the truth is, GOD has this. He has you. That is the hope and promise of this season called Easter.
Today, you may feel sealed into a tomb by your busy-ness, your circumstances, or your fears. But there is no tomb that can keep you imprisoned. Easter is the promise, Jesus is the way, and the Holy Spirit is the force that rolls away the stone.
No matter how crazy things feel right now, God has placed a notice outside of the tomb.
I've got this," He writes in bold letters.
Watch in awe at the remarkable ways He proves it.
#TellHisStory
Hey Tell His Story crew! It is a joy to gather here every week with you. The linkup goes live each Tuesday at 4 p.m. (CT). If you would use the badge on your blog, found here, that would be great! And if you would visit at least one other blogger in the link-up and encourage them with a comment, that would be beautiful! Be sure to check the sidebar later. I'll be featuring one of you over there!
Our featured writer this week is Theresa Boedeker. Her husband and daughter totally, completely forgot her birthday. But what she learned from that accidental mistake? It's so true and important. Find Theresa here.
To be considered as our featured writer, be sure to use our badge or a link to my blog from your post. xo Jennifer