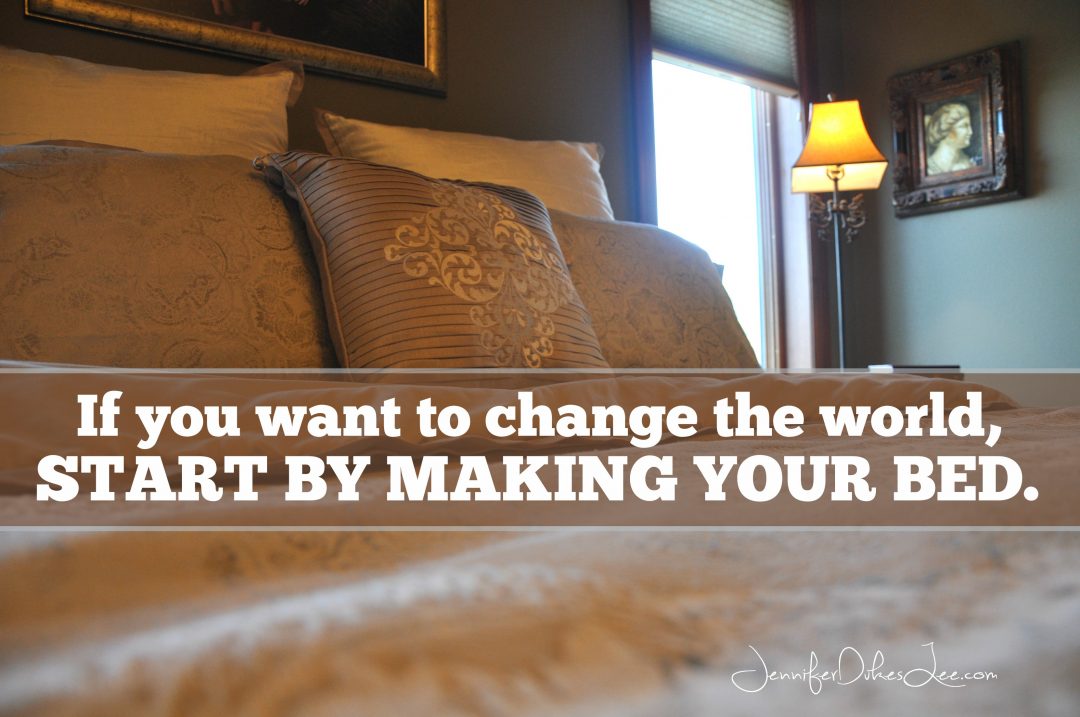 Want to Change the World? Start by Making Your Bed
(This story is featured in my new book, The Happiness Dare.)
I made my bed this morning.
This is kind of a big deal.
Because not only did I make my bed, but it's the FOURTH DAY IN A ROW of making my bed. That is the longest streak of bed-making in my adult life. I stopped making my bed on a regular basis after I left home for college in 1990.
A little perspective for you: That's the year MC Hammer hit the charts with "Can't Touch This."
But this morning? I made my bed. I pulled the sheets tight, straightened the comforter over the top, and set the pillows just so. And because I was feeling particularly ambitious, I opened the blinds, to let the morning light stream in on that tidy rectangle.
I had spent the last quarter of a century convincing myself that making the bed was an utter waste of time, seeing how we'd only be undoing that same bed at the close of day.
Now, that doesn't mean that I never made my bed. I enthusiastically made it after purchasing a new bedding set at the store. But my enthusiasm would wane after approximately 37.5 hours.
I also made the bed when we were expecting guests, particularly my mother who, for all these years, has wrongly assumed that she had instilled the bed-making habit in her daughter.
Woe to me, I've been living a lie.
But this morning, I made my bed. And I throughly repented of my 25 years of slothful behavior as Ms. RumpleSheets.
I felt a quiet sense of accomplishment standing in the doorway, admiring my feat of housekeeping bravado.
And then the craziest things started happening, there in that stream of morning light. I picked up a stray sock, and then a bobby pin and then a small stack of unfolded clothes from the bedroom floor. (I didn't want the clutter messing with my serene sanctuary.)
Then I went to the kitchen, cleared out the kitchen sink, loaded the dishwasher, reorganized my Tupperware cupboard, lit three candles, and pulled a metal pig from the corner of the kitchen and set him out, front and center, as a conversation piece. (The pig holds wine corks in his belly.) It took all of 15 minutes.
My act of bed-making had set off a chain of small household tasks.
And then I stood back and admired all of it, because hi, I'm weird. 
I felt like a grown-up — a happy, legit grown-up with a made bed, a clean sink, one decluttered cupboard, and a pig on the counter. I felt like a woman who had miraculously pulled herself up from the energy-sucking Bermuda Triangle of Household Chaos.
And then I remembered that I still had my "crap stack" of papers by the counter. The crap stack — as my friend Trish affectionately calls it — presently includes graduation invitations, a weekly food journal, and a $92 speeding ticket that needs to be paid by next Tuesday.
Woe to me, I am not only living lies. I'm breaking laws, while keeping two-foot-tall, teetering crap stacks.
(Work in progress, gentle readers. I'm a work. in. progress. Jesus came to deliver us from condemnation, but apparently not from Lyon County Sheriff's Deputy Mark Dorhout — or the daily onslaught of paperwork.)
Who knows if this new bed-making habit will stick? Maybe I'm telling you about it today, because I'm hoping it will. Studies show that if people publicly make a confession, and commit to a new way of living, other people are generally empathic and begin to act as accountability partners. And studies also show that adults who make their beds are happier. I don't know where those studies are, but I believe that they are real, people.
Plus, my friend Melissa is telling me I should stick with it. She's the one who first rescued me from that black hole of disorganization, after all. You see, I read through her amazing new book, Love the Home You Have
 (almost entirely in one sitting) earlier this week. There's a lot of great stuff in that book,
trust me
. But among many things, Melissa wrote that I had to start making my bed. She said it would help me start an essential morning routine. And since she's the 2015 readers' favorite decorating blog at Better Homes & Gardens, I figured she knows what she's talking about.
So I started making my bed.
This — I now understand — is what millions of healthy, happy grown-ups around the world have been doing for centuries.
I feel like I've been invited to a secret club.
A club that, as it turns out, the head of the Navy Seals also belongs to. He says that if you want to change the world, start the day by making your bed.
"If you make your bed every morning, you will have accomplished the first task of the day," the good admiral says. "It will give you a small sense of pride, and it will encourage you to do another task, and another and another. And by the end of the day, that one task completed will have turned into many tasks completed. Making your bed will also reinforce the fact that the little things in life matter. If you can't do the little things right, you can't do the big things right."
I like that.
Plus, if the rest of the day is a disaster, I can still come home to a bed that I made with my own two hands. And that's no small thing at all.
Oh! There's one more thing I want to tell you about making your bed. It's a WWJD thing.
What would Jesus do? I thought you'd never ask.
Well, do you remember that little bit in Scripture, where the linen cloth has been folded neatly in the tomb, after the resurrection? You know what that means, right?
JESUS MADE HIS BED. I didn't cross-check with the Greek or anything, but I'm pretty sure that's what it means.
Moral of the story: If the Savior of the World could find the time to make His bed before His Grand Exit, then I can surely find the time to make mine.
"But don't you think the angels folded the cloth?" my husband asked me this morning, attempting to destroy the only redeeming spiritual point of this entire blog post.
"No. That's not possible," I retorted, with the obvious guidance and wisdom of the Holy Spirit who lives and reigns within me. "Jesus would never have asked the angels to serve Him by making His bed. He came, not to be served, but to serve."
So there you have it, friends. Make your bed. It will change your life. It will make you more like Jesus.
Go in peace, and serve the Lord.
Your Turn:
Do you make your bed? Regularly? Ever?
Is there any secret to getting those maddening fitted sheets to fit on the mattress the right way, on the first try?
Jennifer's Book
Click here to buy Jennifer's book, Love Idol. This is the book for anyone trying to let go of their need for people's approval. Love Idol inspired started a movement of women across the continent who gave up idols of approval, perfectionism, and people-pleasing, in exchange for God's perfect love.
post includes affiliate links