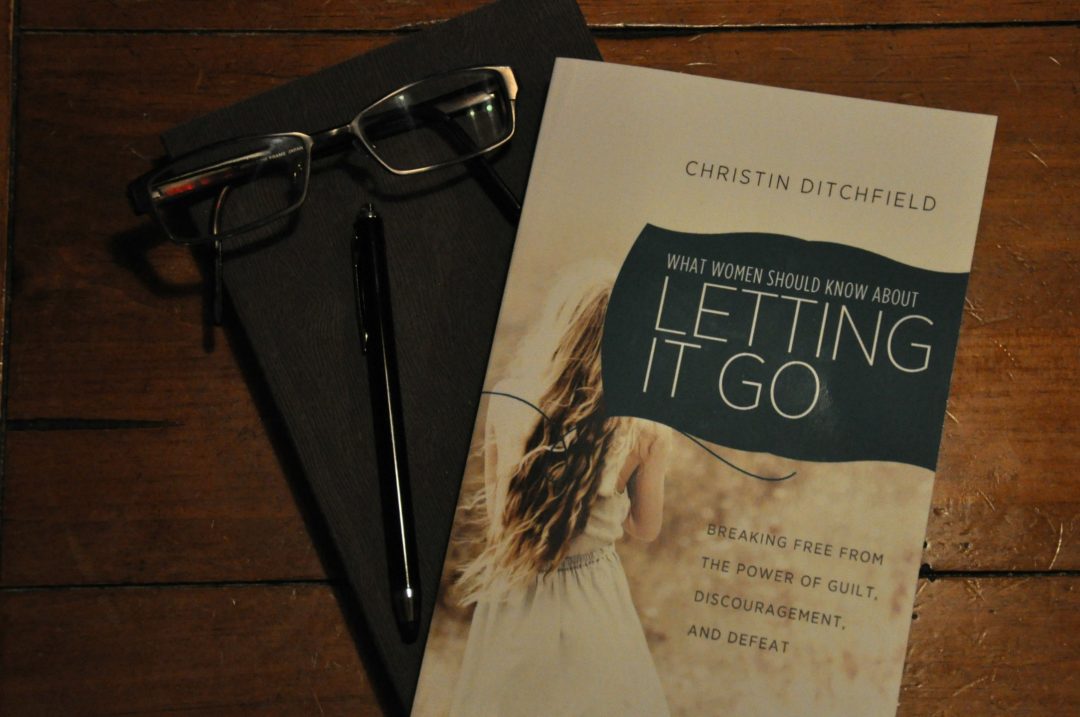 #TellHisStory: How to Make Space for Grace When You Struggle with Spiritual Jealousy (With a Book Giveaway!)
When I met Christin Ditchfield at a retreat two years ago, I felt like I already knew her. She had been a wise and reliable voice in my life for years as a host for her radio program, "Take It to Heart." Christin has become a dear friend, and it's a joy to have her writing here today. We're celebrating the release of her new book, What Women Should Know About Letting It Go: Breaking Free from the Power of Guilt, Discouragement, and Defeat.
Be sure to enter for a chance to win a copy of her wonderful new book, at the bottom of this post. (Email subscribers, click here to find the entry form.)

How to Make Space for Grace When You Struggle With Spiritual Jealousy
By Christin Ditchfield
The first time I envied someone's Bible, it was a good thing. I was still new to the high school youth group, still carrying the pristine white King James leather-bound children's Bible my great-grandmother had given me for my fifth birthday.
His was a Student Bible, with the cover all scratched and beat up, and the corners of the pages curled – because he took it with him everywhere, and not just to church on Sundays. When he flipped through it, I could see all the verses were underlined and highlighted, with notes scribbled in the margins – because he really read it and studied it on his own. I didn't know anyone under 40 did that.
Though I honestly can't remember a time when I didn't know Jesus, seeing that messy Bible was a huge part of my spiritual awakening as a teenager. I was just beginning to realize that it was time for me to take ownership of my faith, my personal relationship with God. It stirred up within me a hunger for Him and His Word.
It wasn't long before I'd saved up my babysitting money to purchase a Student Bible of my own – and pretty soon, my Bible was a mess, too. A cherished and much-beloved mess.
As the years went by, it literally fell apart, and I transitioned to other Bibles – other devotional and study Bibles, other translations. And frankly, prettier colors and cover designs.
Lately I realized I've been feeling a lot of "Bible envy" again. But this time it hasn't been such a good thing for me.
I look at the pictures of heavily-underlined Bibles that other women post on their blogs, or the comments they make about how lost they'd be without their Bibles, or what a sacrifice it would be to give up their Bibles, or hear them describe how they're carefully marking up their Bibles to pass on to their children or grandchildren. And I feel guilty and ashamed.
Because not since that very first Bible I made my own, have I been able to settle on one in particular that is my "go-to." I don't have one Bible (and only one) that is dog-eared and highlighted and underlined and scribbled in, all the way through. I have a bunch of Bibles on my shelf that I refer to regularly, plus my Bible software – but I don't have one Bible I would have to grab if my house was on fire. It seems sacrilegious to even think this, let alone say it out loud, but I could get another one at the Christian bookstore tomorrow and be just fine.
When I compare myself to these other women, I feel like such a failure.
I feel like I've lost something or I'm missing out on something. Or I'm doing something wrong.
And I feel like it makes me less of a Christian. That if anyone knew this about me, they'd be horrified. Or at least question whether I could really have much of a devotional life.
For the first time this week (I know, I know), it occurred to me to challenge my thinking on this, to ask myself why I ever stopped underlining and highlighting and writing notes in my Bible.
The answer is actually pretty easy: Because somewhere along the way, I discovered I like to copy meaningful verses in my journal. It helps me remember them. And there's more space there for me to add my thoughts and prayers and reflections. Sometimes I like to look up multiple translations and copy them, too, and take notes from Bible commentaries.
I even have room to add illustrations – my own drawings or images I've found online – whatever helps me visualize the application of a particular principle. And I can also attach words of wisdom and encouragement I've received in emails or cards from family and friends.
So, honestly, my journals are what I would grab first if my house was on fire – because they hold all the Scriptures I've been studying, the truths God has been speaking to me. That's where I keep them.
The irony is that lately I've been writing a lot (a whole book in fact)
about breaking free from guilt, discouragement, and defeat – letting go of the things that keep us from growing joyfully in spiritual maturity.
Big stuff and small stuff. Everything from shame over the sins of our past to bitterness and unforgiveness to unhealthy comparisons, impossible standards and unrealistic expectations.
Like imagining that our relationship with God should look like anyone else's. Or even like it used to look for us, years and years ago. Or measuring the quality of our devotional life or the sincerity of our love for Jesus by the number of verses we have underlined in our Bibles.
It's a little thing, but envying the beautiful and meaningful way another woman chooses to remember how God speaks to her robs me of the joy of the beautiful and meaningful way I choose to remember how He speaks to me.
So today I'm letting it go – I'm not going to carry that guilt and condemnation anymore. Because I choose to be free, free to be the woman He created me to be.
About Christin
Christin Ditchfield is an author, conference speaker, and internationally syndicated radio host passionate about calling women to a deeper life. As a freelance writer, she has written hundreds of essays, columns, and magazine articles, and more than 66 books, including What Women Should Know About Letting It Go: Breaking Free from the Power of Guilt, Discouragement, and Defeat. She blogs at ChristinDitchfield.com.
I highly recommend What Women Should Know About Letting it Go. If you have a small group, consider this for your next study. this is a book for every woman. Christin's teachings are practical, life-giving, and soul-reviving. She's a mentor who points us to true north .Every word of this book is a step in a staircase, bringing us closer to the fullest life in Christ."
Book Giveaway
We are giving away TWO COPIES of What Women Should Know About Letting it Go. There are many ways to enter. Fill out the Rafflecopter below and/or leave us a comment, telling us that you'd like to be entered in this giveaway.
#TellHisStory
Hey Tell His Story crew! It's always a joy to gather here every week. The linkup goes lives each Tuesday at 4 p.m. (CT). If you would use the badge on your blog, found here, that would be great. And if you would visit at least one other blogger in the link-up and encourage them with a comment, that would be beautiful! Be sure to check the sidebar later. I'll be featuring one of you over there! Anita Ojeda is our latest featured writer. I love what she has to say about loving "prickly people" in her post:], How To Hug a Cactus in Five Simple Steps (click here to find her post). (To be considered as our featured writer, be sure to use our badge or a link to my blog from your post. 🙂 ) xo Jennifer
Post includes affiliate links.