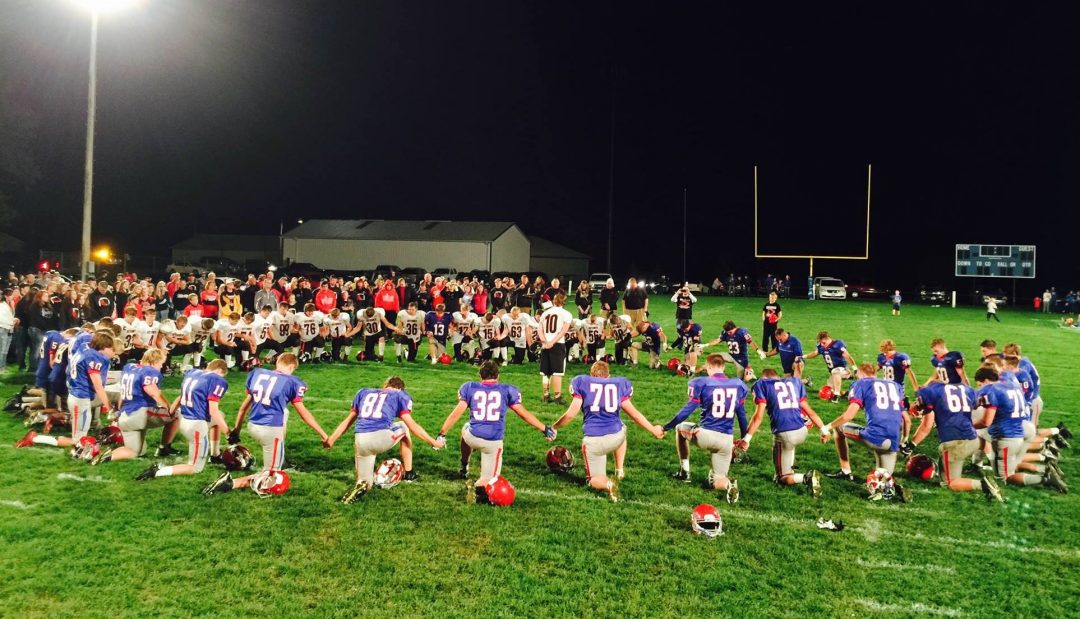 The Best Football Play of the Year — Guaranteed to Make You Smile
Thousands of high schoolers will return to the gridiron tonight, but the best football play of the year happened last Friday night on a field not too far from our house.
I wouldn't have known about it, except that our friend Dan LaRock posted this photo on his Facebook page. Take a close look: two rival teams have taken off their helmets, joined hands, and knelt in prayer — on the football field of a public school.
What happened last Friday night is a remarkable story. It's the kind of good news we need in a world that can sometimes feel so broken, brutal, bullet-ridden, and bitter.
A few dozen teenagers in the Heartland remind us that human decency, gentleness, and humility are not the virtues of the weak, but the virtues of the strong.
Before the Friday night lights turned on, the two teams were eager for this match up. The rivalry between Hills-Beaver Creek and Edgerton/Ellsworth is always intense. Both of the teams — from southern Minnesota — had been having great seasons. Tensions were high, and the crowd was loud.
Late in the fourth quarter, players collided, and one of the Edgerton/Ellsworth players went down. He was hurt, and he couldn't get up. He needed to be taken off the field with the help of an ambulance crew.
The crowd went silent. There was a hush of whispers through the crowd: "Hope he's okay." "That was a big hit."
The game ended, and Hills-Beaver Creek came out on top.
The coaches and players shook hands, and both teams had a quick post-game meeting with their teams. This is what happened next: Captains of the two rival teams called all of their players to the center of the field, right there on the football field of a public school.
All of the players formed a circle, hand in hand. They bowed their heads. Dozens of parents and fans stood behind the players. An Edgerton/Ellsworth player led the entire crowd in a group prayer.
Dan says the prayer was focused on hope for the injured player, and praise for good sportsmanship.
"As it was unfolding, I thought to myself, 'This … is … beautiful,'" Dan told me in a telephone call this morning. "I felt such a sense of joy and peace for these kids, because even though they just got done with a fiercely contested, hard-hitting competition, at the end of the day, they get the bigger picture."
The player was taken to the hospital and released later that evening.
You know, as parents, we work hard to teach our kids to be respectful and prayerful. We want our kids to play hard, but we also want them to pray hard. We hope that they'll look to God first; we want that more than anything. And we teach them that while competition is fun, they ought to treat others with dignity. At the end of the day, we tell them, it's just a game.
We live in a world that teaches us to win at all costs — and to look out for yourself, because no one else will. But on Friday night, a few dozen young men from the Heartland showed us a better way. They taught us what it looks like to do the right thing. They taught us what it looks like to cross lines for a common cause. They taught us that you can set aside differences and link hands. They taught us that prayer matters, and that we are always better together.
They taught us that the strongest, bravest posture of a human being isn't the stance you take on the scrimmage line. It's the stance you take when you bow before the Lord in prayer.
Photos courtesy of Dan LaRock. Used with permission.
We Are Always Better Together
This seems like the PERFECT day to tell you about (in)courage's new "Better Together" line of products at Dayspring. Dayspring is letting me offer you a special discount on these brand new products.
To claim the discount, use BETTER20 for 20% off the collection! (Code is good through 10/30.)
At Dayspring and (in)courage, we believe that every person matters and that we are all better and stronger together because it's the mandate given by the Gospels. And we believe it is a deeply timely message for all of us in a world that, at times, feels so fractured.
"We all belong to each other." Romans 12:5
Click here to shop the entire collection. Click here to shop for the "We are Always Better Together" pennant.