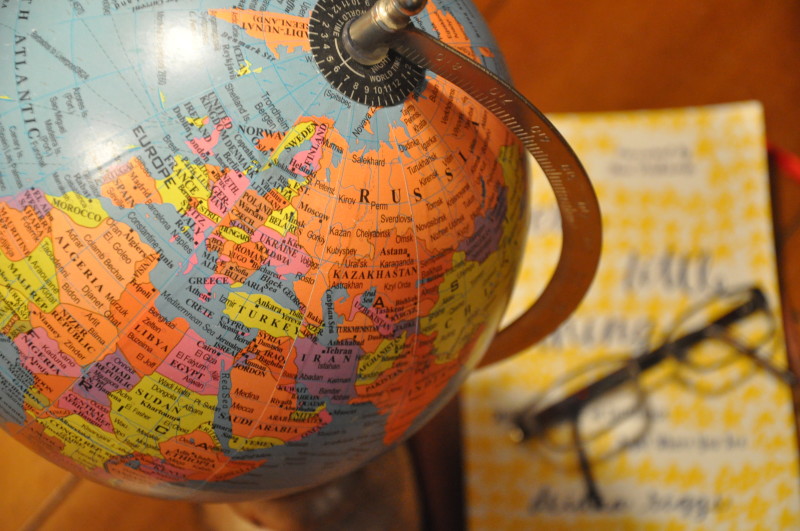 six words that can make all the difference today — #TellHisStory
I don't talk about the devil much. I hate to give him too much press or too much credit.
But some days, there's no way around it. He's got to be called out for who he is: liar, liar, pants on fire. 
Today is one of those days.
Today is a day when I might be tempted to believe wrong stories about me. You too?
Yeah, it happens from time to time, to all of us. It doesn't matter how many initials you have behind your name, or how big your office is, or whether you're a life-long Christian, or if you just met the Lord for the first time yesterday afternoon. It doesn't matter if you wear yoga pants or three-piece suits or your pajamas all day long. If we are in Christ, the devil is prowling around wanting to whisper crazy-talk in our ears.
Here's one lie that I sometimes believe: I'm not smart enough or capable enough to write books and blog posts and keynote addresses for you. When that happens, I have learned to call a friend, the kind of friend who will speak the truth into the darkiest dark parts of my heart. We all need friends like that — the kind of straight-talking friend you can get honest with, the kind of friend who won't let you believe your own false narratives.
I used to start those phone conversations like this: "Hey friend, Can we talk? I'm feeling like I'm not (_____) enough today."
And that friend would help me see things differently. Which was great.
But then, one day, I was on the phone with my friend Deidra. And she asked me two questions that changed things for me: "What's the lie that the devil is telling you? What's the lie that you are believing about yourself?"
That completely changed how I framed my not-enoughs. No longer did I see them as my feelings — "I'm feeling like I'm not enough today." But I began to see my not-enoughs as actual lies that I was believing about myself.
So the other day, I got to feeling out of sorts about a few things, and I began to walk down that bumpy road of self doubt. But instead of telling someone how I was feeling, I reminded myself what the devil was saying.
When we are faced with our own not-enoughs today, these are the six words that can make all the difference: "The lie that I'm believing is …"
Because when we realize we're listening to actual lies, we are one step closer to making a world of difference, right where we are.
And that's what my friend Deidra Riggs is helping all of us believe.  I'm so grateful that she's been a phone call away during my personal melt-downs. But, guess what? She's one book away from you. 
Today, Deidra's book releases to the world. It's called "Every Little Thing: Making a World of Difference Right Where You Are."
Reading her words? It's like sitting down with your wisest, kindest friend. It's like sitting face-to-face with a truth-teller, who won't let you listen to the lies you've been believing.
Deidra has never been afraid to call out the devil for the liar that he is:
"Lying, for the devil, is not a second language he's trying to master. Lying never gets old to him. He is not bilingual. He knows no other language. When he speaks, he speak his native tongue," she writes in Every Little Thing.
Back in April, I told Deidra how terrified I was to speak at a conference in Indiana. I was believing all kinds of lies, and she helped me push past the lies, and step onto the stage. She spoke words to me that I'll never forget:
"You get to be terrified, so God can be glorified."
I had shaky knees, but through Deidra's words, God gave me the courage I desperately needed to make a difference that day.
And that's the brave hope that she's holding out to you today:
"The language of the enemy is insipid and vile and vacant and void," she writes. "It will kill your dreams, it will drench you in shame, it will steal your hope, and it will destroy your peace. … Don't be taken in by the destructive voice of the enemy of your soul. … Jesus tells a different story."
And that's the story we were all made to hear: His.
Go ahead, #TellHisStory.
#TellHisStory #EveryLittleThing
About The Book:
Everyone has had that moment–we see a need in our church, our school, our neighborhood, our family, or our world and we think, Someone really should get to work on that, never imagining that we might be the answer to that need. We don't have the time, the expertise, the money. We've got careers to manage, bills to pay, meals to prepare, and families to attend to. Besides, who are we to think we can change the world? In this encouraging and empowering book, Deidra Riggs calls readers to accept God's invitation to join him in making a difference right where they are, regardless of their current life stage. She shows readers that they were created with a purpose and with the capacities to fulfill that purpose. And she reminds them that it's not up to us to fix the world, but it is up to us to join God–and the rest of his people–in his redemptive work. For when God calls and we look over our shoulder and answer, "Who, me?" God always emphatically answers, "Yes, you."
Buy on Amazon by clicking here.
#TellHisStory
Hey Tell His Story crew! It is always a joy to gather here every week with you. The linkup goes live each Tuesday at 4 p.m. (CT). If you would use the badge on your blog, found here, that would be great! And if you would visit at least one other blogger in the link-up and encourage them with a comment, that would be beautiful! Be sure to check the sidebar later. I'll be featuring one of you over there! Our featured writer this week is Joy Lenton. As we all continue to write about the changing seasons, I love how Joy shares, "God reminds us there is always work going on in the background of our lives. Each day we are becoming more defined and refined into the image of Christ." Find Joy here. To be considered as our featured writer, be sure to use our badge or a link to my blog from your post. 🙂 xo Jennifer
post contains affiliate links