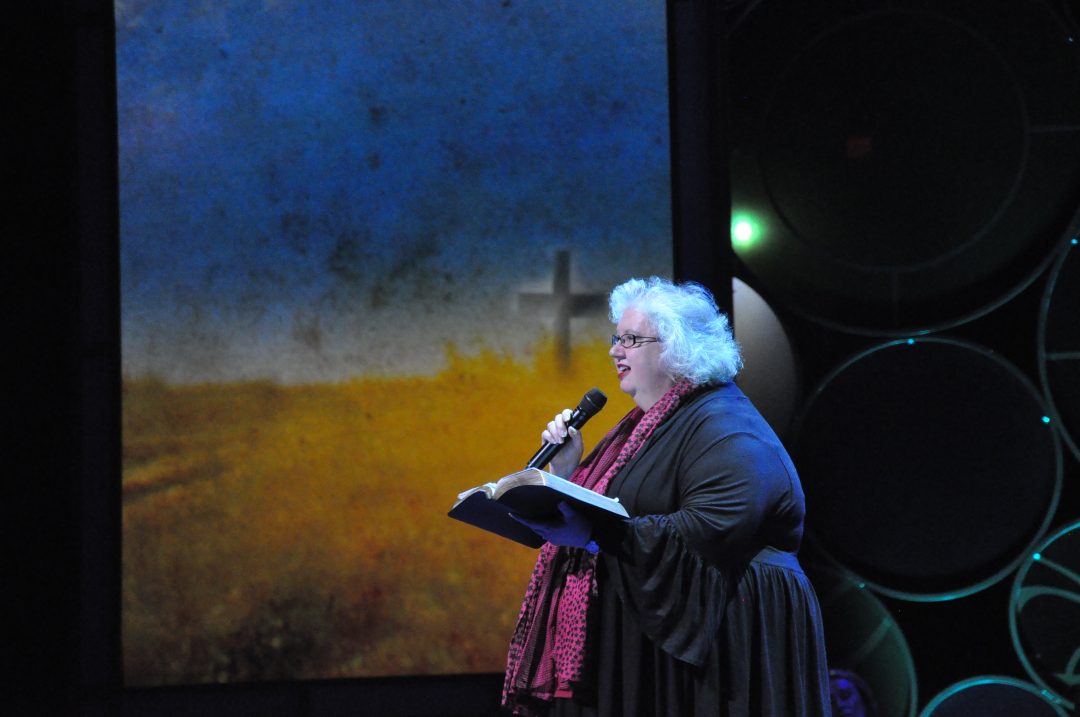 #TellHisStory: Rock Bottom, the Color Purple, and a GIVEAWAY
The purple grabbed my attention.
Dozens of bottles — in shades of violet and plum and lilac — glistened under the lights of an antique store in North Carolina, where I attended a retreat with girlfriends. I lingered a long time near the purple bottles, touching the tops of them, while my friends moved along to the next aisle.
The sign said the bottles were about 100 years old. But they weren't purple back then. One hundred years ago, the bottles were clear. The glass contained something called manganese dioxide. And when that kind of glass is exposed to sunlight, the glass gradually turns purple.
I was intrigued.
"Buy one for Liz."
It wasn't audible. But I heard it.
Some people call that a nudge. Others call it "hearing from the Lord." Others say people who hear voices are a little off.
So yeah. I am a little off — probably a lot. But I also know that God whispers messages into people's souls from time to time — even the "off" among us.
Still, I ignored it. Until:
"Buy one for Liz."
There it was again. The same "voice."
I shook my head. Oh for the love. I'd only met Liz a year ago, and while we were friends, I didn't know what she'd think about a gift from someone she sees only once a year.
But, sure enough, it came once more: "Buy one for Liz."
"Ok, fine," I muttered. It felt like a nudge, a dare. I couldn't resist.
I grabbed the bottle, took it to the cash register, plunked down a few bucks and stuffed a little purple bottle in my purse.
***
Earlier that day, Liz had stood before our group and spoke some lovely words over us. She quoted Bible verses, had us all laughing with her self-deprecating jokes, and gave us encouragement for our writing journeys — all in the span of about 10 minutes. But the part that stuck with me most is how she called us each to live into our individual strengths, our callings … and our personalities.
I didn't take notes, so I'm not going to get this exactly right, but she said some people have the soft personality of a beige, a pastel pink, or a light blue hue. And others are bold, like the color purple.
Liz is the color purple. She's head-to-toe purple. Bold, vivacious, and full of life.
There's something else you've got to know. That same Liz, full of Jesus? She used to be full of … how shall we say this delicately? … "illegal substances."
Now I'm not letting any secrets out of the bag here. The first time I heard Liz's story, she told it to me and a few thousand other women at a Women of Faith gathering in Des Moines, Iowa.
Here is a part of Liz Curtis Higgs' rock bottom story:
She was a small-town girl. She stole her first smokes from her mom's purse. Had her first joint on her senior class trip. In her twenties, she had a favorite bar stool, and preferred Southern Comfort in her glass.
She was a radio personality, hosting an afternoon show at a rock station. The guy who had the morning show? Howard Stern. Yes, THAT Howard Stern.
He once told her, "Liz, you've got to clean up your act!" (You know there's trouble when Mr. Stern gives you a talking-to.)
"By the fall of 1981," Liz says, "I found myself in Louisville, Kentucky, playing oldies at an AM station and playing dangerous games with marijuana, speed, cocaine, alcohol, and a promiscuous lifestyle. I'm one of those people who had to fall all the way down to the bottom of the pit, until I had nowhere else to look but up."
At the bottom of that pit, a husband-and-wife radio team shared the Good News with Liz. She says she "was powerless to resist it."
When I saw those purple bottles at an antique store in North Carolina, I couldn't help but think of Liz.
She was now a vessel for Jesus, who had turned a beautiful, royal shade of purple — on account of standing in the presence of a great Light.
***
I found Liz in the corner of our gathering room, by the coffee.
"I have a little gift for you, Liz," I said, blushing. "It may see a little … odd … but I, uh, I really wanted you to have this."
What if she didn't really want a purple bottle? What if she didn't like it?
But here's what happened next:
She accepted a gift with grace. She looked at me, with the kindest, softest eyes, put a hand on my shoulder, and said: "Thank you. That really means a lot to me."
Why am I telling you a story about a purple bottle?
Because this is a story of giving, and receiving, with grace.
No one would deny that giving gifts is a form of grace. But so is receiving. You know why? Because if we don't accept gifts from others graciously, we deny them the blessing of giving.
God has called us to the grace of giving. He has also called us to a grace of receiving graciously.
I have been a good giver, but perhaps an ungracious receiver. "Oh, you shouldn't have," I'll say.
With those words, I've dismissed the beauty of the gift, and the heart of the giver. What if they, like me, had lingered a while, wondering if their gift would be valued, or misunderstood? And what if they had gotten up the nerve to give the gift, but felt they'd made a mistake when they gave it?
Liz teaches us about the grace of receiving.
I didn't know it, until after I'd gotten home, that this was a lesson she'd recently learned herself.
Just yesterday, I read the last chapters of Liz's brand-new book, It's Good to be Queen.
One of the last chapters was titled: "It's Good to Receive Graciously." Isn't that something?
In the chapter, Liz confessed that she, too, enjoyed giving gifts, but was not so good at receiving them. God had been teaching her the same thing He'd been teaching me.
"The truth of His Word began to sink in," she wrote. "'Every good and perfect gift is from above …' Gift giving isn't so much people being generous as it is God being generous through his people."
Go ahead, friend. Listen to the crazy voices in your head. Take the dare. Buy the purple bottle. Give the gift to the new friend. Give with grace; receive with grace. And most of all–
Stand in the midst of a great light. Because purple looks so, so good on you. (But if you're more beige? Girl, be all beige. We love you just as you are.)
We're Giving Gifts – An Amazing Giveaway
It's a giveaway! In the spirit of giving and receiving gifts, we've got gifts for YOU!
It's Good to be Queen
Liz is giving away a copy of her amazing new book with a purple cover, 
It's Good to be Queen.
I read this one in one sitting. Could. Not. Stop. This book is engaging, insightful, and hilarious! I read many of the stories out loud to my husband as he drove us home from vacation. This book includes a study guide for group or personal study. You won't want to miss
It's Good to be Queen.
Journey across the desert with the remarkable queen of Sheba. The queen's quest for wisdom will surprise you, challenge you, inspire you, change you.
The Regina Necklace
Plus, ViBella Jewelry is giving away the Regina Necklace, made in Haiti. Liz has partnered with ViBella Jewelry to create jewelry that honors the spirit of her new book. The jewelry is providing work for artisans in Haiti.
(Check out the whole line of custom jewelry — "The Queen of Sheba Crown Jewels" — by
clicking here
.)
Enter to win the book and necklace below, using the Rafflecopter. (Email subscribers, click here to enter.)
UPDATE: A winner has been randomly drawn. I have contacted Randi S. by email. Congratulations!
$20 off coupon for Women of Faith
The sweet Women of Faith people are giving any and all of my readers $20 off the price of any Standard or Premium ticket in any city with the code: JDLEE20.
What a fun opportunity to hit the road with friends and make a memory. Take a look at the tour schedule here and click "more info" to see which speakers will be part of each particular event. Then register for a ticket (Don't forget the discount code – JDLEE20.)
#TellHisStory
Hey Tell His Story crew! It's always a joy to gather here every week. The linkup goes live each Tuesday at 4 p.m. (CT). If you would use the badge on your blog, found here, that would be great. And if you would visit at least one other blogger in the link-up and encourage them with a comment, that would be beautiful! Be sure to check the sidebar later. I'll be featuring one of you over there! Our featured writer this week is Lydia Lee! She's our 13-year-old daughter. Find Lydia here. To be considered as our featured writer, be sure to use our badge or a link to my blog from your post. 🙂
xo Jennifer