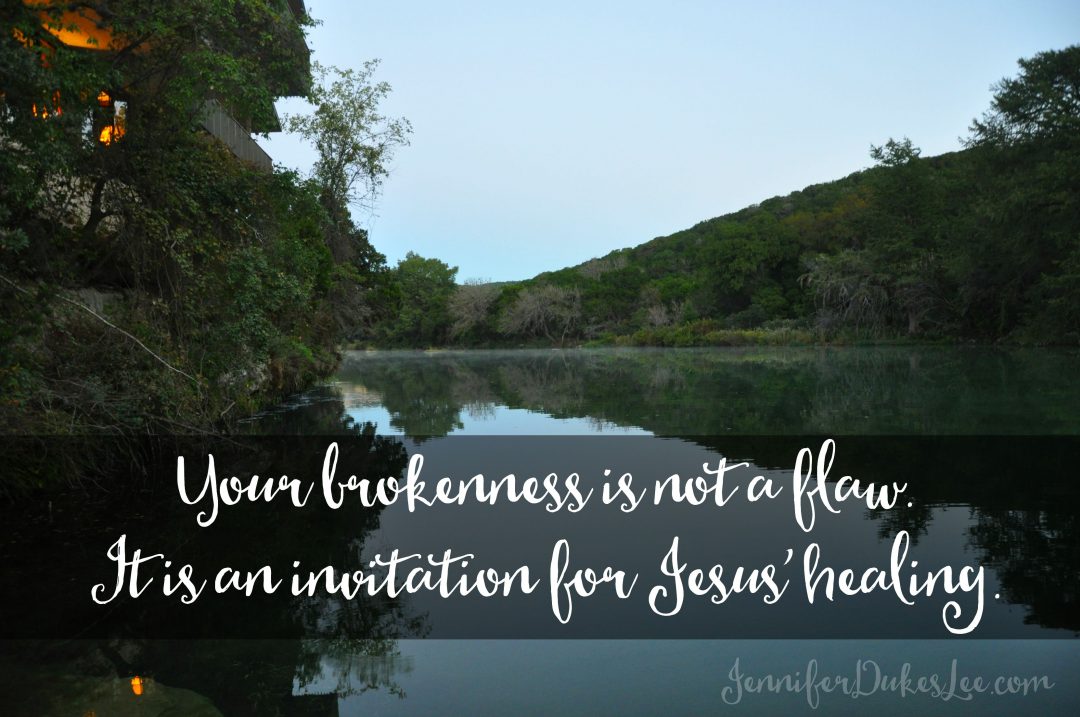 If you're feeling a little broken as the week begins …
We were at Laity Lodge in Texas one fall. It was a cool Sunday morning, along the jade-colored Frio River, and the morning light shone in just right on the communion table. The pastor was a friend, Gordon. I don't remember the story he told, but I do recall the main idea of his message: our brokenness.
He talked about the powerlessness we've all felt when everything falls apart, when our own fragile lives look they've crashed into a million little clay pieces — utterly unfixable.
He knelt down in front of us, cupped his hands (as if to hold the broken pieces of our lives) and then lifted his hands and his eyes upward, like he could see through the ceiling to God. And I'll never forget Gordon's next words: 
"I can't fix this," he said, cupping his hands toward God. "But can You? Can You do something with all these broken pieces?"
I was moved deep within me at the soft answer from the Spirit, at the sure answer from Scripture, at the certain answer from a holy and good God, and at the secured answer, in Jesus:
"Yes," God answers us always… "Yes, I can."
This, I think is one of the most wonderful parts about belonging to Jesus. Apart from Him, my brokenness stays broken — a million little pieces, utterly unfixable. A jar of clay, shattered.
But in Jesus, there is always, always hope. He is putting all things to rights, making a way where there is no way.
Maybe today, you are tending to broken places. Maybe you aren't sure how you can step into the coming week, because things are shattered at your feet.
Lift the million little pieces to Jesus.
Your brokenness is not a flaw; it's an invitation for the healing hand of Jesus.
All brokenness is but a chance to be healed by Jesus. 
All brokenness is but a chance to cup the broken pieces in our hands, and lift them to a God who sees and whispers, "yes."
Related: A book recommendation for anyone living inside of a broken moment today — Wild in the Hollow by my friend Amber C. Haines, releases this week. This is a story of the God who makes himself known in broken places. "We are weak ones," Amber writes," But this is not bad news. Isn't brokenness the fertile ground for the seed of hope, the low places where Jesus meets us? We are weak, and we were made for hope, and until we find our true hope, there is no strength."