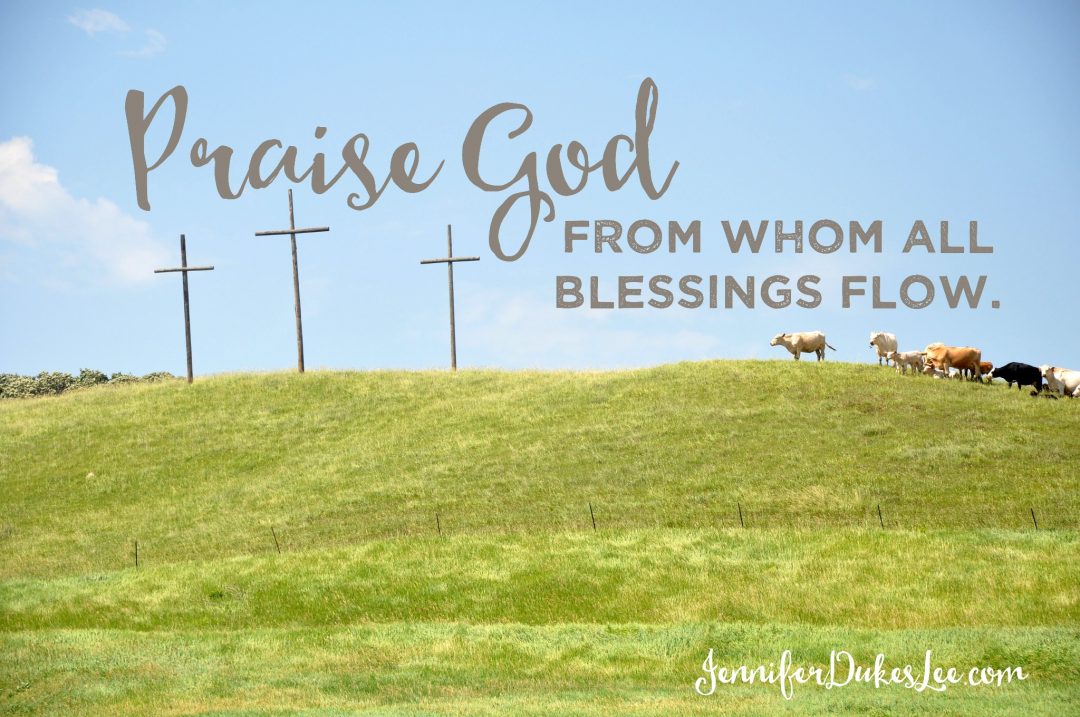 #TellHisStory: How To Get Your Praise On
So I admit, I did stop right smack-dab in the middle of the highway.
I did, in fact, first check the rear-view mirror for traffic on this little section of Iowa highway. Then, I pressed the brakes, grabbed the camera from the passenger seat and snapped a quick photo through my car window.
The sun was right there, shining up the barn with its two-word edict– Praise God.
The words were a glad tiding for a weary traveler on her way home. And how often do we cruise right on by, white-knuckling life, forgetting to take the road paved with praise, straight into the heart of God?
In this life, I chronically forget to thank God for giving me the good parts. And I forget to thank him for carrying my through the scary parts, and for dragging me out of the dangerous parts–especially those times where my fingernails left deep, stubborn marks in the dirt.
I forget to thank him for doing the unasked-for things. I don't even know the half of it.
I don't always know — until I'm looking in the rear-view mirror — about the Lord's behind-the-scenes coordination of the best decisions that I never made — but that came to pass anyway, praise Jesus.
I forget that in entering his courts, I might just want to have a little thanksgiving in my heart. And this: God makes His Big Self comfortable on the praises of His people. He is enthroned on praise!
And when I get to Heaven someday, I hope that He will take me by the hand, straight into the throne room, and 'round the back side of that throne. I pray that He'll point a holy finger toward a whole set of tags sewn right into that throne. And I want to see the tag that says this: "This Section Made by Jennifer."
Except that I forget to praise. I drive fast, past the good stuff.
But on this day, I stopped. I snapped a picture, and when I got home I tracked down the guy who nailed that happy directive on his barn.
I put out this inquiry on my Facebook page:
Within minutes, I had Wayne Searcy's cell-phone number in my possession.
He picked up on the second ring. "Dr. Searcy here."
Turns out, the barn owner is a veterinarian, serving farmers in his part of Iowa.
So I asked him about his barn and that big sign, hanging like a beacon for the weary traveler, and he said the two words, "Praise God," seemed like the best ones to hang over a farm … and over a whole life.
"You know the words to the song, I'm guessin'," he said, then started in:
"Praise God
from whom all blessings flow
Praise Him all creatures here below.
Praise Him above Ye heavenly host
Praise Father, Son and Holy Ghost."
"Yessir," I said. "I do know those words. I'm trying to live by them a little more every day."
I scratched down his words onto my yellow legal pad, just like I did for years and years as a news reporter. "Farmers are extraordinarily dependent of God's grace," the good veterinarian said. "And we are all a blessed people here. The Lord ought to be praised."
Praise, he said, was what was in his heart, so it seemed a good idea to put it on his barn, too.
Maybe you're like me. And you've got a mind to do the same thing — to get your praise on, to put a bit more hallel in your heart.
I hung Dr. Searcy's Praise-God sign right here on my blog. (And maybe my favorite farmer will put one on our barn. 🙂 )
And maybe we start our own praise party in the comments. What do you say?
Praise Father, Son, and Holy Ghost. 
Amen… 
"Gratitude is the memory of the heart; therefore forget not to say often, I have all I ever enjoyed."
~ Lydia Maria Child
"I only deepen the wound of the world when I neglect to give thanks for early light dappled through leaves and the heavy perfume of wild roses in early July and the song of crickets on humid nights and the rivers that run and the stars that rise and the rain that falls and all the good things that a good God gives."
~ Ann Voskamp
"Rejoice in the Lord always; and again I say, Rejoice."
~ The Apostle Paul
Your Turn: Name three things you're thankful for today!
#TellHisStory
Hey Tell His Story crew! It's always a joy to gather here every week. The linkup goes lives each Tuesday at 4 p.m. (CT). If you would use the badge on your blog, found here, that would be great. And if you would visit at least one other blogger in the link-up and encourage them with a comment, that would be beautiful! I'm currently traveling and unable to pick a new featured writer for the week, but we'll be back to normal in the coming week. Looking forward to reading your stories!
xo Jennifer