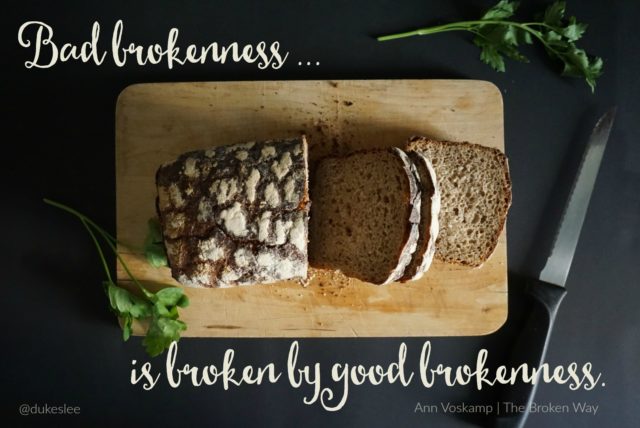 how taking the broken way leads you to real wholeness
A few dozen friends gathered at Laity Lodge in Texas one fall. It was a cool Sunday morning, along the jade-colored Frio River, and the morning light shone in just right on the communion table, with autumn showing off outside the windows. The pastor was a friend, Gordon. I don't remember the story he told, but I do recall the main idea of his message: our brokenness.
He talked about the powerlessness we've all felt when everything falls apart, when our own fragile lives look they've crashed into a million little clay pieces — utterly unfixable.
He knelt down in front of us, cupped his hands (as if to hold the broken pieces of our lives) and then lifted his hands and his eyes upward, like he could see through the ceiling to God. And I'll never forget Gordon's next words: 
"I can't fix this," he said, cupping his hands toward God. "But can You? Can You do something with all these broken pieces?"
I was moved deep within me at the soft answer from the Spirit, at the sure answer from Scripture, at the certain answer from a holy and good God, and at the secured answer, in Jesus:
"Yes," God answers us always… "Yes, I can. I already did."
This, I think is one of the most wonderful parts about belonging to Jesus. Apart from Him, my brokenness stays broken — a million little pieces, utterly unfixable. A jar of clay, shattered.
But in Jesus, there is always, always hope. He is putting all things to rights, making a way where there is no way.
I have felt so much brokenness lately — like the world is cracking into a million little pieces. Marriages I thought would never fail are shattering. Children who seemed sure-footed just months ago have lost their way as they enter into adulthood. Addictions seize. Demons dwell. It's all too much. It's all too broken.
Even in my own self, I feel how the brokenness of my past cuts into my present, demanding to be noticed. I too often do the masking work of hiding it all. This is what we do — we camouflage our pain.
But there is a better way, maybe the ONLY way: The Broken Way.
The Broken Way
Maybe today, you are tending to broken places, too. Maybe you aren't sure how you can step into this day, because the things that are shattered at your feet, might just cut you. Maybe you'd rather hide the brokenness, than expose it to light.
Maybe today, you could risk it.
Maybe you might be like Gordon. You could lift the million little pieces to Jesus.
Your brokenness is not a flaw; it's an invitation for the healing hand of Jesus.
This week, I read words by a brand new book from Ann Voskamp, which will almost certainly be a bestseller by week's end. The Broken Way releases today, to wide acclaim.
It was at Laity Lodge where Ann and I first met — we were two farmers wives who shared a love for words and for Jesus.
One Friday night, she reached across a table into my own brokenness and made me feel loved and seen. That was long before The Broken Way, or One Thousand Gifts. It was years before I penned The Happiness Dare. We were simply two women wading our way through our own brokenness, finding how it had led us both to Jesus. And, I guess we still are wading our way through.
We were both just crazy enough to take our brokenness public.

Ann's new book? It makes me less scared of all the broken things. Her book reminds me that being broken … is being like Jesus. Because the central symbol of our faith is the cross, where Jesus suffered for us all.
"All of us in a heartbreaking world, we are the fellowship of the broken. … Over all of us is the image of the wounded God, the God who breaks open and bleeds with us," Ann writes. "How do you live with your one broken heart? All I can think is — only the wounds of God can heal our wounds. This is the truth, and I feel the rising of it: suffering is healed by suffering, wounds are healed by wounds. It jars me, shatters my fears into the softness of Him; bad brokenness is healed by His good brokenness. Bad brokenness is broken by good brokenness."
I know this:
All brokenness is but a chance to be healed by Jesus — to lift our broken pieces up to a God who sees us and whispers, "I can do something with this. I already have."
The Broken Way — A Book Giveaway
UPDATE: REBECCA is the winner of the giveaway and has been notified by email. 
I have an extra copy of this beautiful book, and I'd love for you to have it. To enter, let me know in the comments that you'd like the book. To be entered multiple times, share this post on social media. Let me know where you shared.
Each share counts as an extra entry. Email subscribers: click here to leave a comment.
I will randomly draw a winner on Friday. (Only continental U.S. mailing addresses eligible.)
About the book: 
This one's for the lovers and the sufferers.
This one's for those whose hopes and dreams and love grew so large it broke their willing hearts.
This one's for the busted ones who are ready to bust free, the ones ready to break molds, break chains, break measuring sticks, and break all this bad brokenness with good brokenness. You could be one of the Beloved who is broken—and still lets yourself be loved.
You could be one of them, one who believes freedom can be found not only beyond the fear and pain — but actually within it.
#TellHisStory
Hey Tell His Story crew! It is a joy to gather here every week with you. The linkup goes live each Tuesday at 4 p.m. (CT). If you would use the badge on your blog, found here, that would be great! And if you would visit at least one other blogger in the link-up and encourage them with a comment, that would be beautiful! Be sure to check the sidebar later. I'll be featuring one of you over there!
Our featured writer this week is Becky Hastings. She invites us to be faith-full, to plant a seed and believe there is a purpose in waiting. Find Becky here.
To be considered as our featured writer, be sure to use our badge or a link to my blog from your post. xo Jennifer
post contains affiliate links