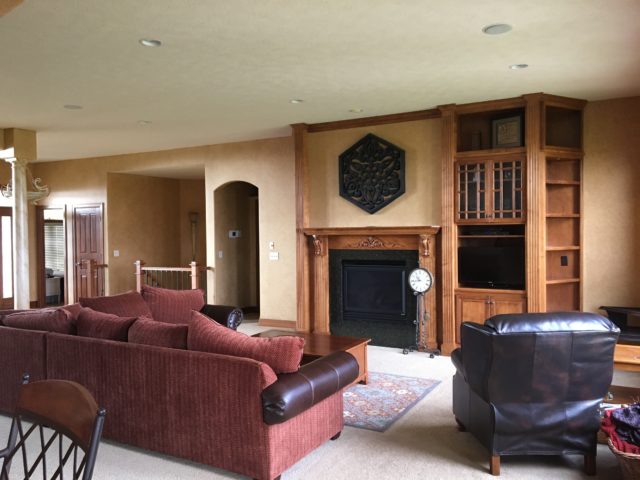 The Five Questions We All Need to Ask Ourselves When Our Souls are Weary
A few weeks ago, I signed up for a home-decorating course. This is unusual for me, because I live in a state of what I call Decor Denial. I haven't redecorated, repainted, or purchased major pieces of furniture since we moved into our new home in 2002. Because I don't want to know what I'm missing, I generally avoid home-decorating blogs, Better Homes & Gardens, Parade of Home tours, and the like. In short, I live in blissful ignorance to the out-of-date nature of my surroundings.
To clarify, we're not talking orange shag carpet and pink toilets here, but I know that at the very least, our living room could use a fresh coat of paint. So, I signed up for The Nester's Cozy Minimalist course, partly because she assured us that we wouldn't have to buy a bunch of new stuff to freshen up our homes, and partly because I adore The Nester.
Our first assignment: to select one room in our house and then "quiet the room."
When you quiet a room, you take everything out of the room, except the essentials. The Nester says that "a quiet space exposes truth." It helps you get rid of what makes your room feel overstuffed, loud, and jumbled. And then, after a time, you can return the pieces that you truly love to the quieted room.
It took me nearly a half hour to un-jumble my room. Here's why:
I had collected 14 years worth of tchotchkes, knick-knacks, fake greenery and more. My room had become overrun with things I loved. Most of the things in that pile are actually good things, and many of them are meaningful things. But sometimes you can simply have too much of a good thing.  
After I finished quieting the room, I went back and admired the beautiful space that remained. Rather than feeling empty, the room felt calm, rested, at ease, and unburdened.
I could breathe.
The Un-Quieted Rooms of My Soul
I snapped a few photos to share with the other Cozy Minimalists, and that's when I felt a lump of emotion rise up in my throat.
In that moment, I saw the room as a metaphor for my tendency to live an overstuffed, jumbled, noisy life. "A quiet space exposes truth." Isn't that what the Nester had said?  
I so often fill my days with good things, meaningful things. I am a Doer, and I can generally handle a lot of tasks at once — until I can't. 
This summer, I had reached the point of "can't." My soul's interior rooms had become like my living room — jumbled, noisy, overstuffed. I had filled my life with many things, most of them good: writing books; speaking nationally; being a wife, a mother to two beautiful girls, and a friend; serving in my local church, volunteering in the community, and more.
Yet I was also living in a state of denial, putting one more thing on the table, one more item on the shelves of my heart, one more task on the mantel. It was too much.
The weekend before my latest book released, I had an awakening. I decided to bring life to a hard stop, which makes zero business sense when you're about to launch the biggest project of your ministry thus far. But I instinctively knew that I needed to "quiet" my life. I needed to strip out everything, so I could hear God above the noise.
Instead of working the weekend before The Happiness Dare released, I sat all weekend long with an advance copy of a book written by my dear friend, Shelly Miller. It's called Rhythms of Rest: Finding the Spirit of Sabbath in a Busy World. 
I didn't realize how thirsty my soul was for a quieted life until I read her words. (Emily P. Freeman called the book "a relieved exhale for the weary, worn-out soul … for a generation fatigued by the abuse of hurry.")
Reading Shelly's words, I was often moved to tears. I felt the way I would later, while standing on the edge of my quieted room. I realized how addicted to hustle I had become. I realized how our culture uses busyness as a measure of worth. I confronted my inability to say no, my constant availability to anyone and everyone via text and Facebook Messenger, and the general overstuffing of my life.
After reading Shelly's book, I felt the sense of calm that I had been missing. My soul had been quieted.
That's the way I feel right now. If you were here, you'd find me today in my living room, in this quiet space where I still haven't put anything back on the shelves. Some of my good things will return to their proper places eventually. I will know when it's time.
The Five Questions We All Need to Ask Ourselves
Both the Nester and Shelly are causing me to look at all of my rooms in a new way – the rooms in my house, and the rooms in my heart.
These are the questions I'm asking myself, and maybe you can ask them of yourself too.
1 – What do I love?
2 – What is essential?
3 – What am I willing to give up?
4 – What deeply inspires me?
5  – What old way of doing things can I let go of?
Only when I answer those questions, with intentionality,
only when I can start saying no,
only when I can stop having to do it all,
will I be able to live a life quiet enough to hear the voice of God.
Rhythms of Rest Giveaway
If you need to quiet your soul,
if you need to jump off the crazy train of busy,
if you need true Sabbath rest,
this is THE book for you. I don't know the last time I read a book twice in one month. It was oxygen for my soul. I offer my hearty endorsement for
Rhythms of Rest
.
I loved this book so much, that I'm giving away three copies.
To enter, simply leave a comment. If you share on any social media channels, let me know where. Each share is worth an entry. I will draw randomly from all the entries on Monday, and will notify the three winners. (Email readers: click here to enter the giveaway.)
UPDATE: We have winners! Theresa Boedeker, Lauren DeVries, Jen Babcock. 
A final word from Shelly's book, Rhythms of Rest:
"If we are created with intention by God for a specific purpose, and the way of discovering that purpose is through relationship with him, then the way of discovering what we are missing in life is through abiding with him on Sabbath. A lack of intentionality when it comes to how we rest leads to a depleted life defined by what the world dictates. When we are overtired and dreading the alarm clock, we miss out on the hints toward happiness God is leaving for us. 'Wasting time' is actually the most productive action you may take this week." Page 44, Rhythms of Rest.
post includes affiliate links