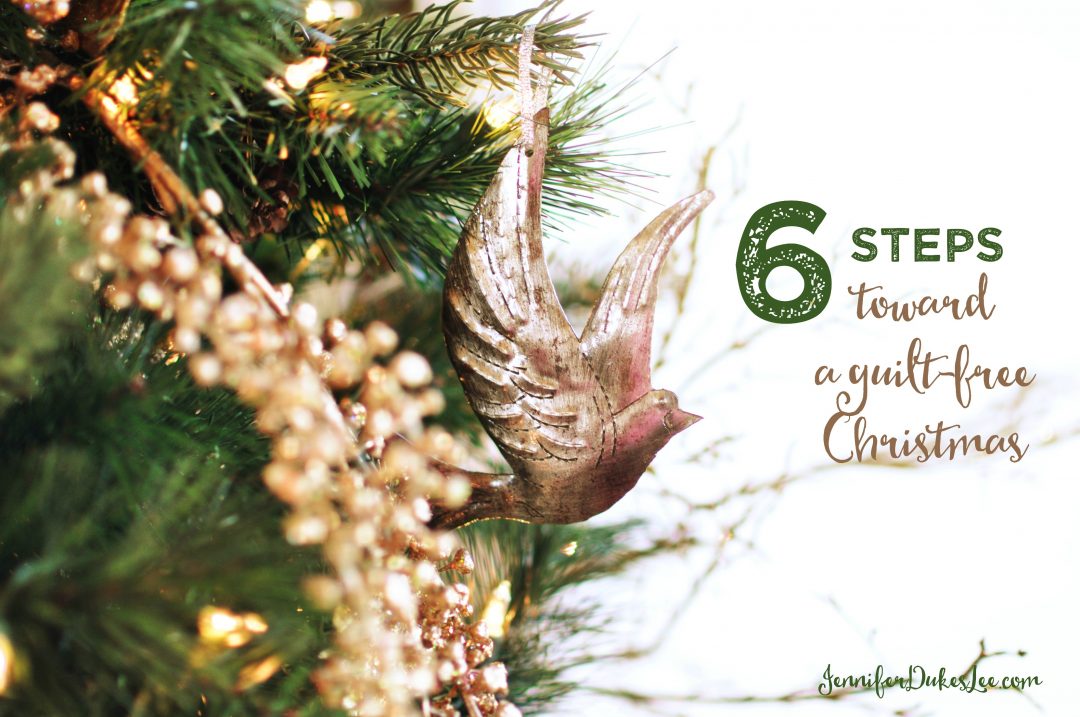 Six Steps to a Guilt-Free Christmas
In our early years as a family, I transformed our house into a winter wonderland every Christmas.
I set up tiny ceramic villages on fake snow. I baked (and burnt) dozens of cookies, mailed an avalanche of Christmas cards, purchased far too many gifts, and decked the halls to the point of exhaustion.
If the weary world rejoiced on Christmas morning, I was too weary to notice.
It went on like that for years, despite my best intention to make Christ the center of our Christmas.
Then, one year, it seemed like everyone I knew was talking about a simplified Christmas. They were cutting back, to keep the focus rightly on Jesus. 
Suddenly, I felt as if I had been doing Christmas all wrong.
I resolved to make big changes. Most of the decorations stayed in boxes that year. I didn't send a single card, or bake/burn a single cookie. The whole house felt unusually quiet—too quiet. When Christmas morning arrived, I wasn't weary. But I felt like I had missed something. And I was right. In my well-intentioned effort to celebrate the "Reason for the Season," I had excised important pieces of our family's celebration.
And once again, I felt as if I did Christmas all wrong.
I needed to find balance, and the next year I did. We began to celebrate Christmas in a way that spotlighted the Star of the story, but didn't cut out the fun parts we all enjoyed.
You might be reading this today thinking that you're doing Christmas all wrong.
You're wondering if you've over-done it—or under-done it.
Maybe you are the woman who is a decorator at heart. You love to deck the halls, Pinterest-style—but your friends roll their eyes and call you "over-the-top." You're left second-guessing your Christmas.
Or, maybe you're the woman who forgot to bring the juice to the third-grade Christmas party and had to wrap all the family presents in leftover gift bags from the baby shower. Your Christmas lights are always tangled up, and so are your insides.
Come Christmas morning, we can all feel a little bit weary—like we missed it. We believe falsely that "we've done it all wrong."
Friend, lean in close, and listen. Let this Christmas be a new kind of Christmas. Let's be done with the high expectations and self-accusations. Let's make a declaration: To live a Guilt-Free, PreApproved Christmas.
Truth is, you have nothing to prove to anyone, because you are already approved in Christ. You are PreApproved! And since this is His birthday, we are free to live out that truth.
Six Steps Toward a Guilt-Free, PreApproved Christmas
 1 – Set one "guiding principle" for your Christmas season. Write it down in one sentence.
Your guiding principle might be as straightforward as this: "I want to celebrate Christ's birth in ways that honor Him and bring delight to my loved ones." Or, maybe you suffered great loss this year. Your guiding principle might read like an honest confession: "I just need Jesus to help me survive this holiday without the one I love at our table." Set your guiding principle, and then let your principle guide you with all of your Christmas decisions. 

2 – Banish the "shoulds." You now have a guiding principle. That eliminates the pressure of "I should probably bake cookies." Or, "I should buy one more gift." All the parts of your Christmas—your Bible reading, your gift lists, your greeting cards, your Griswold-esque decorating techniques—can be viewed through the prism of your guiding principle. If sending out Christmas cards to everyone you know fits under your guiding principle—and doesn't stress you out—by all means, start stamping envelopes. But if you hear yourself say "I should," that's a red flag.
3 – Do what you do with great love. God made you as you are for a reason. We need you. We need your creative gift-wrapping ideas, your ridiculously fun games at the office party, your trumpet in the church's brass choir, your candle in the sanctuary, your famous fruit cake, and your quiet prayers that no one else hears. Your kids love your Elf on the Shelf shenanigans, and the neighbor lady wouldn't get that "blessing basket" if it weren't for you. Listen to the desires of your heart, and hear how they're guiding you into a celebration that reflects your passions while honoring our Savior.
4 – Banish comparison. Your girlfriends' Christmas is going to look different from yours. Celebrate the fact that she's PreApproved, too. That means she might bring a bag of Doritos to the fancy Christmas party. Be cool with it. Or it might mean that her Pinterest-perfect house isn't an attempt to intimidate you, but an honest effort to celebrate Him.
5 – Banish guilt. "Therefore, there is now no condemnation for those who are in Christ Jesus" (Romans 8:1). So many women feel guilty for doing too much, or too little. Ask yourself: Am I feeling conviction, or condemnation? There's a difference. If we carry guilt into our Christmas, we're forgetting that Christ came to release us from it.
6 –  Remember the Reason. This is Jesus' party. And Christmas is Jesus, saying His unflinching yes over you—for PreApproved you! No matter how you decorate the mantel, He is always the Life of the party. And He has come to give life to all the people at the party.
Look now. See how the Life of the party holds out this gift: Himself.
And the gift tag? It has your name on it.
 "See, I have written your name on the palms of my hands." ~ Isaiah 49:16
If you liked this post, you'll love Jennifer's book, Love Idol.
#TellHisStory
Hey Tell His Story crew! It is a joy to gather here every week with you. The linkup goes live each Tuesday at 4 p.m. (CT). If you would use the badge on your blog, found here, that would be great! And if you would visit at least one other blogger in the link-up and encourage them with a comment, that would be beautiful! Be sure to check the sidebar later. I'll be featuring one of you over there!
Our featured writer this week is Joanne Viola. She shares a simple but moving conversation she had with her granddaughter as they colored Christmas ornaments, reminding each of us that "God is with us in our messes."  Find Joanne here.
To be considered as our featured writer, be sure to use our badge or a link to my blog from your post. xo Jennifer