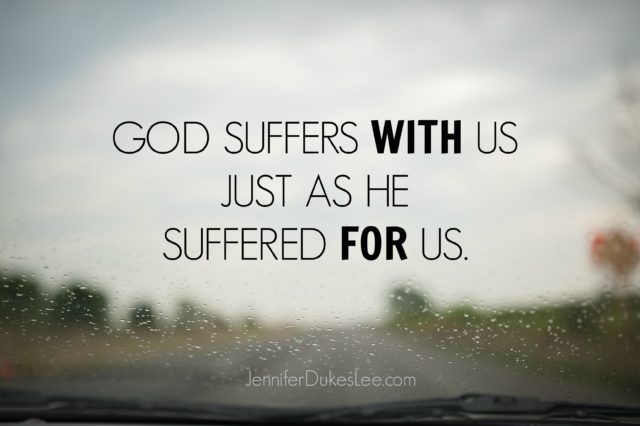 The Secret to Dealing with Hard Times – #tellhisstory
This story begins at the side of a deathbed. It was 2014.
But this isn't a sad story about dying, as much as it's a hopeful story about living.
I was standing there – at the end of a life, at the side of a hospice bed, leaning over the dying woman. She was frail, but wide-eyed. And she was smiling – the kind of smile that came from the inside.
Our faces were so close that I could feel her breath on my cheek, like a small, warm fog coasting in and out of her.
Our gazes were locked. Though clumsy with grief, I fought for words to express my love.
She was my godmother. She had loved me well. And it pained me to say goodbye, though she was thoroughly ready to meet Jesus.
Her eyes were thick with faith, the way they always were.
And her body was tired, the way it always was.
I told her how much I loved her. I told her how big of a difference she made in my life, even in her suffering. She was like a wounded healer, bringing love to the hurting.
I always thought that God gave her special eyes. She could see the hurt in others, because she had felt it so deeply. I am no theologian, but I don't believe that God wastes the pain in our lives. I believe, with all my heart, that God is redeeming all things.
And part of the reason I believe it is because I've witnessed it with my own eyes.
Maybe you know someone like my godmother, whose journey on earth was pockmarked with potholes of pain. Maybe that someone is you.
Maybe, right now, you're sitting on the other side of a really awful diagnosis. Maybe you're struggling with chronic pain, a layoff, a bad breakup, or a terrible misunderstanding with someone you love.
Maybe you're in the middle of a long week, in the middle of a long year. Maybe you're somewhere at the end of a life. And it hurts.
All of it hurts, and when you're in the middle of it, it can be hard to see the good in any of it.
If you're like me, you may have grown up in a time when you were told to have a stiff upper lip, to hide your pain so no one sees how bad it hurts. You might try a common technique called "Just Move On." That sort of stoicism may work for a time, but what if we thought about our pain differently? What if we looked our pain in the eye and said: "This hurts terribly, but out of the ashes, shall come greatest beauty."
What if we used our suffering to heal others, and to heal ourselves, through Jesus?
Frederick Buechner called it the "stewardship of pain."
Keep in touch with your pain, Buechner advised. "Keep in touch with it because it is at those moments of pain where you are most open to the pain of other people – most open to your own deep places. Keep in touch with those sad times because it is then that you are most aware of your own powerlessness, crushed in a way by what is happening to you, but also most aware of God's power to pull you through it, to be with you in it."
We can be stewards of our money, of our time and talents, of our gifts. But could we – like my godmother – also be stewards of our pain? Could we see anew how God suffers with us, just as He suffered for us?
At times, it's difficult for me to see how dealing with pain in this way is even possible. Except that I've seen it happen – most notably in our Savior.
And I saw it, in the life of my godmother, and in her dying. The hands of suffering seemed to tighten their grip on her in the final years of life. But that only seemed to strengthen her grip on Jesus.
Up until the very end, she poured out her love on dozens of people, like me, who bent over her hospital railing to say, "See you later."
It was not we who comforted her. It was she who comforted us. She was a steward of her pain, and a giver of His comfort.
The Apostle Paul had something to say about that.
"[God] comes alongside us when we go through hard times, and before you know it, He brings us alongside someone else who is going through hard times so that we can be there for that person just as God was there for us."
-2 Corinthians 1:4, The Message
That day, when I leaned over my godmother's bed while tears tore paths down my cheeks, she looked at me with eyes that knew both heartache and healing. And before I left – just as she'd done for so many others during her years on earth – she lifted a hand to wipe my tears.
Q4U:
Let's encourage one another in the comments. What song, verse, comfort, or idea do you know to help you get through hard times? Do you know someone who has practiced the good "stewardship of pain?"
#TellHisStory
Hey Tell His Story crew! It is a joy to gather here every week with you. The linkup goes live each Tuesday at 4 p.m. (CT). If you would use the badge on your blog, found here, that would be great! And if you would visit at least one other blogger in the link-up and encourage them with a comment, that would be beautiful! Be sure to check the sidebar later. I'll be featuring one of you over there! Our featured writer this week is Jennifer Frisbie. She writes a beautiful piece on the power of prayer. Find Jennifer here. To be considered as our featured writer, be sure to use our badge or a link to my blog from your post. 🙂 xo Jennifer