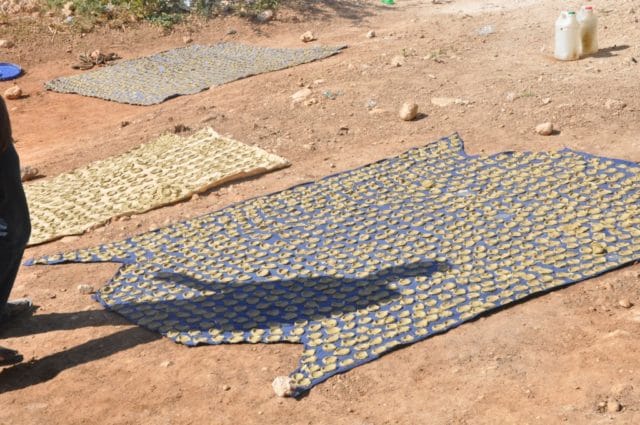 The Secret of Being Content (+ a FREE e-book)
(Today's post is a sample from my FREE e-book! Details below, on how you can snag a copy. This is a book with 31 devotions to let go of your need for people's approval, and live securely in the approval of God.)
The Secret of Being Content
We were standing there, among the bare feet, the jutting ribcage, the tin shanties. Haiti.
I smiled at a child and then studied the architecture of her small face, angled and hollow with hungry eyes. She smiled back and scooted next to me, all bone and skin and sagging shirt.
We walked, a slow shuffle of feet on dirt, because no one was in a hurry there. When we turned the corner, I saw them:
"What's that?" I asked our interpreter, motioning to hundreds of bowl-shaped discs baking under the bluest sky. Sunlight pooled in the little bowls. The child made a grab for my hand. I held it, and our fingers laced.
We walked closer to the bowls, and her small legs brushed up against mine. "Those?" the interpreter asked. "Those aren't bowls. They're mud pies."
He told us that a woman in the village—maybe the girl's mother—had mixed dirt with oil, and then pressed each of them into a uniform shape. She had lined them up on mats, to dry in the sun. Later, she would take them to market, to sell. As food.
These mud pies would be eaten. By people. This was not some bizarre Haitian delicacy. People in Haiti eat dirt because it gives their starving bodies a false sense of satisfaction.
I gripped tighter to the hand of a girl who knew the taste of dirt.
Mud pies don't fill. They merely mask real hunger. The mamas know that. But they feed them to their children, so tiny tummies will stop growling.
I snapped a photo of those mud pies, and of course, I saw the mud pies as a depressing truth about abject hunger in our world.
And then we turned to leave. I left the child, and her mama's mud pies, but the image never left me. I pray that the image will forever inform my priorities.
The mud pies paint a very real picture of a very real crisis, but the picture also came to represent something else.
The mud pies serve as a metaphor for the life of any of us who have ever looked to something or someone other than God for fulfillment.
We can go whole lifetimes eating metaphorical mud pies. We can feast on the dirt of our disordered desires, thinking they will satisfy the hunger within us—as if mud can bring joy or contentment. Our momentary feast on such desires — for things like approval — may quiet our inner grumbles for a time, but in truth, the feast is a false feast. It serves to mask real hunger that can only be fed by one Source.
This morning, I listened to a podcast from Pastor Matt Chandler, who talked about the disordered desires that we use to fill us up. Some of those desires, he said, aren't actually bad. In fact, they're quite good—like the desire to make a good living or to get a better job. But if our "good desires" become our "ultimate desires," we are being ruled by them.
"What is ultimate to you, will control you," Pastor Chandler said.
The Apostle Paul knew the secret to contentment. He knew what it was to feast on metaphorical dirt, and he knew what it was to lose everything in order to gain the one Ultimate — the Person of Jesus Christ.
Paul had feasted on a buffet of disordered desires—status and prestige, to name a few. Then, he leveraged his position as way to hunt down Christians. He terrorized Christians, then he became one. Finally, he had discovered the secret to contentment. He told that great secret in his letter to the Philippians.
In essence, his message is this:
Our hunger for contentment will never be satisfied with our perfection, our performance, or our prestige. We won't find contentment in a bigger 401K, a smaller dress size, a fancier car, or a weeklong vacation in Cancun. Those are good things, but they aren't the ultimate things.
The secret to ultimate contentment? Paul revealed it in the letter. "I have learned the secret of being content in any and every situation," Paul wrote, and it's this: "I can do all this through him who gives me strength." (See Philippians 4:12-14.)
The secret isn't in the mud. It's in the Bread—the body of Christ, alive in you.
Questions for you: What metaphorical mud pies have you feasted on? Reread Paul's words about true contentment. How have you experienced contentment, apart from circumstances, in your own life?
A Free 31-day devotional for you!
Today's post is a sample of the content that you'll find in my FREE e-book, 31 Days to Living Preapproved. (Yes, I said free!) It's a gift to anyone who subscribes. Sign up here.
ABOUT THE DEVO:
You've heard the voices—the ones that say, "You've got something to prove." Those noisy voices taunt you: "You aren't enough. You don't belong."
They command you: "Climb higher. Get skinnier. Do better. Prove yourself."
But what if we could hush all those loud inner critics? What if we could turn our backs to the noise and listen to the whisper of our Father? He is saying to us:
"You don't have to try so hard anymore. You have nothing to prove to anyone, including Me. You are already approved — PreApproved! — through My Son, Jesus Christ."
That's the voice we all long to hear—the Voice of everlasting truth.
God's everlasting love for each of us is the heart-fuel behind this devotional, 31 Days to Living PreApproved. This ebook is my gift to you. Each word was written with you in mind because we all need a friend to remind us who we really are: Loved, Beautiful, His.
#TellHisStory
Each week, I host an encouraging community of bloggers who are telling their stories around the web and across the world. The linkup goes live each Tuesday at 4 p.m. (CT) on my blog. If you are a blogger who loves to encourage others with stories of faith and hope, you are welcome to link up with us.
Each week, I feature one of the writers in our #TellHisStory community. Our featured writer this week is Mary Geisen. Her words about identity are really encouraging to me. "My season of loss changed my identity on the outside. But God and who He says I am has never changed on the inside." Find Mary here.
To be considered as our featured writer, be sure to use our badge or a link to my blog from your post. That badge can be found here. xo Jennifer
SaveSave