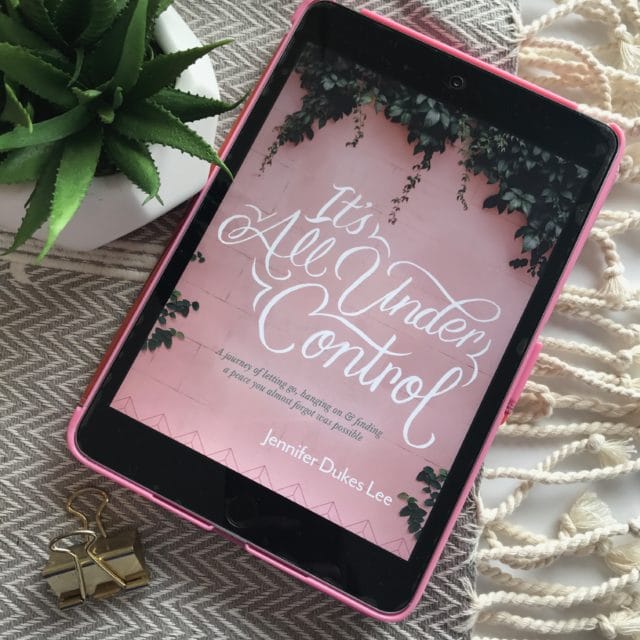 I have a new book coming out! It's All Under Control.
Confession: I have loved the steady comfort of control—even though it was only an illusion.
I have believed that I needed to be reliable, responsible, … on top of everything.
I've generally been able to handle a lot of tasks at once, and I learned early on how to hide the fractured debris of my overworked life. I rarely confessed my anxiety, because then I would appear too needy.
I kept saying I was fine.
But I wasn't fine.
I wanted help but didn't know how to ask for it. I said I trusted God but had reached the point where I realized I actually didn't.
I turned around to face my life and realized that the woman I'd become wasn't someone I wanted to be around, and no matter what I did, it never seemed enough.
I began to ask myself questions like:
If I'm doing so much for others, why do I feel so distant from them?
How can I begin to truly trust a God whom I cannot see?
What is surrender anyway?
When do I let go, and when do I hang on tighter than ever before?
The answers to those questions changed my life — and they also became a book.
Let me introduce you to It's All Under Control: A Journey of Letting Go, Hanging On, and Finding a Peace You Almost Forgot was Possible. The book releases September 18, and today I get to show you the cover!
This book is an invitation into a journey of true freedom. And I'll go with you! Together, we'll discover a God who is wooing us into a beautiful surrender. This is what's waiting: a peace that we almost forgot was possible.
Preorders are now open!
If you think you might like to read this book when it comes out, I'd so appreciate your preorders.
Preordering a book makes a huge difference for authors. It ensures that bookstores and online booksellers have the book adequately stocked when it actually releases — because it signals early on that people want this book. (My first book went out of stock in the first week, and it was so frustrating for me as a new author, and especially frustrating for readers who wanted the book!)
If you think you'd like to read It's All Under Control, you can already preorder it here:
It's also available in hardcover! 
Be sure to save your online receipts because I'll be offering some fun preorder bonuses later on!
I hope you love this book. Here's a bit more about it:
Jennifer discovered what happens when you try to wrap your arms around everything, thinking it's all on you: You get burned out on hustle. You toss and turn more at night, and you laugh less during the day. And you're so busy—caring, serving, working, and trying so hard—that you can't even hear God's voice anymore.
It's All under Control is a book for every woman who is hanging on tight and trying to get each day right—yet finding that life often feels out of control and chaotic. Join Jennifer on the journey of learning how to:
– Overcome the anxieties and worries that burden your heart
– Prioritize your busy life so you can make choices that align with God's best for you
– Find freedom through a new "Do, Delegate, or Dismiss" approach to your daily tasks
– Let go of what God has not asked you to do, so you can shine at what he has
Discover a new way of living that will free you to be you, and finally experience the peace of knowing a God who truly has it all under control.
I'm excited to share more as we get closer to the release of the book. Thank you for supporting me with your preorders. You are helping me to continue doing work that I love so much. In turn, I pray that the words I've written will be a great encouragement to you.
Much love,
Jennifer
P.S. — Here's a sneak peek at one of the pretty interior pages, with a call-out quote!
#TellHisStory
Each week, I host an encouraging community of bloggers who are telling their stories around the web and across the world. The linkup goes live each Tuesday at 4 p.m. (CT) on my blog. If you are a blogger who loves to encourage others with stories of faith and hope, you are welcome to link up with us.
Each week, I feature one of the writers in our #TellHisStory community. Our featured writer this week is Mary Carver. I'm so grateful she talked about insecurity and the power of being real. Find Mary here.
To be considered as our featured writer, be sure to use our badge or a link to my blog from your post. That badge can be found here. xo Jennifer