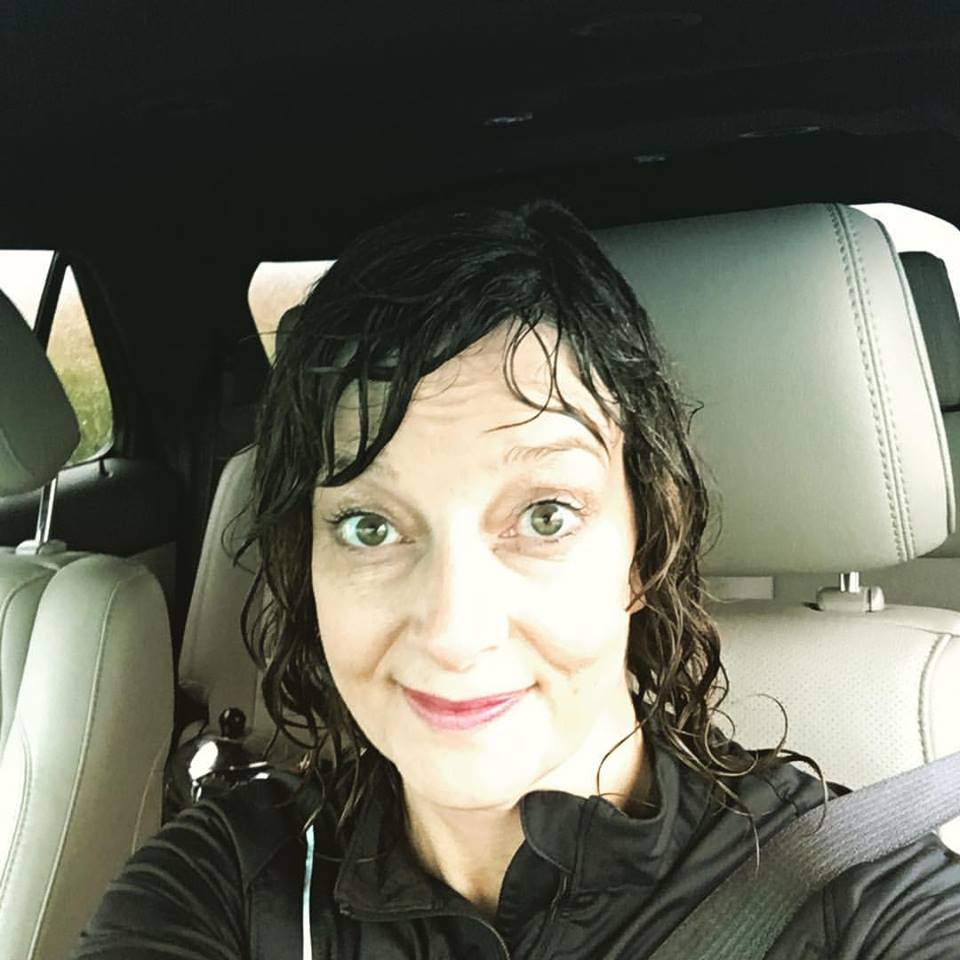 what we all need to know when the storms come – #tellhisstory
Hi. This is the version of me who ran through a literal storm last week.
In this picture, I am clearly and completely soaked, as if I had jumped into the lake that I was walking around.
But I didn't jump in the lake. The skies opened, and out poured a storm. When it hit, I was exactly halfway around the lake. If I turned back, I'd have been no better off than if I kept going forward.
For a little while, I crouched down under a pine tree and tried to wait it out, shivering as the rain soaked through my clothes. But it was clear that the storm wouldn't be lifting any time soon. So I got up, took a deep breath … and I started running. 
I ran as fast as could for as long as I could. I ran and ran, jumping over puddles as rain pummeled the earth. The only way OUT of the storm was to go THROUGH it.
At last, I got back to my car. I was drenched but grateful to have made it back to a warm, dry place. Sitting in my car, I snapped a selfie. And I thought of you. 
Some of you are in a place like that right now.
You're halfway to somewhere good in your life, and suddenly you find yourself in the middle of a storm. You have nowhere to hide, and you can't turn back. Sometimes, the only way out of a storm … is to go through it.
When I was running, all I could do was focus on the next step and then the next one after that. Whenever I looked too far ahead, I would lose hope. If I looked back, I would bemoan my seemingly slow progress.
I learned, in that moment, that the only step I could really focus on? Was the one I was taking. 
Above us and around us – and sometimes even inside of us – thunderheads are building. Out of nowhere, it seems, storms spill from the torn fabric of an iron-gray sky. Or maybe from behind the closed doors of the doctor's office, or on the other end of the phone line, or right at your own front door.
I spent many years as a news reporter. I covered some of the most horrific events imaginable, proving true the Bible verse that begins like this: "In this world you will have trouble …"
Will. Not might. Will.
Reading those words, you might be inclined to keep your doors locked, your phone off the hook. You might avoid getting too close to someone who wants to love you because you never know when the storm will come, sweeping away your happiness in a torrent.
Except that there's more to that Bible verse. That verse doesn't end in trouble. It ends in power.
Jesus said this: "But take heart! I have overcome the world." (John 16:33)
You are an overcomer. You may be storm-stained, weary from the battle. But you know what? You are not knocked down. You are not destroyed. You are brave, and our God is an irrepressible force within you.
Whatever storm you are in this week, may you have the courage to take the next step, and then the next step after that.
The way out of the storm is THROUGH. One step at a time.
How Can I Pray For You?
I'll be here today, in the comments, praying for you. If you have a need, I am here to help you carry it to Jesus.
Yes, I love to talk about happiness, and here's an important truth about REAL happiness:
Happiness doesn't deny our pain. It holds it gently. Happiness doesn't ignore the hurt in your life; it makes a space to sit quietly inside of the ache.
Love,
Jennifer
#TellHisStory
Hey Tell His Story crew! It is a joy to gather here every week with you. The linkup goes live each Tuesday at 4 p.m. (CT). If you would use the badge on your blog, found here, that would be great! And if you would visit at least one other blogger in the link-up and encourage them with a comment, that would be beautiful! Be sure to check the sidebar later. I'll be featuring one of you over there!
Our featured writer this week is Dr. Michelle Bengtson, author of the new book Hope Prevails: Insights from a Doctor's Personal Journey through Depression.  Michelle is also writing about storms! If you're going through a storm, her words are sure to be both a comfort and an encouragement to you today! Find Michelle here.
To be considered as our featured writer, be sure to use our badge or a link to my blog from your post. xo Jennifer