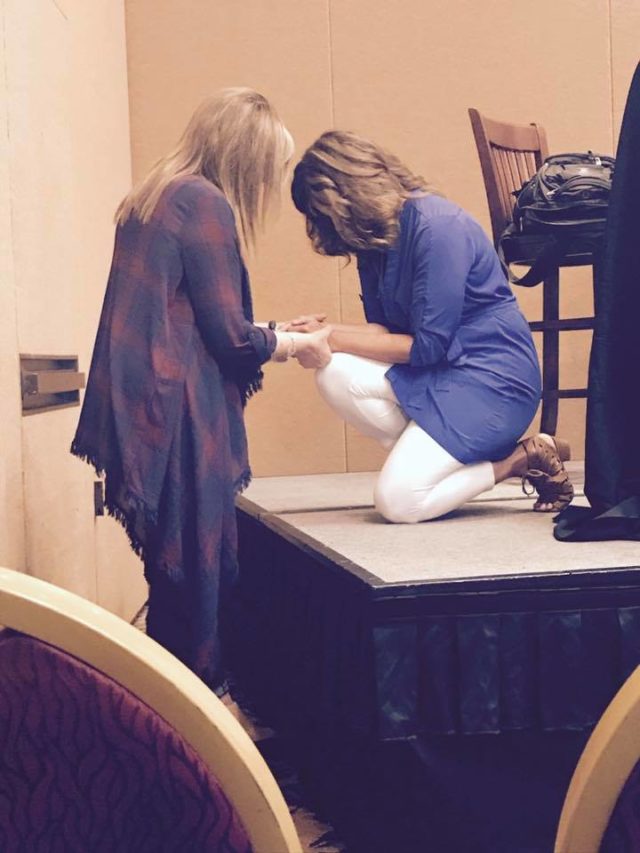 Let's Stop Saying "I'll Pray For You" And Do This Instead.
Suzie came to the edge of the stage at the front of the room and asked me if I needed anything else before I spoke to the women filling the seats.
I had almost everything that I needed.
Microphone. Check.
Water. Check.
Outline. Check.
Tissues, (because I almost always cry a little when I talk about my Jesus.) Check.
But I needed one more thing. So when Suzie appeared at the edge of the stage and asked me — Do you need anything? — I told her what I needed most of all:
"Prayer."
She nodded, promised to pray, and then started to walk. But she didn't walk away; she walked to the other side of the stage.
"Come with me," she said, motioning me to a quiet corner.
And there, behind my podium, I knelt. She grabbed my hands, and began to pray. Suzie asked for God to settle my nerves, for words to flow, and for the Holy Spirit to be present and powerful.

I was deeply moved, and beyond grateful for her on-the-spot prayer.
Her prayers were the fuel I needed to deliver an hour-long talk about book publishing to a room full of hopeful writers at the She Speaks Conference in North Carolina.
I didn't know, until after I returned home to Iowa, that a woman in the audience, Tiffany, snapped that photo while we prayed. Like me, Tiffany was moved by Suzie's obedience to prayer. She sent me the photo and told me this:
"My readers are saying things like 'I constantly feel on the outside of my relationships' or 'I see other women connecting sincerely with each other but I don't have that kind of relationship with my friends.' I think prayer is a powerful way we connect intimately with each other."
Yes, Tiffany. Yes! Preach!
When Suzie prayed with me, I felt a connection to God, but I also felt a connection to Suzie, who cared enough about me and the other women in the room to pray.
That's what God intended all along.
"For where two or three are gathered in my name, there am I among them" (Matthew 18:20).
You can't see Jesus in the photo, but according to His promises, He was among us.
You can't see our Father in the photo, but according to His promises, He was among us.
You can't see the Holy Spirit in the photo, but according to His promises, He was among us.
You can't see it in the photo, but the Trinity was actually at our side.
When I look at that photo, I think of how many times I've told someone I would pray, rather than actually praying in that moment. I think of how many times I've told someone I'd pray, then completely forgot!
Sisters –Let's stop promising to pray, and start linking hands to pray, on the spot. When we gather like that, we draw a deeper connection to one another, and we invite the Trinity to move powerfully in our presence.
Scripture says that one of the reasons we haven't received God's best for us … is because we haven't asked! (James 4:2).
I want God's best for me … and I also want God's best for my sisters. I want to grow in intimate friendship with God, and also with His daughters.
Those relationships can begin when we say, "Let me pray for you."
Let's stop praying later, and start praying now.
Let's stop saying, "I'll pray for you," and start saying, "Let me pray for you now."
I know how intimidating that can be. But we don't have to speak in the King James version. Thou hast no time for that! We don't have to come up with all the right words.
Start like this: "Hi, God. It's us." Then go!
If you want to change the world today, kneel with someone you love and pray.
Today, I challenge each of us to find someone we can pray with — on the spot.
Pray at the bedside or in the cubicle. When you see a friend asking for prayer on Facebook, write a pray in the comments, or call her. Pray in the grocery store, at the dentist's office, at the pool. Invite the trinity to move among you.
If you have a prayer request today, put it in the comments, and let the rest of us pray for you — on the spot.
Imagine a world where we all stopped what we were doing to pray, instead of promising to do it later. Your prayers make a difference. Each of us needs to know that the shaky-voiced prayer of a Jesus Girl ripples to the highest heaven and invites a powerful force upon the earth.
Dear Jesus,
Today, I pray for the prayer warriors. I pray that we would see ourselves the way You intended — set apart to do Your will in the world. Your power is often unleashed with these words: "Our Father …" Help us to pray — not later, but now. Help us to join together for the sake of a world that desperately needs You among us. Give us courage to kneel with Your sons and daughters. In Your Name, Amen. 
#TellHisStory
Hey Tell His Story crew! It is a joy to gather here every week with you. The linkup goes live each Tuesday at 4 p.m. (CT). If you would use the badge on your blog, found here, that would be great! And if you would visit at least one other blogger in the link-up and encourage them with a comment, that would be beautiful! Be sure to check the sidebar later. I'll be featuring one of you over there!
Our featured writer this week is Lisa Burgess. We're often quick to raise the bar, dismissing our accomplishments. I appreciate Lisa's encouragement to linger in the moment and "practice contentment by enjoying today's grace" before moving to the next thing. Find Lisa here.
To be considered as our featured writer, be sure to use our badge or a link to my blog from your post. xo Jennifer