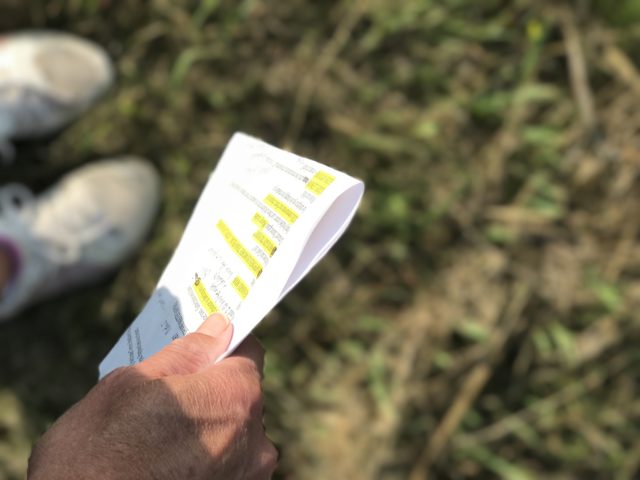 what would happen if we let our lives preach louder than our lips?
These long walks in the countryside, with a paper in my hand, always catch me with my guard down.
I'm far enough away from the the house, the iPhone, the laundry, the messy calendar. It's just me, this paper, a long empty road … and Jesus.
My heart thumps a little harder inside my chest, and maybe it's because I'm moving faster than usual, but maybe it's because something's moving inside of me. It feels like conviction.
You see, for the last year, this is how I've begun to prepare for keynote addresses and workshops that I deliver at conferences. I used to be a full manuscripter, but two speaking mentors convinced me that I didn't need to read from a manuscript anymore. The talk wasn't in the manuscript, they told me, it was in me. So they dared me to internalize the message and try preaching from a short outline. They basically dared me to trust that the Holy Spirit would show up.
In order for this to happen, I've had to put a fair amount of distance between me and the home where my manuscript sits. So in the week before I deliver a talk, I take a short outline and walk out the door every day. My route generally takes me between cornfields, along gravel roads dominated by cap-wearing farmers in pickup trucks.
I call it "walking my talk" because when I take my talk for a long walk, it settles itself down into my heart.
It's been a powerful experience, but not primarily because "walking my talk" has given me the God-fidence I need to step boldly onto a stage.
It's been a powerful experience, mostly because of the heart-thumping conviction I feel every time I walk between the cornfields.
Here's why: As much as I want to deliver a talk that moves people closer to Jesus, I want my walk to match my talk. I want to be what I say I believe.
I want to truly walk the talk.
I have a lot of non-Christian friends, and while they find the teachings of Jesus to be thought-provoking and inspiring, they say they are put off by His followers. They say they see hypocrisy. They say they see walks that aren't harmonious with talks.
I am happy to say that I know countless Christians whose walks match their talks. I could point my non-Christian friends to brothers and sisters in Christ who are living out their faith as missionaries, foster parents, faithful prayer warriors, Bible study leaders, generous givers, and more.
But I also want them to see Jesus in me. God forbid that I should walk in a way that doesn't match the words I preach from a platform.
I want my life to preach louder than my lips. Because it's not the talk — but the walk — that matters most.
Christians — our walk is what matters most. Nothing we say will matter if people can't see His love alive in us. Nothing we say will matter if people primarily see us as ones who demand our own way, grant entry only to the "insiders," turn our backs on the underprivileged, put ourselves first, and point out sin in others but refuse to see it in ourselves.
As I walked through the cornfields the other day, one verse rang like a bell through my soul because it was the theme verse of the conference where I spoke.
"Whoever says he abides in him ought to walk in the same way in which he walked" (1 John 2:6).
We want to walk the way Jesus walked, don't we? We want to model our lives after His. We want to love how He loved, serve how He served, pray how He prayed … and walk where He leads.
This means that we will have to do hard things: love our enemies, carry a cross, forgive when it's hard, stand up for the underdog, follow His commandments, stop all this proving, sacrifice until it hurts, rest when we want to run, worship when we're prone to worry, take our sin seriously, and love our neighbors the way we love ourselves.
Imagine a world where our beliefs weren't just something that happened in our heads and hearts — but became something powerful we did with our hands and feet.
Let's start walking.
#TellHisStory
Hey Tell His Story crew! It is a joy to gather here every week with you. The linkup goes live each Tuesday at 4 p.m. (CT). If you would use the badge on your blog, found here, that would be great! And if you would visit at least one other blogger in the link-up and encourage them with a comment, that would be beautiful! Be sure to check the sidebar later. I'll be featuring one of you over there!
Our featured writer this week is Katie Reid. I had the pleasure of spending a little bit of time with Katie at the She Speaks conference in July. Her reflections on the conference are sure to inspire you (even if you weren't able to attend!). Find Katie here.
To be considered as our featured writer, be sure to use our badge or a link to my blog from your post. xo Jennifer