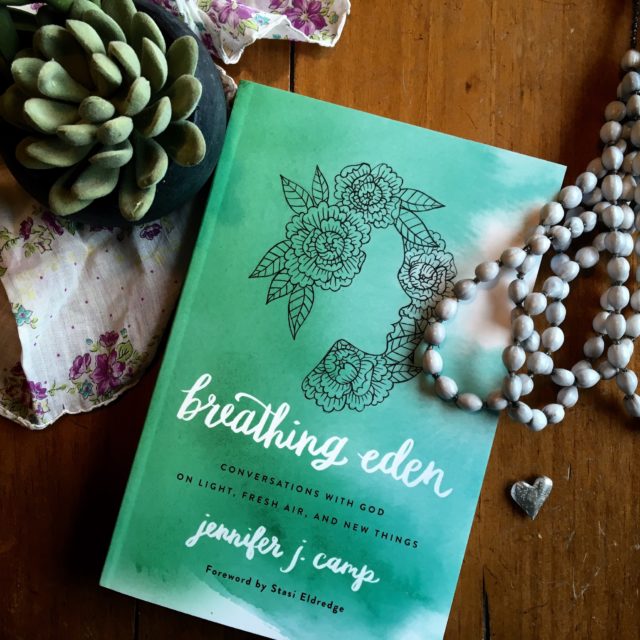 How knowing what God sees changes everything (with book giveaway!) – #tellhisstory
It's a privilege to welcome my friend Jennifer Camp to the blog today. She's the author of Breathing Eden: Conversations with God on Light, Fresh Air, and New Things. Reading her book was a sacred experience that moved me deeply, and drew me toward a very personal God who hears us, loves us and never forsakes us. This book is for any woman whose life didn't turn out the way she planned — any woman who has doubted that God hears her cry. God does hear. And He responds in a deeply personal way. Reading Jennifer's book, was like encountering the gentle whisper of God.
Welcome, Jennifer.
How knowing what God sees changes everything
By Jennifer Camp
She looked like she wanted to fly away. Perched there on the edge of her chair. Short blonde hair in disarray. This was the day she didn't have it together. This was the day she had to fall, risking that her friends might not catch her.
She blew in that morning, declining the offer of a cup of coffee. We sat in a circle in the living room, morning light shining in through tall windows. Six of us, friends for more than a decade, surrounding the friend who moved fast and got a lot done and was now about to collapse onto the floor.
She leaned forward, hands clenched in her lap. A regular Tuesday morning that wasn't at all routine. Holy Spirit, come. Flood this room, this space. Tears spilled from her blue eyes, streaming down her pained, beautiful face.
The night before had been an accident, perfectly timed. One of those moments when a disaster should have happened but it didn't and you see how God came in and saved you from yourself. From busyness. From hurry. From the outcome of stress and trying to carry the world all on your own.
Kids needing to get to practice. Work deadlines needing to be met. Meals needing to be cooked. Clothes needing to be washed and organized. A heart needing to be cared for, rescued, made whole. Oh, how to make space for that?
We move from our seats and surround our friend. Hands on a knee, arms wrapped around her shoulders, holding her head to a chest as she cries. It was so close. So close.
We can't fix this. Our friend is broken, and we can't fix her. We can't rewind this situation, make this all okay. We are on our knees around her chair. I hold her to me as I pray, lifting her up to the Father, asking for light to come where it feels only dark.
And when we pray, our voices calling out to our God, we look, we expect, we listen. If we only call out to God but don't expect His presence, don't listen for his voice, don't let our imagination see what our eyes cannot, how can faith be experienced? How can we love our friend who is hurting, who is desperate for God to come save?
That Tuesday, spring light shining bright on our faces, the prayers of our friend were unearthed by a God who loves. Holy Spirit, come. Father, let your light shine in. And our cries to him become a conversation; for we listen for what he says now.
How might knowing what God sees in our situation change everything?
Father, what do our prayers sound like to you now? How do you see us, really see us, when we share our hearts with you? How do you respond? And how might this change us? We need to know.
Breathing Eden
This story of my friend is a snapshot of what prompted the book, Breathing Eden: Conversations with God on Light, Fresh Air, and New Things. This book consists of our prayers to God and his answers. Forty women. Forty prayers. Forty women's conversations with God.
As women, as daughters of God, we are made to receive hope and life from the God who made us. We are desperate to see what God sees in our situation. We are desperate to have his light, his fresh air, his new take on our lives.
It is knowing God's truth and how it applies to our particular situation that prompts healing, restoration, the end to being stuck.
Prayer takes a listening—a looking deeper. Real prayer uncovers hope that is impossible to see on our own. God knows the wide-ranging emotions we feel—the cries of pain when we are overwhelmed and alone, the songs of joy when we are captured by his goodness and majesty. But what happens when he unearths the silent prayers we didn't know we had—of sadness or worship, confession, freedom?
After each story is a personal invitation for you to enter into the dialogue with your own story. Forty invitations to engage in exercises in which you can personally respond.
Let's be part of the conversation God has already begun. Let's be changed. Let's live believing there is more to this moment than what our eyes can see.
About the Book
Breathing Eden: Conversations with God on Light, Fresh Air, and New Things, by Jennifer J. Camp, is forty raw, honest, heartbreaking and encouraging conversations between women and God. These prayers are like our own: full of pain, celebration, anxiety, and joy. Each one helps the reader hear God whisper love and hope into their lives. And after each story, Jennifer offers readers a guided invitation to listen for what God is saying to them. In these pages, readers will find hope and fresh perspectives. It's an invitation to come. Breathe Eden.
Jennifer is co-founder of Gather Ministries with her husband, Justin, and she's passionate about encouraging women to live lives of identity, community and adventure, with Christ. She lives in the San Francisco Bay Area with Justin, their three kids, and her very insecure dog. Connect with her at jenniferjcamp.com.
Two-Book Giveaway!
Jennifer is giving away TWO copies of her new book. Entering to win is easy. Simply leave a comment letting us know if your prayers right now are filled with pain, celebration, anxiety or joy — or all of the above. I'll be praying for each of you. Each comment is an entry. You can enter more times by sharing this post on social media. Simply let us know where you shared.
Each "share" is worth an additional entry.
I'll draw a winner on Friday.
We all long to know that God hears us. Two-book giveaway of #BreathingEden by @jenniferjcamp on @dukeslee blog http://wp.me/p32XPW-eQh
UPDATE: Winners are Amanda Geaney and Ruth-Anne Hayes!
post includes affiliate link
#TellHisStory
Hey Tell His Story crew! It is a joy to gather here every week with you. The linkup goes live each Tuesday at 4 p.m. (CT). If you would use the badge on your blog, found here, that would be great! And if you would visit at least one other blogger in the link-up and encourage them with a comment, that would be beautiful! Be sure to check the sidebar later. I'll be featuring one of you over there!
Our featured writer this week is my dear friend and virtual assistant Kaitlyn Bouchillon. She encourages us to soak in the Truth instead of reaching for another rung — or another Twitter follower. I especially like this quote from her post titled Roots Before Branches: "Sometimes when you're in a dark place, you think you've been buried … but actually, you've been planted." Find Kaitlyn here.
To be considered as our featured writer, be sure to use our badge or a link to my blog from your post. xo Jennifer