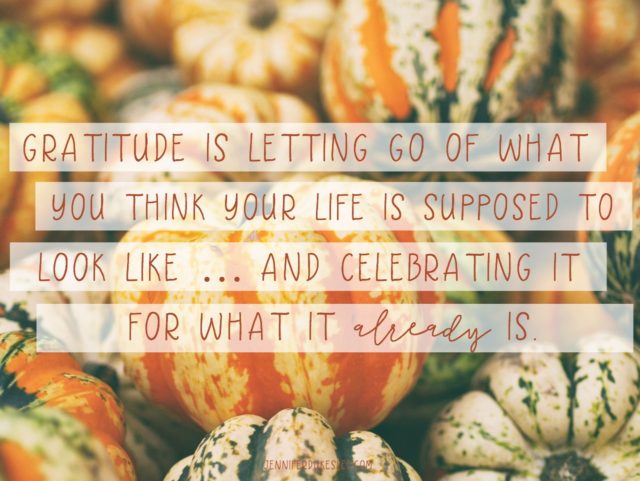 Join Us For 30 Days of Gratitude
One of the happiest men I know turned 80 years old last week.
That's my dad.
If you've been around here long, you know Dad's story. You know about his unstoppable optimism and his heart of gratitude. You can see it in his face.
What you can't see in the picture is his wheelchair. Or the sock covering his amputated leg. What you can't see is the three-year-long battle that Dad has faced with that amputated leg.
But every day, Dad continues to find reasons to be thankful. It's like he understands that if a person is given the gift of life, he should find a reason to be thankful for it, no matter how dented and banged up that life gets.  
This is the lesson I continue to learn from my father:
Some people might say that happy people become thankful people. But perhaps it's the other way around. It's the thankful people who are happy.
Gratitude is powerful. Gratitude acknowledges the goodness in our lives as they exist today, not as we wish them to be.
30 Days of Gratitude
Let's be intentional in our gratitude. Let's offer a chorus of praise even on our hardest days — especially on our hardest days.
I've put together a Happiness Dare for us. Starting November 1, and for the following 30 days, we can count our blessings together.
Here's how: Simply follow along with these 30 days of prompts, listed below. (You can return daily to this post, or print the 30-day chart out by clicking here. You could also "pin" the list to your Pinterest boards, or find the list on my Facebook page.)
Whatever day you're joining us, simply start with day 1, and complete one a day, for the next 30 days.
Share your blessings with us in community on Facebook, on Instagram, or Twitter. Use the tag #TheHappinessDare.
I know I'm not alone in wanting to find a reason to give thanks during this season. I've read the emails you've sent me. I've prayed with you at conferences and retreats. Being grateful feels hard because of what you're going through.
Friend, maybe this is when we need to say thanks the most. Maybe this is when we need to be loudest in our praise. We can't wait for perfect conditions to be grateful. Gratitude is more than a nice gesture acknowledging the gifts in our lives. It is the stubborn refusal to be held hostage by fear and despair. It's saying to the world — and to ourselves — that despite everything, this old world is still a beautiful place. No matter how hopeless it all seems, there's always, always something to be thankful for.
This year, I've come to believe that gratitude is letting go of what you think your life is supposed to look like … and celebrating it for what it already is.
Your gratitude might just change your world, but first, let it change you.
How Gratitude Makes You Happier
When we look for things that make us grateful, we start seeing them. And when we start noticing them, we are making actual investments in the thoughts of our future selves. We are building neural pathways, all the while becoming more resourced on the inside. When we are more resourced with happiness, we have a kind of happiness bank that we can draw from on our hardest days.
We can begin accumulating resources in our happiness banks by taking five minutes every day to consider our blessings. It's a good practice to write them down, but you don't have to. Merely thinking of your blessings has a profound effect on your outlook. We can devote five minutes a day, dwelling on the good things and thanking the one who gave them to us. I understand that you may not be one of those unstoppably positive people whom you know—the kind of person who wakes up singing songs, the kind of person who relentlessly posts cuddly puppy pictures on Facebook. I understand how you might be inclined to forgo counting your blessings on your hardest days. And I totally get how it feels selfish to make a list of what's right in your little world when you know there's a girl in a developing country who can see the ribs under her skin.
Thank God anyway. We must.
There are so many good gifts here in this world. Clean sheets and Frisbee golf and kites and reruns of Friends. A cool breeze through a cracked window. A Charlie Brown Christmas on a cold December night. An overdue date with your husband, and his arm over your shoulder at the movies. A new bottle of bubble bath, a fresh haircut, leggings-and-boots weather, the smell of a bookstore, a long rope of licorice.
Thank God for what you have been given and then use your gratefulness as a way to share the gospel with a world in need of a reason to praise.
~ From The Happiness Dare.
RELATED RESOURCE:
For more on gratitude,
read chapter 14 of The Happiness Dare.
TAKE THE DARE
November — a season when we remember all that we're grateful for — is a great time to take The Happiness Dare. Thanks for sharing your DARE with us, Jenni on Instagram. 
Instagram
Here's what we've been up to on Instagram this week. Join us there!
And from our Facebook community
"Be the person who decided to go for it.
I know there's opposition against you right now. I know it's tempting to give up. But opposition isn't always a sign to quit. Sometimes, it's a call to rise up stronger than ever before. The opposition is often the enemy, who is threatened by God's power at work in you. The enemy knows, perhaps even more than you do, what you could accomplish if you really believed you could pull this off. Of course, the enemy is going to oppose you!
Chin up, friend. Today may be the day to make your move.
What if this is what you were made for? What if this could make the world a better place?
Go for it. Be that person. Show us what you're made of.
"So take everything the Master has set out for you, well-made weapons of the best materials. And put them to use so you will be able to stand up to everything the Devil throws your way. This is no afternoon athletic contest that we'll walk away from and forget about in a couple of hours. This is for keeps, a life-or-death fight to the finish against the Devil and all his angels" (Ephesians 6:11-12, The Message)."
YOUR TURN:
Answer our Day 1 Gratitude Challenge question in the comments:
"What unexpected blessing are you grateful for?"
#TellHisStory
Hey Tell His Story crew! It is a joy to gather here every week with you. The linkup goes live each Tuesday at 4 p.m. (CT). If you would use the badge on your blog, found here, that would be great! And if you would visit at least one other blogger in the link-up and encourage them with a comment, that would be beautiful! Be sure to check the sidebar later. I'll be featuring one of you over there!
Our featured writer this week is Katie M. Reid. Last Tuesday, I shared about the four types of friends we all need. I loved seeing that Katie linked up her recent post on how we can bless and love our Type-A friends well. Her words and suggestions are honest, encouraging, and practical. Find Katie here.
To be considered as our featured writer, be sure to use our badge or a link to my blog from your post. xo Jennifer