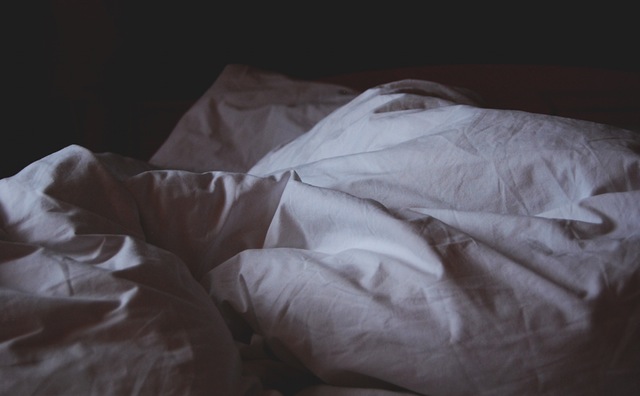 When Jesus Sits Cross-Legged At The End of Your Bed
It's bedtime. I lean back into the pillow, lace my fingers behind my head, and stare at the ceiling for a long time. This is ordinarily the quietest moment of my day — at least externally. But on the inside? It feels noisy, an interior clanging brought on by the suffering around us and in us.
I breathe.
With every exhale, I let each burden unhinge itself from my soul and fly skyward, up through the ceiling, as if attached to balloons. I suppose you could say I am praying. But it actually feels like the Holy Spirit is doing the heavy lifting — like it says in Romans 8:26.
"If we don't know how or what to pray, it doesn't matter. He does our praying in and for us, making prayer out of our wordless sighs, our aching groans" (The Message paraphrase).
I find this one of the most fascinating features of the Holy Spirit, how we don't have to be fancy with our words. How we can just let a word slip out — or maybe a groan, a whimper, a cry, a syllable. The Holy Spirit makes something special out of it.
Anyway, here I am — uttering words and groans, flip-book style for the hurt that clings to the edges of my evening heart:
The division in our nation.
My friend's diagnosis.
Dad's continued struggle with his amputated leg.
Mom's sore back.
The mourners.
The grievers.
The ones with no peace.
The hungry.
The widow.
The refugee.
The friend in my life facing unwanted transition.
The betrayed.
Even the cranky clerk at the store.
In this moment, I feel the with-ness of Jesus. I feel Him with me. Near, so near. It's the way He promises to be close to the brokenhearted and, actually, how He presents Himself to all of us, whether we're downtrodden or at the top of our game.
I also feel the "us-ness" … of all of us. Here we are, seven billion people sharing a planet orbiting through space. We are all together in this. We are so together. We don't even realize how together we are. Yet it doesn't feel like "us-ness" sometimes. It feels like a chaotic "them-ness." We point fingers and guns and accusations at whoever "them" is. We belong to one another, and we don't even realize it.
Once upon a time, Jesus stepped into the us-ness — to become our with-ness and to put away all this divisive them-ness.
This is the promise of Emmanuel — God WITH us. With us in our sufferings. With us in our joys. With us in all brokenness. With us, unto death on the cross. With us, in the hope of the resurrection, mighty to save us. And with us, through His Holy Spirit.
Isn't that something?
He moves where we move. He suffers where we suffer. He walks where we walk. He even prays, when we cannot quite find the strength to do it on our own. In moments like these, when I don't know what to pray, I simply say: "I need you." I can count on the Holy Spirit to do the rest, translating my weak groans.
We need Jesus as our Lord. We need Him as our Savior. But we also need Him to be our Friend. That's why I often imagine Jesus sitting cross-legged at the end of my bed.* And just like a friend does, He finds the words when I have none. He turns my wordless sighs into prayers, and He desires the same "us-ness" that you and I do. That's some kind of Friend.
There is no place we can go, no road we will travel, no ceiling we can stare at … where this Friend is not with us.
Where are you today? What are the words and wordless sighs that fall from your lips? Do you need Jesus to sit cross-legged with you in this moment? Know this:
The Lord your God is WITH you. He is mighty to save.
He is your Lord. Your Savior. Your Friend.
(* The image of a cross-legged Jesus at the end of my bed become a lifeline for me in 2008, when we were dealing with my father-in-law's terminal illness. A friend suggested we pray to Jesus, as if He were cross-legged at the end of the bed. It's an image that I have carried with me ever since.)
#TellHisStory
Hey Tell His Story crew! It is a joy to gather here every week with you. The linkup goes live each Tuesday at 4 p.m. (CT). If you would use the badge on your blog, found here, that would be great! And if you would visit at least one other blogger in the link-up and encourage them with a comment, that would be beautiful! Be sure to check the sidebar later. I'll be featuring one of you over there!
Our featured writer this week is Michele Morin. These words on friendship and hospitality are a great reminder to each one of us… No one is perfect and that's more than okay! Find Michele here.
To be considered as our featured writer, be sure to use our badge or a link to my blog from your post. xo Jennifer