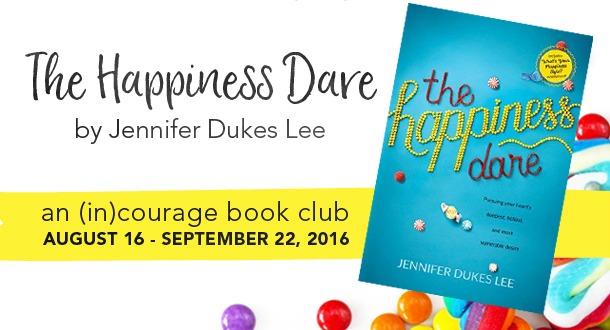 An Invitation to The Happiness Dare BOOK CLUB! – #tellhisstory
When I took the Happiness Dare, I didn't take it alone.
This dare has always been an invitation to all of us. It is an invitation into a rebellious hunt that will lead us to a soul cache. I believe the Holy Spirit is saying to each of us, "Pay attention. Savor the life God has given to you. Thank God for the good when life is beautiful. And fight hard for to find the happy when life is brutal" (pg 45, The Happiness Dare).
Happiness takes courage, and doing it TOGETHER, is what makes us brave!
And now? We can enter into this dare, together — you and me and women all around the world!
I have such fun news to share with you.
When:
August 16 – September 22, 2016
Where:
Right in your own homes! We will have a weekly reading schedule for you, discussion questions, and ways for you to interact online.
Who:
YOU! Come by yourself, or invite your friends to join with you. Invite as many as you want. There's endless room! You can combine in-person meetings in your homes or churches, and then join us at (in)courage for bonus content, interaction, live videos, and more. I'll be there every step of the way, interacting with you online, and I've invited a few special friends to share with us, too!
We'd love to see photos of you meeting! You can use the #inbooks and #thehappinessdare hashtags to tag us.
Details:
You can sign up over here at (in)courage.me. Click here.
Where do I get the book?
You can purchase it at Dayspring.com, Amazon.com, or many other retailers. And yes, it's available on Kindle and Nook.
Prizes? There are PRIZES?
Yep! Check out these amazing giveaway prizes. (in)courage is giving five gift packages away with great gifts and copies of The Happiness Dare.

What are you waiting for?
Head on over to incourage.me today to join The Happiness Dare Book Club. Be sure to enter over there for a chance to win the prizes!
Let's do this. Let's be the happy rebels. Let's be the lion riders. Let's be the savorers and the tasters and the joy stalkers. Let's embrace a way of life where we wake up to the present-tense moments, unafraid of what might happen tomorrow and untethered to the junk that happened yesterday. Right now, this instant, life is a path strewn with jewels, glistening as if they were moonbeams spilling out like diamonds on a lake. Do we see the sparkle under our feet and on the water?
Life will hand you lemons, someone once said. And that it will. It will hand you lemons and scars and broken engagements and cancer and dandruff and orthodontia. Some of us will lose our keys, some of us will lose our hair, some of us will lose our kids at Target—and we'll all lose our ever-lovin' minds before this ride is over. There's no way around the lemons. Jesus said so: "In this world you will have trouble" (John 16:33).
Yeah, life will hand you lemons. But life will also hand you honey. And it will hand you hammocks and Netflix and queso and scarlet-red lipstick. It will hand you stolen kisses, newborn babies, peppermint candy, Silly String, elastic waistbands, clean sheets, a husband's forgiveness, and a candle in the sanctuary on Christmas Eve. It will smell like a campfire and taste like triple-fudge ice cream.
There's happiness right where we are. God is daring us to stalk it. Sometimes it shows up small. But it's important that we look, because some days the looking will save us.
Let's do this. Let's frighten the critics and baffle the cynics. Be like Jesus.
Take the dare.
(The Happiness Dare, page 47
#TellHisStory
Hey Tell His Story crew! It is a joy to gather here every week with you. The linkup goes live each Tuesday at 4 p.m. (CT). If you would use the badge on your blog, found here, that would be great! And if you would visit at least one other blogger in the link-up and encourage them with a comment, that would be beautiful! Be sure to check the sidebar later. I'll be featuring one of you over there! Our featured writer this week is Katie Reid. There's an exclusive interview about my new book on her blog today, but I want to share with you her post – from last week – with these beautiful words: "God knew what He was doing when He wired and wove each of us. May our faces not be afraid to show sadness and happiness, for we can bring Him glory as we live true to our design." Find Katie here. To be considered as our featured writer, be sure to use our badge or a link to my blog from your post. 🙂 xo Jennifer
post contains aff link