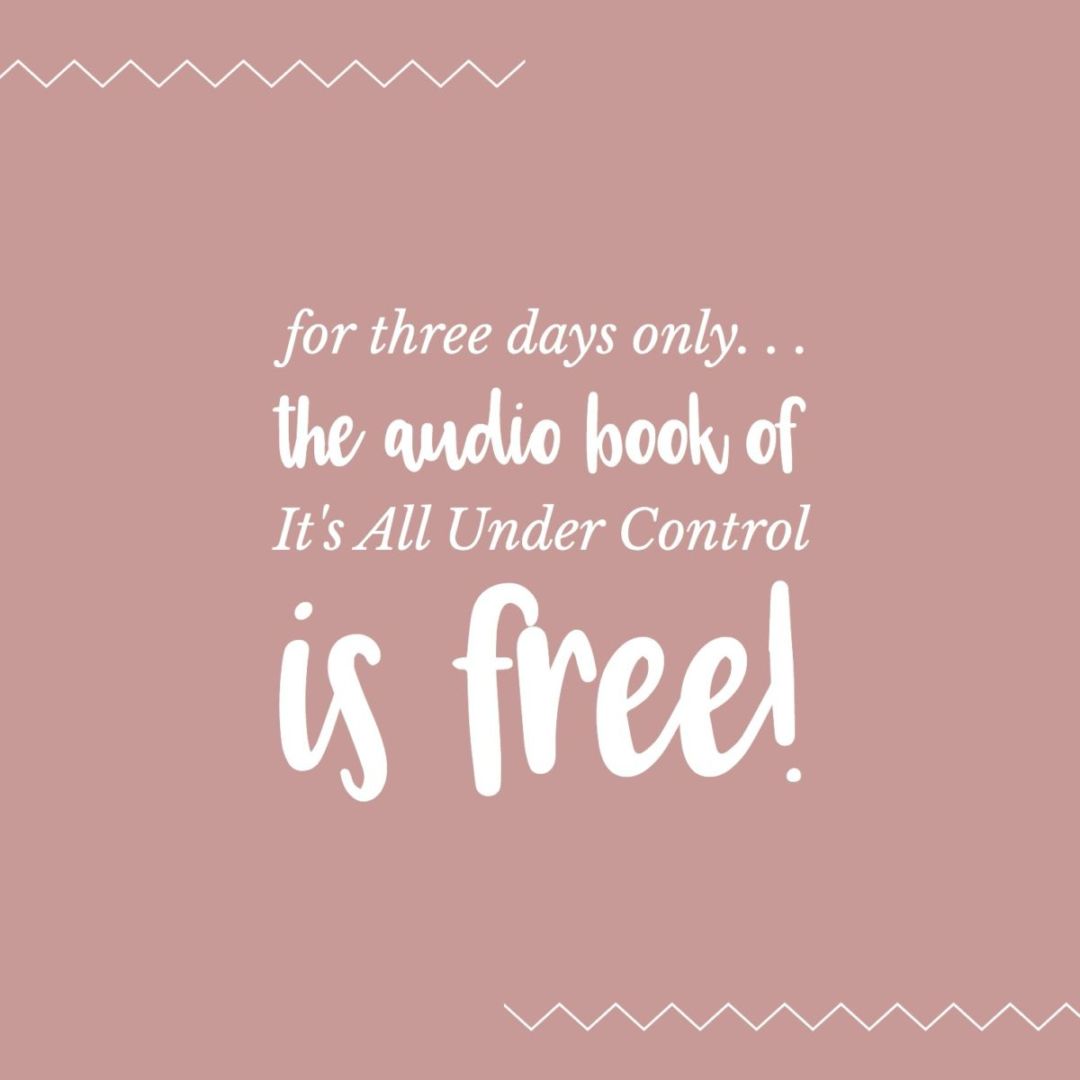 I'm telling you first — my audiobook is free for 3 days only!
A while back, I spent two days in a windowless room, talking into a microphone — with YOU on my mind, dear readers. Yes, I recorded an audiobook for It's All Under Control!
And I am thrilled to tell you that for the next three days, you can get that audiobook for FREE. Insane. But true.
Yup. The folks at Christian Audio said they'll give away a free audiobook to anyone who buys the physical copy of It's All Under Control between now and Wednesday at midnight. This is for THREE DAYS only.
Here's how you claim this free book.
1 – Go buy the book at the retailer of your choice, such as Amazon, Barnes & Noble, or ChristianBook.com. This offer is valid for only book purchases made from today through Wednesday night only (October 22-24).
2 – Come back here and fill out the form, below. (Email subscribers may need to click here to get to the form.)
3 – After filling out the form, check your email for instructions on claiming your free audiobook download.
The audiobook usually retails at around $15, so this is a fantastic deal.
What might you do with the extra physical copy of the book?
Well, you can give away the physical book as a gift. Christmas is coming soon! And then, keep the audiobook for yourself. Or you could keep both — and use the physical copy of the book to highlight passages where God is speaking to your heart. Some readers have bought extra copies for their church libraries, which is such a great idea for that extra copy.
It makes me smile to think of you listening to this message while you fold laundry, drive to work, or take an afternoon stroll.
You can sign up for the free audiobook by using this form here.
(Email subscribers may need to click here to get to the form.)
Five Fun Facts About Recording an Audiobook
I had such a blast recording the audiobook for you
. But I learned a lot about myself during this little exercise:
1 – I am a hand-talker, even when I'm all alone in a dark room with sound-proof walls and a microphone.
2 – I can't talk with the right amount of energy while sitting down, and in fact, I do best when I'm on tiptoes.
3 – One's calves hurt after six hours on tiptoes.
4 – Studio microphones are incredibly sensitive. My stomach growled at one point. I thought I was the only one who could hear it. The studio tech stopped the recording and said over the intercom, "Jennifer, … um … do you need a snack?"
And last but not least —
5 – It's a thrill to know that you can listen to this heartfelt message while you drive to work, take a walk around the lake, travel at 30,000 feet with your noise-canceling headphones on. I'm so excited to SHARE THIS AUDIOBOOK WITH YOU!
Once again, Here's the form to use to claim your book after your buy the paperback (or hardcover, if that's more your style)! Offer available for purchases made today through Wednesday at midnight. (Email subscribers might need to click here to fill out the form.)