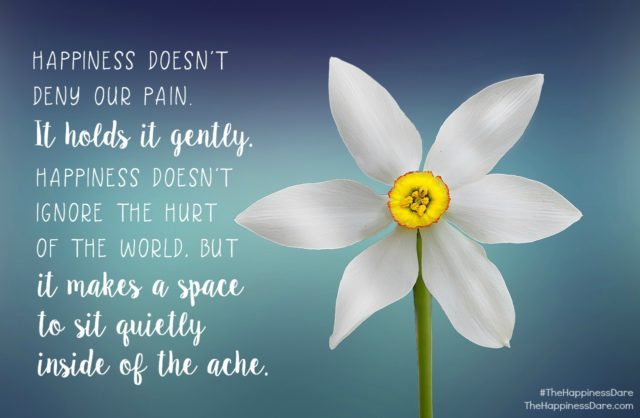 how to find happiness in a sad and busted-up world – #TellHisStory
I don't know about you, but all the pain in this world has challenged all that is good within me.
It has challenged my hope, my sense of security, my peace. I can't fly in an airplane anymore without a foreboding sense that the worst is about to happen. If I'm in a crowd, I am edgy. When I tuck in my daughters, I wonder how to equip them to function in this broken world.
This is not who I am, or who I was created to be.
For most of my life, I considered myself a happy person—not the kind of woman who claps with giddy delight over her breakfast waffles, but the kind of woman who makes regular use of her grin. I have a bend toward optimism.
But lately, cynicism has been an enticing option.
In times like these, even an optimist can feel like happiness is irretrievable. In times like these, it can seem—quite frankly—that happiness doesn't matter anyway. It can seem like God doesn't care about happiness.
But then I re-remember what I re-forgot. 
I remember what I learned way back when I took a God-made dare to find true happiness. I remember what I discovered, and how it made me feel warm and bright on the inside, like I'd swallowed a star. This is what I found out …
How to Find Happiness in a Sad and Busted-up World. 
#TellHisStory
Hey Tell His Story crew! It is a joy to gather here every week with you. The linkup goes live each Tuesday at 4 p.m. (CT). If you would use the badge on your blog, found here, that would be great! And if you would visit at least one other blogger in the link-up and encourage them with a comment, that would be beautiful! Be sure to check the sidebar later. I'll be featuring one of you over there! Our featured writer this week is Pam Blosser. Isn't this a beautiful thought: "Just like the best sunsets require clouds, many times wisdom and blessings come through trials." Find Pam here. To be considered as our featured writer, be sure to use our badge or a link to my blog from your post. 🙂 xo Jennifer