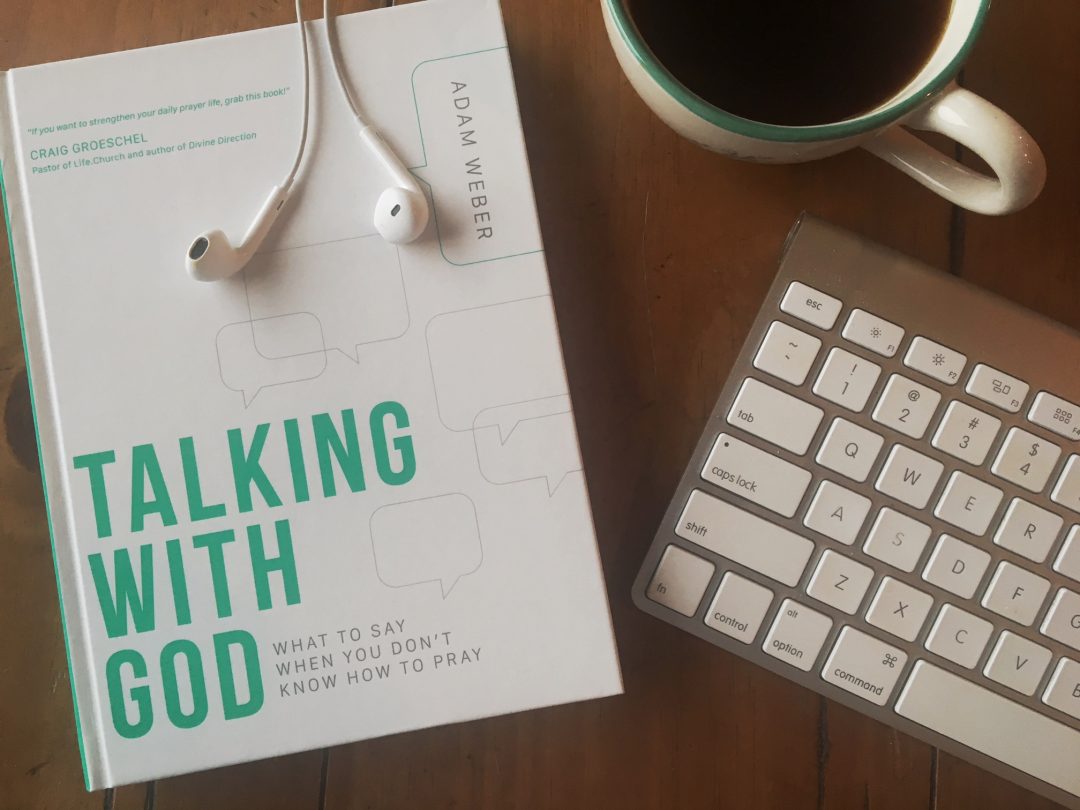 "Everyone else" doesn't know how to pray
"Everyone else" doesn't know how to pray
By Adam Weber
A few weeks back, I received an email from a friend asking if we could get together. I could tell by his words that there was something specific he wanted to talk about.
We checked our schedules and through nothing short of a miracle, we both somehow found forty-five minutes to connect over coffee the next day. We made plans to meet up at one of my favorite coffee shops in downtown Sioux Falls.
I arrived a few minutes early, ordered the usual—dark coffee with one Splenda—and found a table near the front that was perfect for people watching. Twenty minutes later, my friend arrived. He apologized for not being on time. His life is busy as he tries to be seventeen different places at once. He's getting his career off the ground. He's a dad to two young kids. And then there's his marriage.
"I never thought it would all be so much work," he shared with me. He wore a smile, but you could tell his life was crazy. He was overwhelmed.
Now, as a pastor, I've heard it all. Nothing really surprises me anymore. As he updated me on the status of his life, I wondered if he was struggling with something more. Had he made a mistake? Was he having an affair? I wasn't sure where our conversation was going or what he wanted to say or ask.
We small-talked for ten minutes or so, and then he finally said it: "Well, I'll just get to why I wanted to get together. I feel foolish for asking this, since I'm a grown adult. I grew up going to church, and this is something everyone else probably knows but me. It just looks so easy for others. But I just want to ask: How does a person pray?"
He paused, took a breath, then quickly continued: "I should probably know this, right? But I don't. I feel stupid, and I wasn't sure who to ask. And again, this probably comes easy for everyone else. But again, how do you pray? Like, what do you say? Do you start with, 'Hey, God, it's me'? Is there a right or wrong way to pray? Can I screw this up?"
As my friend talked a million miles an hour, I was hoping he'd take another breath so he didn't pass out. I could tell he was embarrassed and felt foolish, yet he was curious and wanted to know how to pray. So curious, in fact, that he found time in his crazy schedule to ask about it.
I was grateful my friend was so candid and real, and honored that he trusted me enough to ask his question. But, honestly, this wasn't the first time I've been asked this question. Far from it.
***
"Everyone else"… they probably have prayer figured out. At least the faithful churchgoer does.
And if no one else, the pastor does, right? I can't speak for others, but I know I don't.
And I'm paid to know this kind of thing.
When you open the Bible, it's clear that Jesus' followers didn't know how to pray either. In one of his first sermons, Jesus talks about and tries to explain prayer.
"When you pray," Jesus said, "don't do it to be seen. Don't do it to impress others, like hypocrites often do. They might sound impressive, but they actually have it all wrong. Yup, they've missed the boat. Prayers do not need to be long, and there's no need to use big words. God isn't impressed with how we pray or the things we say. In fact, he already knows what we need, even before we start."
Instead, when you pray, just pray like this: "Our Father…"
Again, even followers of Jesus—the people who hung out with Jesus himself—didn't have prayer figured out. Jesus wouldn't have talked about it with them if they did. I'll go out on a limb and say that the majority of "everyone else" doesn't have prayer figured out either. They have questions. They feel unqualified or inadequate. They avoid prayer altogether. After all, how do you talk with the Creator of the entire universe without feeling a little intimidated?
The truth is, prayer is simple. Kids are great at it. It's like talking with a good friend. It's like breathing. And what we may not know about prayer is the best part. Whether we're in the middle of a storm, living in Crazytown, or stuck in the mud, God can't wait to talk with me. With you.
About Adam
Adam lives in Sioux Falls, South Dakota. He likes typewriters, drives a Rambler, cheers for the Cincinnati Bengals, has 4 chickens, and a dog named Daisy. He's the Lead Pastor of Embrace, a 10-year-old church that has grown to 6 campuses in two states. He and his beautiful wife, Becky, have four kids.
I highly recommend his new book Talking With God. It's a five-star read, an approachable book on prayer that will make you feel less alone and equip you to have the kind of conversations with God that you didn't think possible.
BOOK GIVEAWAY
Adam is giving away THREE copies of Talking With God. For a chance to win, simply let us know in the comments that you'd like this book. As always, every social-media share earns you more entries. Just let me know in the comments where you shared. We work on the honor system. I'll draw a winner Friday.
#TellHisStory
Hey Tell His Story crew! It is a joy to gather here every week with you. The linkup goes live each Tuesday at 4 p.m. (CT). If you would use the badge on your blog, found here, that would be great! And if you would visit at least one other blogger in the link-up and encourage them with a comment, that would be beautiful! Be sure to check the sidebar later. I'll be featuring one of you over there! Our featured writer this week is Lisa Tindal. "Contentment" can be a tricky word. I appreciated Lisa's thoughts on finding contentment in the everyday-ness of life. Find Lisa here. To be considered as our featured writer, be sure to use our badge or a link to my blog from your post. xo Jennifer
post includes affiliate link