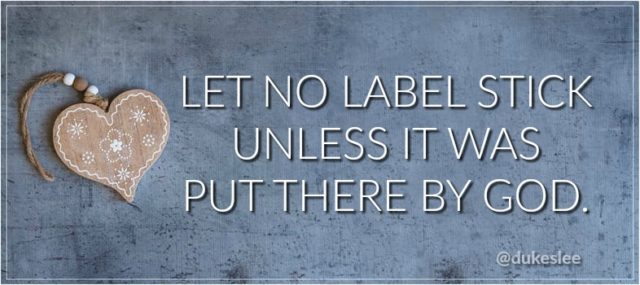 The Day They Called Me a No-Good, Crummy Woman on the Internet (And Why I Refused to Believe It)
Yesterday, FOX News graciously published my essay on how my husband and I have managed to find peace in our politically divided household. When I first published the essay here on my blog, it received an overwhelmingly positive response from people who — like you and me — have been trying to figure out how to get along peaceably with those with differing views.
My husband and I invited you into our home and into our mess. Our hope: that we could share what God was teaching us about truly listening and loving one another through these trying times.
For those same reasons, we agreed to have the essay published at FOX News.
Before the post went live, I had already braced myself for the negative remarks that would surely fill the comment box over at FOX News. Within minutes of being published, my family was the target of name-calling and crude accusations. The Internet trolls began to sow discord, provoke one another, and completely disregard the message of peace and unity in my essay.
Now … this is really important here … I am not disturbed or rattled by this. I mean this with all sincerity: I am truly fine.  I have read every comment, every slam, every derogatory insult. But I am not feeling personally defeated or dismayed. There's a reason for that — which is why I'm writing to you today.
But before I get to the point, here's a sampling of the remarks that readers left for me at FOX News:
"Jenny, find a good church where they have older women training younger women to love their husband and children."
"This husbands [sic] problem is that he got married to such a poor lady in the first place."
"The author, her husband and people like them is [sic] what is wrong with this country."
One reader suggested that one of our daughters will grow up to be a drug addict; others called me "a disobedient wife," "a crummy wife," and "a person of extremely low character." They had some choice words for my husband too.
The good news is coming in a moment. But before we move on, can we all just pause and quietly ask the question we're all asking? Where are the grownups in the comment box?  Fix it, Jesus. 
Ok. Now, moving on, because I have an actual point here.
My point isn't to gain your sympathy. My point isn't to stoke the fires of revenge, or have you click over to FOX News and virtually punch commenters in the throat. (The fact that you'd do that for me though? Well, it kinda makes me feel warm and fuzzy on the inside. I realize that we're all too classy for throat-punching, but, you know, there are days when even the saint-i-est saints are tempted.)
My point is this: People will be dropping labels and names on us forever-and-ever-amen. But only WE get to decide which labels stick to us. 
Right now, some of you are dealing with far more painful insults than the ones that came from those annoying Internet trolls — because the labels you're living under came from people who held your heart in their hands. Some of you have lived under labels, names, and insults so long, that they've become wrapped around your entire identity.
Friend, this post is for you.
This is for you, who has been rejected and misunderstood.
This is for you, who have consistently responded like Jesus calls you to respond, but you got beat down anyway.
This is for you, who've been told you're too much, or not enough.
This is for you, who've been called bossy, bimbo, weak, fat, stupid, boring, out-of-touch, childish, unqualified.
You are not a label. You are a person.
What I've learned over the years, is that none of us can control other people's words or actions. We can only be in charge of our reactions. When we are tempted to respond to hurt with MORE hurt, let's remember how God's Word calls us to respond: with kindness, blessing, and even prayer. "Bless those who curse you, pray for those who hurt you" (Luke 6:28).
Now, let's be clear: It's okay to feel the hurt. Like a friend told me recently, the older we get, the more invested we become in the people around us. Because of that investment, rejection and mistreatment cut deep. Therefore, we must allow ourselves to feel our feelings, because they are proof that our hearts are still tender and invested in others. But we will not allow those sad feelings to rule our lives. Deal?
Let's refuse to wear any labels, unless they were stuck there by God. God's labels say this: Loved, Approved, Cherished, His. The more we take time to let God whisper those labels over us, the less power we give the negative labels.
Maybe you've felt the sting of labels lately. Maybe you've been wearing labels for months, even years, because of your past. If God didn't put the label there, tear it off.
Today's a new day. Solidarity, my friend. We got this.
xo
Jennifer
YOUR TURN: What Label of Love did God put on you? Share in the comments — and live it!