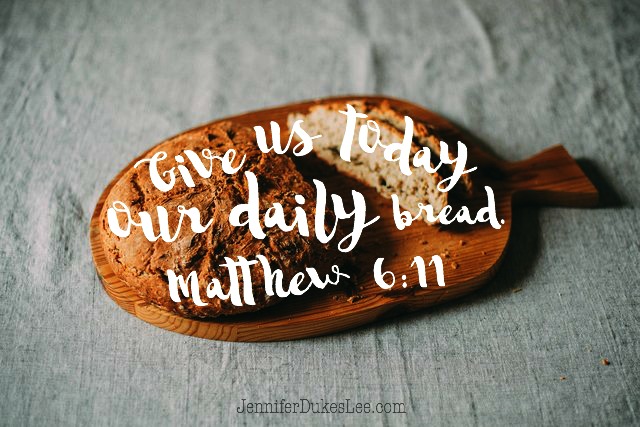 when all you need is one prayer away — #TellHisStory
My alarm didn't go off this morning, so even before the day began, I was already running behind schedule.
In an effort to start my day out right, I tried to hold tight to my "quiet time." It was the opposite of quiet. It consisted of me attempting to read a few verses while slapping deli meat between bread slices for the girls' lunches, and then helping Anna understand the Doppler effect for her science test today. I made an Olympic sport of clearing the counter of last night's dishes, rewashing the souring laundry in the washer, and then getting the girls to the bus – barely on time.
It was the ultimate in chaotic multitasking. So un-pretty.
But it's only just begun. Soon, I have three out-of-the-house appintments. Plus, I've got two deadlines to meet before 10 a.m. One of those deadlines is self-imposed but important – I want to write this post for you before I walk out the door.
So here I sit, still in my pajamas, with my undisciplined hair stretching out into its own zip code.
The house is quiet, save for the clicking of zippers against the dryer wall. Right now, I feel the thump of anxiety receding inside of me. Here's why: Just a few moments ago, I finished up my morning reading. I came across these words. "Give us today our daily bread" (Matthew 6:11).
And so I prayed like Jesus taught. I prayed for daily bread.
Jesus taught His disciples to pray like that, and the lesson stuck, big time. Millions of people have prayed that prayer for more than 2,000 years, as part of the Lord's Prayer.
This morning, something important struck me about the meaning of "daily bread:" Our "bread" is more than what's on the plate. It's more than the two slices I wrapped around the deli meat. It's not Wonder bread, but it's definitely bread that is a true wonder.
Our wonder bread is what we need to get through everything – our valleys, our health problems, our finances, our crazy schedules, our future.
When I prayed to Jesus for daily bread this morning, it dawned on me how I was actually asking for more of Him –Bread of Life — in a day that will try its best to crowd Him out.
I don't like hectic days. I am not a fan of over-hustle, but that's where I found myself today. That's where I find myself a lot of days.
Maybe you're like me – in need of daily wonder bread. In need of daily Jesus, daily Spirit, daily peace, daily divine assistance – to keep you calm in the hustle. All of us need daily wonder bread to "un-hectic" us.
All that we need is one prayer away: "Give us today our daily bread."
We can't do this by ourselves. Thankfully, we don't have to. Jesus taught us to pray for daily bread, so we can safely assume this is a prayer He will answer.
There's something else I'm 100 percent sure of, as I type these words to you today: I'm going to have to pray that same prayer again tomorrow, and the day after that.
Jesus didn't tell us to pray for yearly bread, or weekly bread, or even tomorrow's bread. We are not called to be spiritual hoarders, like the Israelites (whose hoarded manna smelled worse than my souring laundry).
We will need to return to Jesus tomorrow for daily bread, so he can un-hectic us again, and so he can show himself faithful again, in everything that we need. Behold the wonder of it!
Praying for daily bread keeps us in a state of constant dependence on God. Yeah. I'd rather know I'm set for the whole week ahead, but if it's all arranged in advance, what need do I have to meet with Him tomorrow?
Today, I will come to Jesus for today's needs: for help in the busy-ness, for a needed miracle for a friend, for sustenance, for divine happiness, for order in the chaos, for the energy to get things done, for time to comb my hair, for sunshine, for grace, for bread. I will live in the present moment. I will stay needy for Jesus. I will ask for the bread I need on this day.
And tomorrow, I will do the same.
Your Turn:
Where are you in need of daily wonder bread today? Let's pray for one another in the comments. (My prayers for you will come this evening, as I am a few minutes away from heading out the door! Love to you all!)
#TellHisStory
Hey Tell His Story crew! It is a joy to gather here every week with you. The linkup goes live each Tuesday at 4 p.m. (CT). If you would use the badge on your blog, found here, that would be great! And if you would visit at least one other blogger in the link-up and encourage them with a comment, that would be beautiful! Be sure to check the sidebar later. I'll be featuring one of you over there! Our featured writer this week is Liz Giertz. Trust me, this is one story you won't want to miss! The title? What I Learned Dancing with My Daddy. Find Liz here. To be considered as our featured writer, be sure to use our badge or a link to my blog from your post. 🙂 xo Jennifer