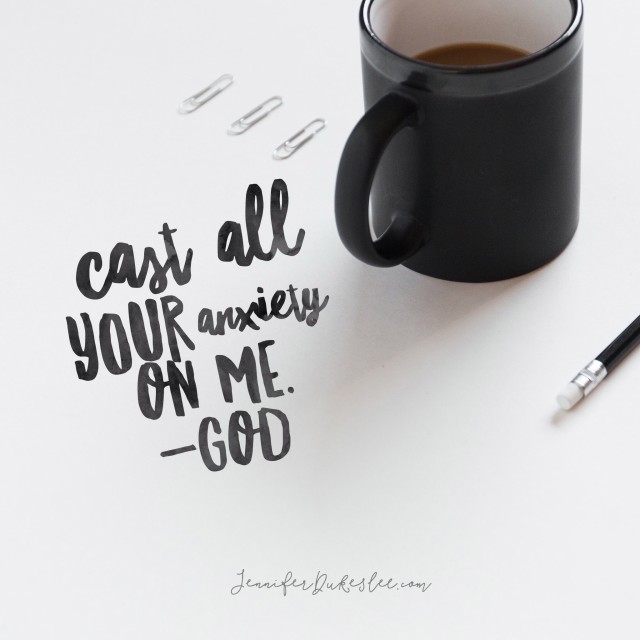 words of hope for anyone struggling with anxiety
Public speaking is often listed as people's number one fear, even ahead of dying.
As Jerry Seinfeld famously said, that means that at a funeral, most people would rather be in the casket than doing the eulogy.
I can't begin to tell you how true that has been for me in the past two years. Because of this blog —  and my books — requests have come from conference and retreat organizers, asking if I speak at events. In fact, I do speak. But when I first started, every "yes" terrified me.
"Terrified?" a friend once asked me. "Are you serious? Because terrified is a really strong word!"
Yes, terrified. Before taking the stage during those first conferences, I would crouch in a quiet corner and rock back and forth, with wide eyes and shaking hands, while praying for the Second Coming to commence sometime in the next 3 1/2 minutes. Now, I just hide in a quiet corner — or a bathroom stall — while hoping that the microphone is turned to "mute" so the flushing toilets aren't amplified across the auditorium.
(Ok, so, yeah. I'm also prone to a bit of exaggeration.)
But here's the thing. The other day, as I was preparing for a speaking event, I noticed that I didn't feel as jumpy and nervy as usual. I still had a little bit of anxiety, but my insides felt calmer than they used to. I no longer felt the need to use the word "terrified" to describe my state of being. Progress!
In that moment, I got to thinking that there will soon come a day when all of my anxiety will be gone. I will always feel relaxed, calm, cool, collected.
And then I heard these words inside of me, "No, Jennifer, you won't feel that way. You will never feel completely relaxed when I ask you to speak about Me."
It was the Spirit of God, speaking into my spirit.
God's words weren't a threat. They weren't an accusation. They weren't mean or nasty.
They were truth.
I felt an odd sense of freedom in hearing those words spoken into my spirit. You know why? Because I knew what it meant: I knew that my anxiety isn't something that makes me a basket case; my anxiety — in healthy doses — keeps me wholly dependent on God instead of on myself. My anxiety reminds me that when I walk onto a stage, I do so in His strength, not in my own.
My anxiety is a gift, in a way, because it keeps me close to the Lord.
This morning, I looked up a few verses on anxiety and was especially struck by this one: "Cast all your anxiety on him because he cares for you" (1 Peter 5:7).
If you struggle with a bit of anxiety, let those words fall afresh on you. Those verses aren't condemnation. They aren't accusation. They are an invitation!
God doesn't tell you to ignore your anxiety. He doesn't say there's something wrong with you if you have anxiety. He is saying, simply, "Give it to me. Because I actually care about you."
Yes, there's such a thing as unhealthy anxiety, the kind where we may need professional help and extra spiritual support to overcome a very real burden. But there's also healthy anxiety — the kind that keeps us closer to Jesus, dependent on Him. In those moments, your anxiety isn't a flaw; it's a footpath that leads straight to Jesus, who says, "Cast all your anxiety on me. I've got this."