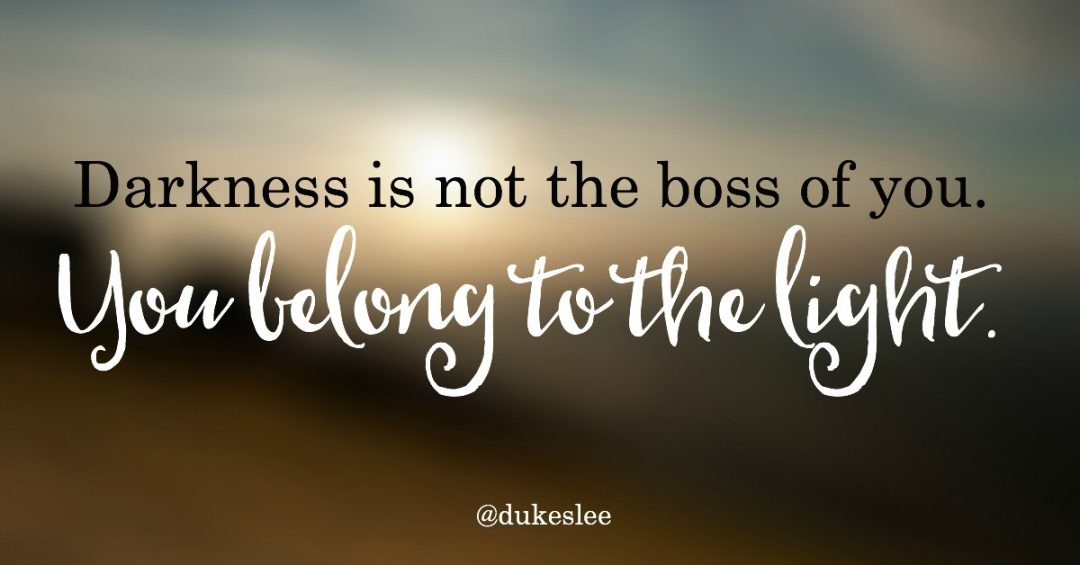 A bit of light for you, if you're having a dark day – #tellhisstory
Every once in a while, I leave the house before dawn with my camera. I stumble sleepily—sometimes still pajama'd and barefoot—out the back door toward my car.
The car's headlights cut holes in the dark, heading me aimlessly east along country roads. I want to get there—wherever "there" is—before the sun bumps above the horizon. Gravel cracks under my tires and the landscape yawns before me. Thick, dreamy mist squats in valleys, like silk.
Then I stop the car. I wait.
I've become a chaser of the light.
"It's all about the light." That's what a professional photographer once told me. She said that if I wanted to take great pictures, it didn't matter so much the model of my camera or the quality of my lens. What really mattered? The light.
To learn the magic of light, she said, I needed to wake before sunrise. I needed to watch how light overtakes dark.
And when that light comes, turning the world buttery bit by bit, it feels like God has twisted the lens cap off of heaven.
That's what I'm thinking when I capture a tangle of weeds, afire with sunglow. Or when I stand under a square patch of sky, camera tipped toward heaven, with the light swaying through a lace of leaves.
I'm no pro with a camera, but I know a burning bush when I see one, and in those moments, I thank the good Lord that I'm barefoot—for I am keenly aware of the holy ground on which I stand.
I venture out-of-doors in winter, too (and yes, I do wear shoes in December). The frozen woods sigh, the way docked boats do when they rock against moorings. Winter light makes every square inch glisten in crystal spires and iridescent skin.
It always feels like I am tripping over the hem of God's garments when I have one hopeful eye pressed against a viewfinder. And maybe I am—for the Psalmist wrote how God "wraps himself in light" as if it were His robe.
The light does more than make a good photo. It preaches a sermon—one we might need to hear on days like these, in times like these.
I found myself listening to the sky's sermon the other day while barefoot on gravel, expectant and needy. The day before had been crammed with bad news around the world, and I craved light.
And then the sun rose and I saw it anew: How light overcomes darkness, one glorious inch at a time, to gladden our barbed world.
Because I took a Happiness Dare, I am intentional about seeking the beauty and finding the joy in hidden places. I am intentional about wringing the delight out of what's right in front of me. Especially in times like these.
When the headlines declare the misery, I need to see how the heavens declare something else: The glory of God. 
The coming light of day reminds us that God is near. He is not an absentee landlord of Earth, merely commanding the sun to rise. He is here, illuminating our world—in and through us. One of the greatest joys we have as Christians is helping each other find the light, and reminding each other that there really is a remedy for darkness.
On dim days, we've got to know that the sun will still rise. We've got to know that God is moving us all toward a grand and glorious finale, with no more darkness.
God is working it out, even when we feel completely ensconced in shadow.
The darkness is not the boss of you. It doesn't have the last word on your life.
No matter what the headline says. No matter what the MRI says. No matter what it says on your credit-card statement, your report card, your overworked calendar, or your latest rejection letter.
You are in the middle of your story, and yeah, it might look dim today. But—spoiler alert—the Light wins.
"The Lord will be your everlasting light," Isaiah wrote.
I love those words from Isaiah because they remind me that God's light is a forever sunrise on our souls.
Feel it now on your skin. See it, once more, in that thin line between heaven and earth. It's all hinting at your forever.
Turn your face east, and watch it with your own eyes:
It really is all about the light.
Post includes aff link
#TellHisStory
Hey Tell His Story crew! It is a joy to gather here every week with you. The linkup goes live each Tuesday at 4 p.m. (CT). If you would use the badge on your blog, found here, that would be great! And if you would visit at least one other blogger in the link-up and encourage them with a comment, that would be beautiful! Be sure to check the sidebar later. I'll be featuring one of you over there! Our featured writer this week is Tracey. There is such a great lesson in her words: "What if we treated ourselves like one of His beloved, what if we gave ourselves the grace that we would give a dear friend who was struggling?" Find Tracey here. To be considered as our featured writer, be sure to use our badge or a link to my blog from your post. 🙂 xo Jennifer