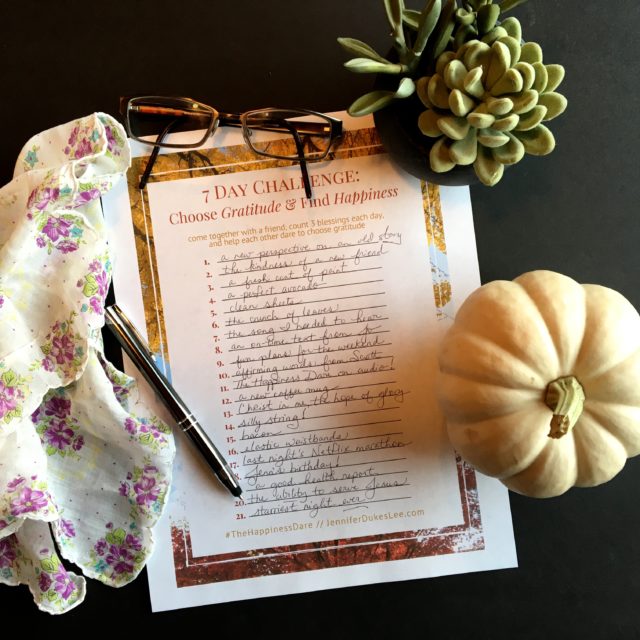 A 7-Day Challenge Guaranteed to Make You Smile
The other day, I was on the verge of having another anxiety attack — the same kind that I wrote about in my book The Happiness Dare.
I could feel it coming on — an overwhelming sense of heart-pounding panic, difficulty breathing, dizziness.
There wasn't any one thing that set me off, just a long train of emotional rail-cars carrying the cargo of daily demands, losses, and this impending feeling of doom in our world. I could hear the newscasters on the television in the living room. The day's stories sounded like yesterday's stories — and none of it was good.
But before anxiety swept over me, I spoke the three words that have saved me again and again:
"Thank you, Lord."
And then I kept saying those three words; it felt like I was calling down the power of heaven. Thank you, Lord. Thank you, Lord. Thank you, Lord. 
The words formed a defense in my mind, pushing back the panic.
In the last two years, I've learned a lot about what it takes to cultivate happiness in our lives. Nothing has been more effective than simply saying thanks.
The richest form of happiness always begins with the words: "Thank you."
It begins by recognizing the gifts we've already been given, and then taking the time to be grateful for them.
Gratitude is more than a nice gesture acknowledging the gifts in our lives. It is the stubborn refusal to be held hostage by fear and despair. It's saying to the world — and to ourselves — that despite everything, this old world is still a beautiful place. No matter how hopeless it all seems, there's always, always something to be thankful for.
We can be grateful in times of hopelessness because we are gripped at all times by God.
Cicero said that gratitude is not only the greatest of virtues, but the parent of all others. If that's true, then my happiness does not cause me to be grateful for what I have. My gratitude for what I have causes me to be happy. Gratitude births the virtue of happiness.
On that awful day when panic swept over me, I chose gratitude.
A Challenge
Gratitude often plays a starring role in the talks I deliver at retreats and conferences. Why? Because thankfulness works.
I often issue a challenge to those in the audience: Count three blessings a day, for one week, and then go back and review all 21 blessings at the end of the seventh day.
When we do that — count our blessings, and then review them — we experience two extra kinds of happiness.
1 – We experience "anticipatory happiness," when we begin to scan our environment for the good. We train our brains to focus on what is right, instead of what is wrong.
2 – We experience "residual happiness" — a sort of after-the-fact happiness, when we take the time to write it down and review it later.
Last week, a woman contacted me to tell me that she had taken me up on the challenge to count three blessings each day, for seven days. But she'd taken the challenge one step further. She invited her granddaughter to do the same. And every night, they texted their gratitude lists to each other.
"This has helped both of us look more intentionally for the blessings that are already there, right in front of us," Bonnie told me. "Unless we take the time to look for them, we miss them. Sharing them with each other holds us accountable. Sharing our blessings with each other also gives a new perspective to what makes the other happy — another way of seeing each other's happiness style."
Bonnie has been texting her granddaughter Courtney nightly with her list, which includes things like: a loving husband who knows Jesus; having children and grandchildren who live close; the ability to work; living in a community where people serve God.
Courtney texts back with her own list: a compliment from a friend at school, her healthy 4-H calf, her smile.
Maybe we could do the same. Maybe we could count our blessings for the next seven days, and invite a friend to join us!
7 Day Challenge: Choose Gratitude & Find Happiness
Thanksgiving is almost here. What if we got an early start? What if we joined together, and committed to 7 days of choosing gratitude? Furthermore, what if we invited a friend, a granddaughter, a mother-in-law, or a sister to take the challenge with us?
That's the heart behind the 7 Day Challenge to Choose Gratitude & Find Happiness. 
Come together with a friend,
count 3 blessings each day for 7 days,
and help each other choose gratitude.
It's so easy to be a part of this!
1 – Click and print the FREE gratitude list, found right here.
2 – Invite someone to join you. Who? Your mom, your prayer partner, everyone in your book club, your whole office!
3 – Every day, for seven days, each of you will scan your world for the good that is already there. Each person records her three daily blessings on her own list.
4 – Hold each other accountable. Text, call or Facebook message each other every night to report in with your blessings!
5 – Practice "residual happiness" by reviewing your list every night.
Invite others.
Download this graphic to your phone, and share on Instagram. Or share this post on Facebook and Pinterest. Let's make our gratitude contagious. 
Why It Matters
Gratitude has changed my attitude, even on days when panic sets in. True gratitude says, "Blessed be His name anyway." True gratitude says, "He is always good and He is always working." True gratitude says, "God, YOU are my ultimate happiness."
It was Augustine who said it first: "A Christian should be an Alleluia from head to foot." Not waist to foot. Not armpit to foot. But head to foot. If gratitude is directly proportional to my happiness, I will be far happier on the days when I am grateful from scalp to toes.
All human beings—no matter what they believe about God—have the built-in potential to experience profound gratitude. Secular research consistently points to thankfulness as a foundational piece of happiness. But imagine what it would be like if you had to direct all of your thankfulness to fate or to the thin air or to your "lucky stars." Without God, you have nowhere in particular to guide your gratitude.
But if we know God, we have a tremendous advantage when it comes to gratitude and happiness: We know where to direct our thanks. If we belong to Jesus, we have the ultimate reason to live the Principle of the Head-to-Foot Alleluia (Chapter 14 of The Happiness Dare). We don't have to be held hostage by our long lists of if-onlys anymore.
We can be grateful for life as it exists today, not as we wish it to be.
 Find out more about gratitude & happiness in my book, The Happiness Dare. 
#TellHisStory
Hey Tell His Story crew! It is a joy to gather here every week with you. The linkup goes live each Tuesday at 4 p.m. (CT). If you would use the badge on your blog, found here, that would be great! And if you would visit at least one other blogger in the link-up and encourage them with a comment, that would be beautiful! Be sure to check the sidebar later. I'll be featuring one of you over there!
Our featured writer this week is Mari-Anna Stålnacke. If you've read my first book, Love Idol, then you won't be at all surprised to hear how much I love her blog post titled "You Are Enough." It might be just the encouragement your heart needs today! Find Mari-Anna here.
To be considered as our featured writer, be sure to use our badge or a link to my blog from your post. xo Jennifer
post contains aff link