5
Wednesday 14th December 2011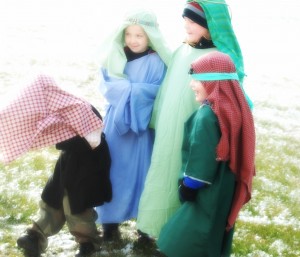 Feet dangling in patent-leather, I sat on the polished pew while the Christmas pageant director assigned parts. I held my breath, waiting as she called names. I dreaded this moment, for I knew I'd be instructed to serve as a sheep or cow. Each year, she would assure us that those lowing, humble ...
Read More
11
Wednesday 12th January 2011
This world is God's gift to playful, daring hearts. But I've often convinced myself that I'm getting too old to play. I tell myself I'll get hurt if I try, or I might embarrass myself. Or I might fail. But these days — just shy of my 39th birthday — I'm ...
Read More
19
Monday 27th December 2010
My sister-in-law handed me a tiny box. Her anticipating eyes — wide, bright — told me this was a gift I'd love. I peeled back the wrapping paper. Inside: a necklace with an amethyst cross under beveled glass. I held it in my hands, grateful. I turned it over and over and over ...
Read More
11
Friday 24th December 2010
You could have come in 2010. Television producers could have broadcast your birth via the CNN ticker. "This just in: Reports of Bright Lights over Bethlehem!" Newspaper editors could have run headlines in 72-point type: "Angels declare: Savior is here!"Like modern-day ...
Read More
9
Wednesday 22nd December 2010
This is where I found myself on the Great 2010 Search for the True Meaning of Christmas: stuck flat on my back in two feet of snow, caked in white, 100 yards from the house. Did my Lilliputian daughters rescue their Gulliver mama from the snow? Did I find what I was searching for out […]
Read More
16
Monday 20th December 2010
I can pinpoint the exact moment when I stumbled onto Christmas. As usual, the moment wasn't strung in lights or wrapped in shiny paper. I didn't find it under a prelit tree, or on my iPod or out on the Information Superhighway. Rather, I found Christmas just off a quiet country road near our ...
Read More
22
Friday 17th December 2010
We don't have billboards here in Inwood. But we do have a barrel in the middle of Main Street that announces potlucks, soup suppers, the bank's open-house celebrations. Yesterday, the biggest news of the day was written in three-inch-tall Sharpie letters: "Santa Claus — ...
Read More
8
Wednesday 15th December 2010
The mailman kicks through the knee-high snowdrift to deliver the package to the front door. His words meet Iowa air in crisp puffs. "I'll need you to sign for this," he says, pressing a pen into my hand. Ink freezes, but I scratch through, etching a name on paper. Could this ...
Read More
19
Monday 13th December 2010
God did the unthinkable, the absurdly beautiful. The One who wraps Himself in light made a game-changing move toward darkness. He traded Heaven for a womb. Rather than live without us forever, He'd rather live like us for a little while. Step by step, across the throne room, He moved ...
Read More
9
Friday 10th December 2010
We don't find Christmas Joy in things. We find it in us. Let's unwrap this real joy, shall we? Let's think outside the box. Because of all the presents,Christ's presence shimmers most. Have a joy-filled weekend,remembering that the very best Gift resides within us.
Read More