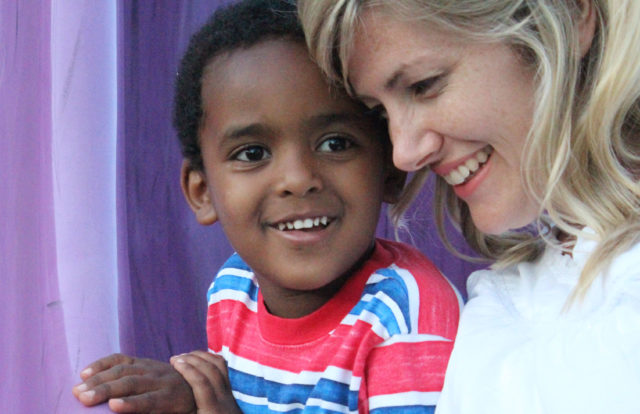 Looking to add meaning to your life? Start with laughter.
For Lauren Casper, living with her five-year-old autistic son, Mareto, is a lot like playing the telephone game. He blurts out little phrases that have their origin in something he saw or heard, but by the time they make their way through his mind and back out of his mouth they've transformed—often into beautiful truths about living a simple, authentic, love- and joy-filled life. Lauren joins us today, with a needed lesson on laughter.

By Lauren Casper
Last weekend my son made up his own version of a joke he saw on the movie Zootopia. We were sitting on his bed, which fits perfectly in the dormer of his upstairs bedroom, giving us excellent seats to the activity happening outside his window. He held a pair of green plastic binoculars up to his eyes and played his own version of "I Spy." We made up stories about the people passing by in their cars, we watched a squirrel scamper along a tree branch, and commented on the height of the ladder at the house across the street where a painter was touching up the shudders. It was sweet and cozy. Suddenly, Mareto turned his head to me and with a gleam in his eye asked me a question…
"What do you call a three humped dog?"
I shrugged, smiling.
"A llama!!" He shrieked with enormous gulps of laughter that quickly turned into a case of the hiccups.
This went on for a few more minutes – Mareto telling the same joke and barely getting out the punchline before his laughter overtook him, and me giggling (more at the spectacle of my tickled son than the joke that doesn't actually make sense.) Finally, he sighed and leaned his head against mine with a content little smile on his face. My heart is full and I can tell Mareto feels connected, seen, safe, and loved.
Did you know there is a discipline in the mental health community called Play Therapy? We happened upon it by accident when Mareto was a baby – my guess is that you have too at some point. By that I mean, we'd been doing it for much longer than we knew what to call it. It came naturally to us to play with our new baby boy, as I suppose it does for most parents. But as time progressed and we sensed some greater needs our son had, we happened upon books and research about play therapy.
The benefits of play therapy are numerous, but just a few include reduced stress, connection to others, increase in creative thinking, a boost in confidence, and regulated emotions. It's used mainly for children, but in playing with Mareto I see my own need for laughter and play therapy.
In my new book, It's Okay About It, I share a little more about how Mareto is showing me the importance of embracing my silly side, leaning into laughter, and partaking in some "play therapy…"
"We were never meant to live and work and cry and laugh alone.
We need other people in our lives.
We need deep and meaningful connections to experience fulfillment and joy.
Laughing together, being silly and ridiculous, making up our own games,
and creating inside jokes with our friends, spouses,
and siblings is some of the best stuff of life.
And it is as foundational to healthy bonds as crying
and grieving and mourning and suffering
and walking through the hardest moments of life.
We tend to prefer either/or thinking to complexity.
Maybe it's easier for us to view life as black and white and not so gray.
We want the guidebook to be super clear—always turn left at the fork in the road
and right at the T—but life is more often both/and.
And it's a whole lot more rainbow-colored than monochromatic.
So when it comes to meaningful, rich living,
we need to embrace both tears and laughter."
My tendency is more toward anxiety or grief or resilience. I see the pain of life and the endurance required to move through a broken world without shattering. But Mareto is reminding me that laughter is required for wholeness and pain not only better managed, but also more fully processed when we allow ourselves to laugh and play and experience true joy. Not in place of our pain, but in addition to it.
Through playing with Mareto, I'm learning to embrace a more wide open way of living where I share a full spectrum of experiences and relationships more fully.
BOOK GIVEAWAY
We're giving a copy of Lauren's new book away! To enter, just let us know in the comments of this blog post that you would like to win. Additional entries for every share on social media. Tell us where you shared; each share = one additional entry.
Lauren Casper is the author of It's Okay About It: Lessons From A Remarkable Five-Year-Old About Living Life Wide Open. 
She is a top contributor to the TODAY Parenting Team and has had numerous articles syndicated by The Huffington Post, the TODAY show, Yahoo! News, and several other publications. She also has the joy of serving on the Created for Care team, a nonprofit ministry dedicated to serving foster and adoptive families. Lauren and her husband, John, have two beautiful children adopted from Ethiopia.
Mareto has a number of scripted phrases he says over and over. They seem silly at first, but as Casper has thought about them over time, she's realized he is actually sharing important life lessons. From "it's okay about it," a simple reminder that even when things are painful or difficult, things will be okay because of the God who promises never to leave or forsake his children, to "you're making me feelings," which teaches the importance of leaning into one's emotions and, in doing so, sharing a piece of oneself with loved ones—Mareto's simple yet profound wisdom is a reminder to embrace the broken beauty of life, to believe in a God bigger than human comprehension, to love others even when it doesn't make sense, and to find joy in unexpected places. For all those looking to recapture the faith, simplicity, wonder, hope, courage, and joy of life, It's Okay About It provides a guide to look inward and live outward, to discover the most wide open and beautiful life possible.
#TellHisStory
Hey Tell His Story crew! It is a joy to gather here every week with you. The linkup goes live each Tuesday at 4 p.m. (CT). If you would use the badge on your blog, found here, that would be great! And if you would visit at least one other blogger in the link-up and encourage them with a comment, that would be beautiful! Be sure to check the sidebar later. I'll be featuring one of you over there!
Our featured writer this week is Sue Donaldson. She writes about hospitality and welcoming others to the table. I especially loved this story… sometimes all you need is a can of Pringles! Find Sue here.
To be considered as our featured writer, be sure to use our badge or a link to my blog from your post. xo Jennifer