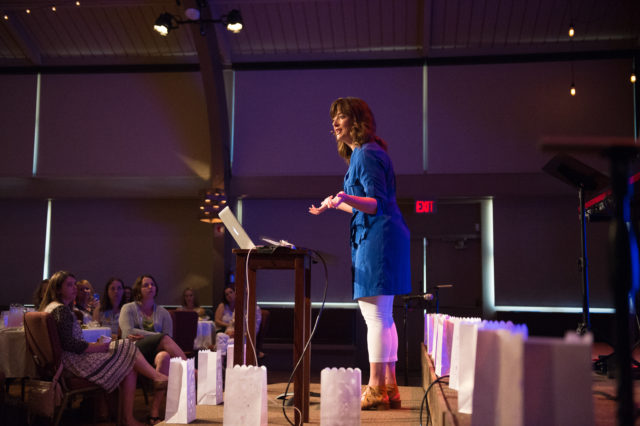 It's Official. I'm Clueless. (But That's Okay)
Several years ago, a mom's group in California asked me to deliver a message about letting go of our need for people's approval. They proposed having me deliver my message via Skype to 150 mothers, instead of flying me from Iowa to California.
I said yes, because I know the kind of pressure moms put on themselves to have it all together. Good grief, we moms beat ourselves up over a gazillion not-enoughs. I saw this as an opportunity to send a little love and hope their way.
We "met" on a weekday morning. I sat in my office in Iowa, and delivered my message through the computer. As I spoke, my face and voice were projected, live, onto a giant screen at Menlo Church in Mountain View, California.
After I waved goodbye, I ended the Skype call, then I promptly called my husband. This is what I said:
"I am never, ever, ever, EVER doing that again. That was awful! Horrible! Promise me you'll never let me do something like that again."
Here's why I freaked: The entire time I was speaking, I couldn't hear anyone on the other end. Nor could I see their faces. Because of the way the technology worked in the room, they could see and hear me loud and clear. But I heard nothing — not even crickets. My view was only a grainy video of the backs of heads.
I can't begin to tell you how difficult it is to speak to a crowd when you have zero clue if the message is connecting.
The only real movement I saw was this: Women getting up to leave. They were likely mothers, headed to the back of the room with whimpering and hungry babes-in-arms, but I assumed the worst. The assumption: I am failing.
I held it together for the full 45 minutes, while clinging to the Holy Spirit for words and guidance. Inside, I felt like an utter failure.
I received a very kind email after the event from the organizer, telling me how the women were impacted by the message. But I didn't believe her. I couldn't shake the feeling that I had bombed it. I trusted my eyes and my ears, more than I trusted my heart — more than I trusted God.
My eyes saw what they saw: people standing up and leaving. My ears heard NOTHING.
All of that negative self-talk was so loud that I couldn't hear the voice of God.
Fast-forward to May 2017. I sat in an airport, ready to fly to Menlo Church in Mountain View, California. Yep. SAME CHURCH. Had they forgotten about the Great Ministry Disaster of 2014? Maybe they believed in second chances?
While I waited for my plane, the eyes and ears part of me asked myself, "Can you believe they're actually paying good money to fly you out there?"
But the God-hearted part of me just said: "Shhhhhhhh. Peace. Be still."
I walked in, welcomed and enfolded, like an old friend. Like a sister.
Then, I stood in front of those 150 moms and delivered a message. while looking into their actual eyeballs and hearing their actual laughter and watching them wipe away actual tears. I connected with their beautiful hearts.I saw women leave their seats while I was speaking, but now I could see why: They were heading to the back of the room to bounce their crying babies.
Afterward, I hugged those mamas, listened to their struggles, shared in their joys and cuddled their sweet babies. Then, two moms came up and said that they needed to talk to me. They said they heard me speak during that Skype session back in 2014!
Uh-oh, I told myself. Brace yourself. This isn't going to be pretty. 
And then they told me about what happened in their hearts that day. How it was just what they needed to hear. How someone at their table eventually became a follower of Christ. Other women came with similar stories. I was floored.
This is what I learned that day.
We have no clue. We really don't. We have no clue what God is doing in places we cannot see. We have no clue what happens to the seeds we plant. We seriously have no clue. 
I learned that we can't always trust our eyes or our ears. Some days, I can't even trust my own heart.
Here's the truth: When we can't see the evidence of God's hand, we can still trust his heart.
God gave me a sweet gift that day — a chance to see the faces. Before, I'd seen only faint, grainy shadows. But we don't always get the privilege of seeing what sprouted from the seeds we've planted. There are times when we may have to wait all the way to heaven to really know.
Faith isn't about sight. It isn't about physical proof. "Now faith is the reality of what is hoped for, the proof of what is not seen" (Hebrews 11:1).
Where do you need that kind of faith today? What seeds have you planted lately? What words have you spoken that you feel have fallen on deaf ears? What hope have you offered with no evidence of fruit? What fervent prayers keep you up at night? What feels like a failure? What can you not see today? Do you hear only silence? Do your eyes betray the reality?
Wait. Hear him whisper in your ear: "Shhhhhh. Peace. Be Still."
He is working in the silences. We really don't have a clue.
That's why I have come to believe that my main job is to simply obey.
Everything else is up to God.
Today, you cannot see "everything else." But someday, I believe, you will.
All photos by Two Leaf Photography. Used with permission.
Journey Together
Friends,
Today, I am overjoyed to share a FREE online event I'm confident you'll love – The Journey Together Summit, June 5-8.
I'm joining hands with 34 leading authors with the sole mission of helping you discover new bravery. Whether you desire to be brave at home or at work, in your marriage or with your children, in ministry or in the mess of the day, dealing with a surprising life or just organizing it – this is the event for you.  There is something for everyone with over 34 topics of fear covered (wait till you see them all!).
We're also featuring an awesome line-up of authors who will give your practical, relevant and biblical tips for stepping into peace, purpose, and passion.
This is an event you won't want to miss! Afraid you can't "be there"? Don't worry! The 2017 Journey Together Summit is a FREE, VIRTUAL online conference!
You don't have to travel – we bring the interviews to you! They'll be broadcast over the web, so you can watch from the comfort of home.
What's more? It's FREE. See the agenda by clicking here.
So what are you waiting for? Join me and 34 other experts at the 2017 Journey Together Summit. Grab your FREE ticket today! And, if you can't attend June 5-8, we have you covered. Get the All Access Pass and you'll be able to watch the videos post-event.
I can't wait to see you there!
Your sister on the journey,
Jennifer
RELATED RESOURCES: 
My first book, Love Idol, on letting go of the need for people's approval.
My second book, The Happiness Dare, on pursuing your truest, most satisfied, and most faith-filled self.
The Happiness Dare Manifesto, a FREE download here. 
I'll send you The Happiness Dare's FREE journal and discussion guide download, if you subscribe here. 
#TellHisStory
Hey Tell His Story crew! It is a joy to gather here every week with you. The linkup goes live each Tuesday at 4 p.m. (CT). If you would use the badge on your blog, found here, that would be great! And if you would visit at least one other blogger in the link-up and encourage them with a comment, that would be beautiful! Be sure to check the sidebar later. I'll be featuring one of you over there!
Our featured writer this week is Katharine Barrett. As a child, walking home from school was a difficult experience. But then along came Beverly… The beauty found in walking each other home is a story you don't want to miss. Find Katharine here.
To be considered as our featured writer, be sure to use our badge or a link to my blog from your post. xo Jennifer