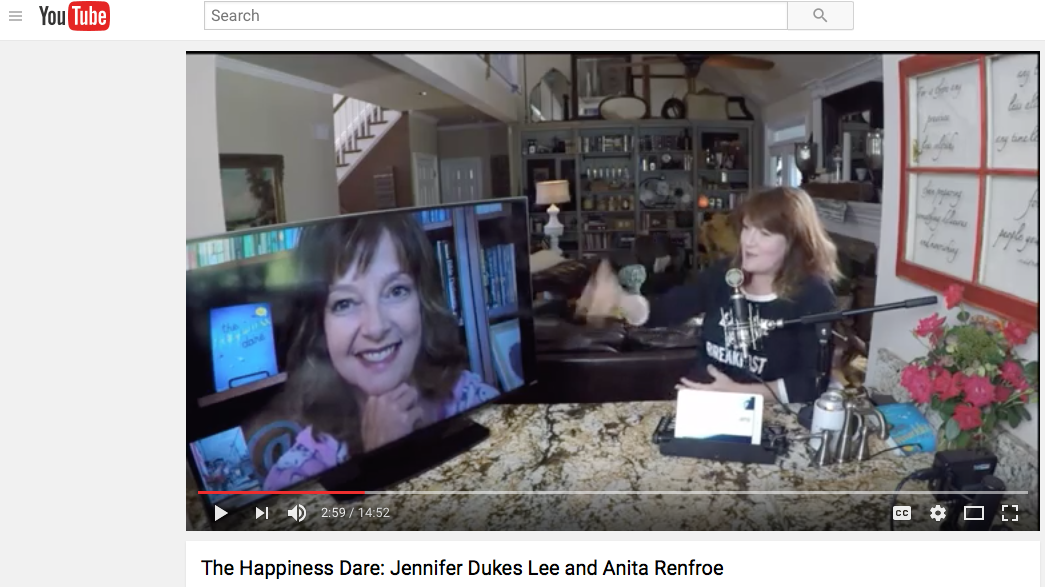 That Time When Anita Renfroe Took The Happiness Dare
When I wrote The Happiness Dare, it was a way to say, "Look what I discovered! I can't keep this is a secret!"
As the author of that long letter, I was super excited.
But I was super scared, too.
I had this fear, early on in the writing — a fear that I'm going to confess to you. I was afraid no one would open that book on happiness. I mean, I figured you would, because you're my people, my friends, my long-time readers. My goodness, how I adore you! But I wasn't so sure whether anyone else would dare to open the pages.
Even as I was writing the last chapters of the book, I feared that people would fall into two camps:
1 – "I'm already happy and don't need to read a book about happiness."
2 – "I'm worn out, sad, and weak — and happiness is too far out of reach."
If you've read The Happiness Dare, you know how vulnerable the emotion of happiness is. You understand why my book opens with these four words: "This book scares me."
So, two days before the book released, I flopped down on my couch, with my hands folded in my lap, and stared up at the ceiling, waiting for the familiar feelings of fear to return. Fears about sales, marketing, Amazon rankings, and all the other things that authors feel anxious about.
But the funniest thing happened. Those feelings of panic that I had felt early on while writing? They didn't return that morning. I kept sitting there, waiting for a wave of fear, but it simply didn't come. Instead, I heard these words in my spirit: "Wait for the surprises." It was like a whisper from God.
Yeah, I had a marketing plan, a radio strategy, talking points, podcasts, and a series of pretty images ready to share with you on Pinterest. But it seemed that God was saying He had something more to show me than what was on my neatly bulleted list. He had surprises outside of my plans.
One of those surprises came when I made a new friend.
Her name is Anita.
Anita had read my post over at Ann Voskamp's blog, and she tweeted about it. And then she tweeted me. A few hours later, she asked me to give her a call.
Anita was one of those surprises. Through her, God was answering questions that had rolled around in my mind for months:
Dare I release a book about happiness in times like these? Dare I encourage people to seek happiness in such a tumultuous age?
Yes, I did dare.
And, Anita Renfroe took that dare.
I'm guessing you know Anita. She's a Christian comedian. Masses of people have laughed over her William Tell version of everything a Mom says. Anita is the kind of person who says what everyone else is thinking, but are too afraid to say out loud. 🙂
Anita is a Dare Taker. And quite honestly, she was taking her own happiness dare long before I wrote this book. She's a "purveyor of fine joy."
Anita and I got together over FaceTime last week, and recorded a video that I'm so excited to share with you today! We recorded two segments: one for (in)courage that I'm sharing with you right here! We recorded another session that will be broadcast on her talk show tonight.
On the video, we talk about the need for joy breaks, the bravery of happiness, and why cake for breakfast is the best choice.
"You get to wake up every day and choose hilarity or insanity. And I'm going to pick hilarity every time," Anita tells me. "My life has been a long-term Happiness Dare. … You put to words what I have experienced."
You can watch our 15-minute video below. (Email subscribers may need to click here.)
I'm so grateful for Anita and others like her. I'm grateful for our new friendship and the God-Surprise of having her in my life.
Here are three things that Anita is teaching me today:
1 – In the video, Anita teaches us that happiness is the bravest choice of all. It's so easy to give in to the tide of cynicism. Happiness is a hard choice to make, but it's always worth it.
2 – By reaching out to me, Anita teaches a valuable lesson about reaching back to help others who are trying to make their way. Anita has been tremendously successful in reaching the masses with her ministry. Sometimes, people who make it big don't have a lot of time for lesser-known people just starting out. But Anita made time for me, because she believed in my message. That's a gift.
3 – My agent, Bill Jensen, recently wrote these words: "Serve Jesus and others and leave it at that. If you get a following keep doing the same thing." That's the way Anita leads her ministry, and that's the way I want to lead mine.
Book Giveaway
What did you learn from Anita today? Share in the comments. I'll randomly select from the commenters and send one winner a signed copy of The Happiness Dare. (Share this post on social media to enter your name in the drawing multiple times. Just let me know where you shared! I will draw a winner on Friday and contact the winner by email. I'll also post the winner's first name and last initial right here!)
UPDATE: LYNN M. is the winner of the book!
Related Resources
Anita's Talk Show, www.shejammygans.com
Anita's website, www.anitarenfroe.com
My book, The Happiness Dare, on Amazon
Anita and I are both "Doers." What's your happiness style? Find out by clicking here.
post contains affiliate link
#TellHisStory
Hey Tell His Story crew! It is a joy to gather here every week with you. The linkup goes live each Tuesday at 4 p.m. (CT). If you would use the badge on your blog, found here, that would be great! And if you would visit at least one other blogger in the link-up and encourage them with a comment, that would be beautiful! Be sure to check the sidebar later. I'll be featuring one of you over there!
Our featured writer this week is Kylie Howell. For those of us (all of us!) who have had prayers go seemingly unanswered, these words will be an encouraging reminder for your heart. Find Kylie here.
To be considered as our featured writer, be sure to use our badge or a link to my blog from your post. xo Jennifer