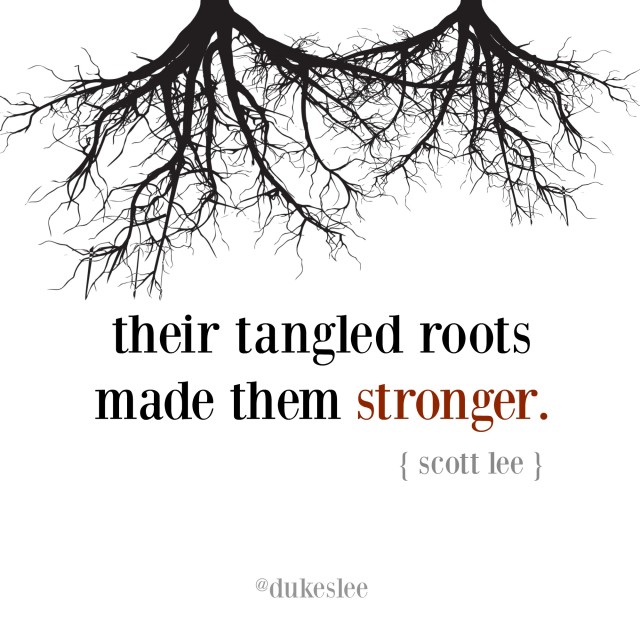 The Tale of Two Trees — #TellHisStory (Guest Post by Scott Lee!)
Every once in a while, I'll tease my favorite farmer. "Scott," I'll tell him, "you've got a lot of wisdom up in that noggin of yours. Why don't you guest post for me on the blog?" To which he says: "Never!"
To which I now say, "Never say never, Mr. Lee."
Ha!
Yep. Today's the day. Scott Lee — my main man, my hot date, my favorite farmer — is guest posting. We've been without a pastor at our church, so several interim pastors and lay-leaders have served in the pulpit. On Feb. 14, Scott delivered a beautiful message on marriage and relationships. He's allowing me to share a little bit of that story on the blog today.
Welcome my favorite farmer to the blog.
The Tale of Two Trees
By Scott Lee
I am a farmer's son, now a farmer. I'm a fisherman, a hunter, and a guy who loves the Great Outdoors.
I grew up loving nature, and I have always enjoyed being outside. So, it's no surprise that God sometimes uses nature to speak to me.
There's a beautiful oak tree near our house. I pass this tree often, sometimes three or four times a day. It's in a pasture a couple miles north, right across the road from our friend Helmer's house.

But take a closer look, from a different angle.
This isn't one tree. This is actually two trees. These trees had a tough life in that pasture. They weren't watered and fertilized. They withstood the wear of nature. Cows and deer, roaming these fields, have rubbed up against them for years.
One day, when I was passing by, it struck me that the life of these trees was probably a lot like a marriage. Those two trees started growing next to each other, and at times it probably felt like they were fighting each other, competing for water or sun or space to spread their branches. But then something beautiful happened: Their roots grew together and they became inseparable.
And those tangled roots actually made both of them stronger.
As they grew, they each had to sacrifice something, so they wouldn't choke out the other tree.  The trees grew "outward"– stretching their branches in different ways and different directions, reaching places that they might not have ever ventured, if they had to grow alone.
I noticed something else. In areas where they had a weakness, like a broken branch, the other tree would fill in. They complemented each other. And now this is what became of all that growth, all that pain, all that root tangling, all that movement upward, together:  this is a stunning tree, bigger and fuller than either of them would have been on their own.
This, to me, is marriage. A marriage that puts its roots down in God's purposes can become like this – it can become one stunning tree.
God created marriage, not for all of us, but for for some of us – and He wants to use marriage to help us grow and make us more like Jesus.
Your Turn: How have your tangled roots made a relationship grow stronger with a spouse, a friend, a parent, a sibling, a child? What else do you see in the picture? 
#TellHisStory
Hey Tell His Story crew! It is a joy to gather here every week with you. The linkup goes live each Tuesday at 4 p.m. (CT). If you would use the badge on your blog, found here, that would be great! And if you would visit at least one other blogger in the link-up and encourage them with a comment, that would be beautiful! Be sure to check the sidebar later. I'll be featuring one of you over there! Our featured writer this week is Mary Geisen. Her story about meeting Sylvia is just lovely… "We may find ourselves staring at a blessing not knowing it really is the hands and feet of Jesus." Find Mary here. To be considered as our featured writer, be sure to use our badge or a link to my blog from your post. 🙂 xo Jennifer