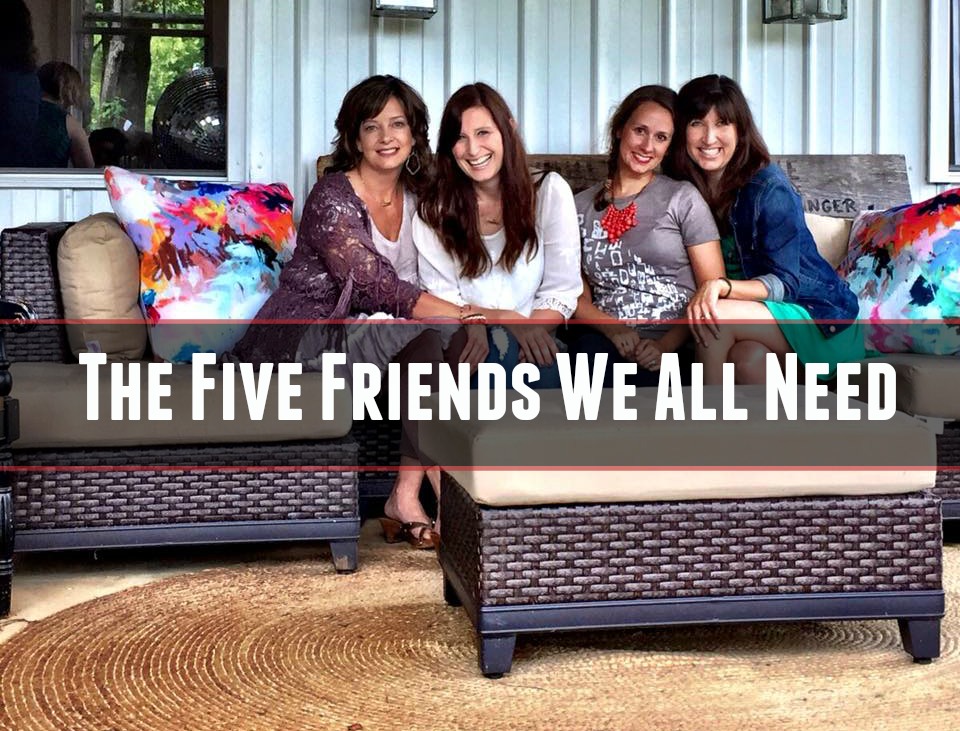 the five friends we all need — #TellHisStory
I've been thinking a lot about friendship lately, and what it means to be a good one.
Maybe it's because I have been watching as my daughters figure out how to navigate the ever-changing landscape of teen and preteen friendships. Maybe it's because I went through a recent bout of loneliness that nearly did me in. Maybe it's because as I've gotten older, I have observed how people come and go through different seasons of our lives.
As I've grown older, I've learned to cherish the rich relationships — past and present — that have folded into the fiber of my soul.
Social media will tell that the more friends you have, the better you are.
But that's not true at all.
Friendship is about depth, not width.
Blessed is the woman who has a handful of really dear friends. The kind of friends who will bring the Kleenex on the hard days, and be gentle with your messiest self. The kind of friends who will overindulge with you at the Cheesecake Factory, and who will help you find some shred of humor before getting a mammogram or a root canal.
We all need that friend who will love us through the crappy days, the awesome days, and the meh days. We need friends who aren't intimidated by our successes, scared away by our tears, or astonished by our mistakes.
We don't need 2,000 friends to do that. Most of us need five.
These are the five friends we all need.
1 – The friend who doesn't settle for fine
The best kinds of friends don't take "fine" for an answer. They see through your Sunday smile.
I have a friend like that, and when she sees me at church, she has a way of seeing past the fiction I sometimes try to manufacture. It's called Friend X-Ray Vision.
When life is hard, we need the friend who doesn't settle for pat answers. She's the kind of friend who asks, "How are you?" And then she sticks around to hear the long answer. The friend who doesn't settle for fine is a creative listener, hearing what others don't hear.
But the coolest part of all? She doesn't try to shove you out of your lament. Instead, she sits down in it with you. She doesn't force you to heal on her own timetable. She doesn't prod you into cheerfulness. She lets you be un-fine and messy with mascara running down your cheeks. She's the one who brings out the Kleenex, and sits close enough so you've got a shoulder on which to rest your weary head.
Friends who don't settle for fine remind me of Piglet.
Pooh told Piglet: "I don't feel very much like Pooh today."
"There, there," said Piglet. "I'll bring you tea and honey until you do."
This is one of the best ways we can look after each other. We can bring good words and cupcakes and hot tea and honey and hope. We can be the ones who are the kindness givers and the Kleenex-bring-ers and the joy donors when they are running on empty.
2 – The older friend
Have I ever told you about Hazel? She's in her early 90s now, and if you've read Love Idol, you've met her in the last chapter.
The thing about having an older friend like Hazel is that nothing shocks her. She's been on the earth, after all, for nearly a century. She's survived great personal tragedy, deep grief, the Depression, financial strain, unmet expectations, and more.
There's hardly anything I've gone through, that Hazel doesn't understand.
Older friends have the perspective of years.
They also help us slow down. Our older friends didn't grow up in an on-demand culture where we get whatever we want with a click, a scroll, and a few keystrokes. Last time I asked her, Hazel had no idea what Twitter was. And if I've got a problem in my life, her first instinct is to go to God, not Google.
Every one of us can benefit from the older friend.
3 – The friend unafraid of vulnerability
I spoke at a conference recently when I was reminded about the power of our vulnerability.
A woman who attended the conference came up to me afterward, holding her sleeping baby. The woman told me that she had heard me speak during a webcast several months earlier and had cried through the whole thing. She was pregnant, and had been feeling very insecure about her pregnancy, her body, and the overwhelming nature of adding another child to their already busy household.
"You said all the things I had been feeling, but until then, I thought I was the only one," she said. "That night, I went home, looked at myself in the mirror and was genuinely happy, at last, to be pregnant. The next day my water broke. In my entire nine months of pregnancy, I had only one day when I was happy to be pregnant. That was the day you were vulnerable, and let me know that I wasn't the only one who felt scared and overwhelmed."
That's the power of being vulnerable. That's the power of "going first," and taking off our masks.
When we dare to be deeply seen and fully known, we give other people permission to deeply see and fully know themselves. When we are vulnerable, we are awake to who we really are.
A true friend is someone who dares to be herself– and shows us how to do the same.
Vulnerability is a strange and scary land. It makes us feel so fragile, but once we turn ourselves inside out, it's actually what makes us strong.
We all belong to each other, and we are best together when we offer the realest versions of ourselves.
 4 – The friend who is different from me
I lived the first half of my life with friends who looked a lot like me. Everyone in my neighborhood — almost everyone in my little world of northwest Iowa — was white.
My limited exposure to people of color came through the Zenith console TV in our living room. Hunched over a bowl of dry AlphaBits, I would watch Gordon on Sesame Street. Or the Cosby's. Or the Harlem Globetrotters. That was a rural Iowa white girl's brush with diversity.
Maybe I was afraid to have friends from other cultures or other races because I was afraid I'd say or do something stupid. Maybe I was afraid I'd mess something up. But fear has always been a horrible excuse for not doing the right thing. 
If God went to the effort of thinking up all these colors and cultures and languages, it seems we ought to get to know each other, and learn from one another, and risk making mistakes.
The friend who is different from me will teach me things that I could have never learned if I stayed in my homogenous circles. The world's a pretty cool place. Let's get to know some of the people who live in it.
5 – The friend who believes in you when you don't believe in yourself
I had a full-on freak attack the other day with a friend.
"I don't know if I can do this," I told her. "I don't know that I'm ready or equipped. I know that God is strong in our weakness, but some days, I feel like the exception to his rule."
My friend reminded me who I was, and she reminded me who God was. She was a safe place to take my worst fears, and to shed my pride. I laid bare all of my inadequacies and self-doubts, and she held them carefully in her hands.
She built a little scaffolding for my shriveled-up self with these five words: "Jennifer, I believe in you."
I don't know what I would do without friends who believe in me, even when I don't believe in myself. We all need a friend who trusts that we are going to make it, even when we aren't so sure ourselves. We need the kind of friends who remind us how far we've come, and who hold a candle to light up the path ahead. We need the kind of friend who is willing to loan us her faith when we've lost our own.
This is the kind of friend I want to be.
I want to be the friend who will fight for you, even when you aren't sure how to fight anymore.
I want to be the kind of friend who holds a candle to your path. There is nothing quite so life-giving to me, as speaking life into another woman.
None of us loses our light when we share it with another. We only make the world a brighter, better place.  Together. 
$50 Giveaway for Dayspring's New BETTER TOGETHER Collection
Today, I'm happy to introduce you to the new Better Together collection at Dayspring.com. One lucky winner will win a $50 online gift card to use in the Better Together collection. Find the entire collection by
clicking here.
Items featured in the post above include, the
cosmetic pouch
,
the inspirational globe
,
the luggage tag
, and a
printed canvas block
.
Use coupon code BETTER20 for 20% off the collection! Code is good through 10/30.
To enter the $50 giveaway, let me know in the comments that you would like to win! Shares on Twitter and FB earn more entries. Be sure to let me know that you've shared, so I can put your name in multiple times — once for each mention, and once for your comment!
#TellHisStory
Hey Tell His Story crew! It is a joy to gather here every week with you. The linkup goes live each Tuesday at 4 p.m. (CT). If you would use the badge on your blog, found here, that would be great! And if you would visit at least one other blogger in the link-up and encourage them with a comment, that would be beautiful! Be sure to check the sidebar later. I'll be featuring one of you over there! Our featured writer this week is Micah Maddox, and I'm thrilled to pass along her message that you don't have to always be strong. God's got it, remember? Find Micah here. To be considered as our featured writer, be sure to use our badge or a link to my blog from your post. 🙂 xo Jennifer
post contains affilate links