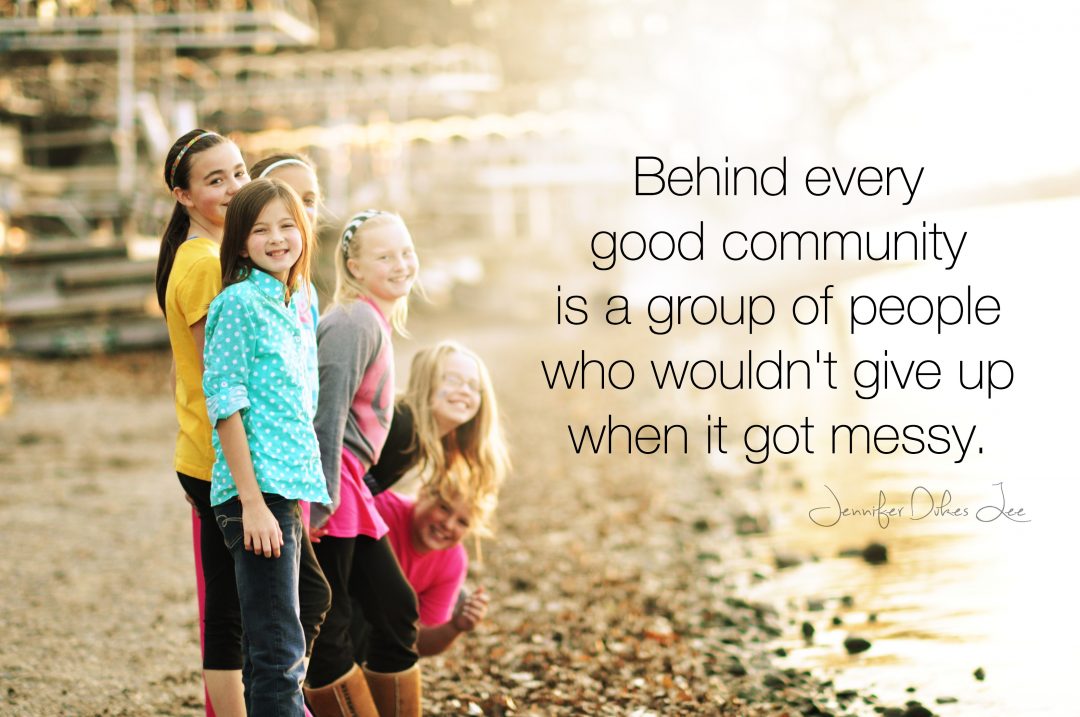 #TellHisStory: When Community is Hard Work
The phone rang. My friend's last name flashed across the caller ID.
When a friend dials that late, you know it's probably a distress call.
"Hello?" I whispered into the phone from the darkened living room. "You OK?"
The wobble in her voice betrayed her tear-soaked distress. But I didn't know yet that a decision my husband and I had made as a part of a ministry board, was the source of her deep anguish. Her sorrow turned to anger in an instant, and it dropped on me like a guided missile. I sank deep into my chair, with my legs curled under me — like maybe I could sink into the dark. But I couldn't hide: It was a direct hit.
She questioned everything: our decision, our commitment to prayer, even our faith in Christ.
I said almost nothing, stunned and hurt, knowing that we made a very hard decision only after intense prayer, discussion and counsel. Silent tears streamed down my face.
That painful torpedoing happened several years ago, but the heart-bruise is still tender when I touch it.
Moments like those? Those are the moments when you are tempted to run away from leadership, from the church, from community. You want to retreat into a foxhole and never peek your head out, except when the delivery guy brings pizza. You decide that "yes" is a dangerous word.
You also are tempted send a missile back to the accuser and a missive back to the church: "Look, if you think you can do this job better, by golly, you can have it."
You want to quit. 
But the thing is, peace is never made on the missile-launch pad. It happens only when people lay down word-weapons and gather at tables for the hard work of getting along.
***
My heart-sister Lisa-Jo once quoted me some verses along those lines. We were sitting together at a breakfast table, talking about what it takes to build community in the midst of conflict. She read Scripture from her iPhone Bible app, but you could tell by the conviction in her voice, that the words were already written straight onto the curve of her heart.Listen closely, as Lisa-Jo reads the words from James 3:17-18 to us:"You can develop a healthy, robust community that lives right with God and enjoy its results only if you do the hard work of getting along with each other, treating each other with dignity and honor." (From The Message paraphrase)
Lisa-Jo leaned across the table and said this to me: "If it's hard work, it doesn't mean you're doing community wrong. In fact? The hard work might be a sign that you're doing community as God designed." 
Community will be messy and difficult and strenuous and back-breakingly exhausting. Of that, you can be certain. Sometimes it can feel mean and missile-launch-y and nasty, like you want to resign from the committee, move out of town, find a new circle of friends, race for the nearest foxhole and order pizzas for the rest of your life.
But you can also be certain that community is the way we make a difference in the world. We're better together. To work best, community will need to pass through the Refiner's Fire.
Hard work isn't an option. It's an obligation.
Behind every good community is a group of people who wouldn't give up when it got messy.
Sitting at the table with Lisa-Jo, I remembered that painful encounter years earlier. I remembered how God brought me to the table with the woman on the other end of that phone call. (God still hasn't fully healed that relationship, but I have hope.)
I remembered the people devoted to working hard and praying us all through that painful season as we sought to do His will. None of us was alone.
I think now of the Upper Room, and a 12-member community of rabblerousers, doubters and betrayers. Imagine the baggage those men brought to the table, and how they once argued over who would sit beside Jesus in Heaven.
Imagine how the disciples may have rolled their eyes at Thomas, with his incessant questioning. And how they must have been irritated with Peter's impulsive behavior. And the way they probably seethed with jealousy when "the disciple whom Jesus loved" was pulled aside for one-on-one attention.
But they had to work hard to get along. And Jesus took that hard work all the way up a hill, to Golgotha. 
So don't believe for a second that community is crumbling around you, just because it feels hard right now. Know this instead: Because it's hard, you may have proof that community is coming to life. 
#TellHisStory
Hey Tell His Story crew! It's always a joy to gather here every week. The linkup goes lives each Tuesday at 4 p.m. (CT). If you would use the badge on your blog, found here, that would be great. And if you would visit at least one other blogger in the link-up and encourage them with a comment, that would be beautiful!
Be sure to check the sidebar later. I'll be featuring one of you over there! Elizabeth is our latest featured writer. I love what she had to say about friendship on her blog: "Maturity realizes that there's only one me and there's only one you, and though my friend may have five other friends, there's only one me in her life.  Relationships shouldn't be a competition.  Being true to being who you are makes you irreplaceable.  Trying to be like others in order to be liked and accepted makes you just another face in the crowd."
(To be considered as our featured writer, be sure to use our badge or a link to my blog from your post. 🙂 )
xo
Jennifer