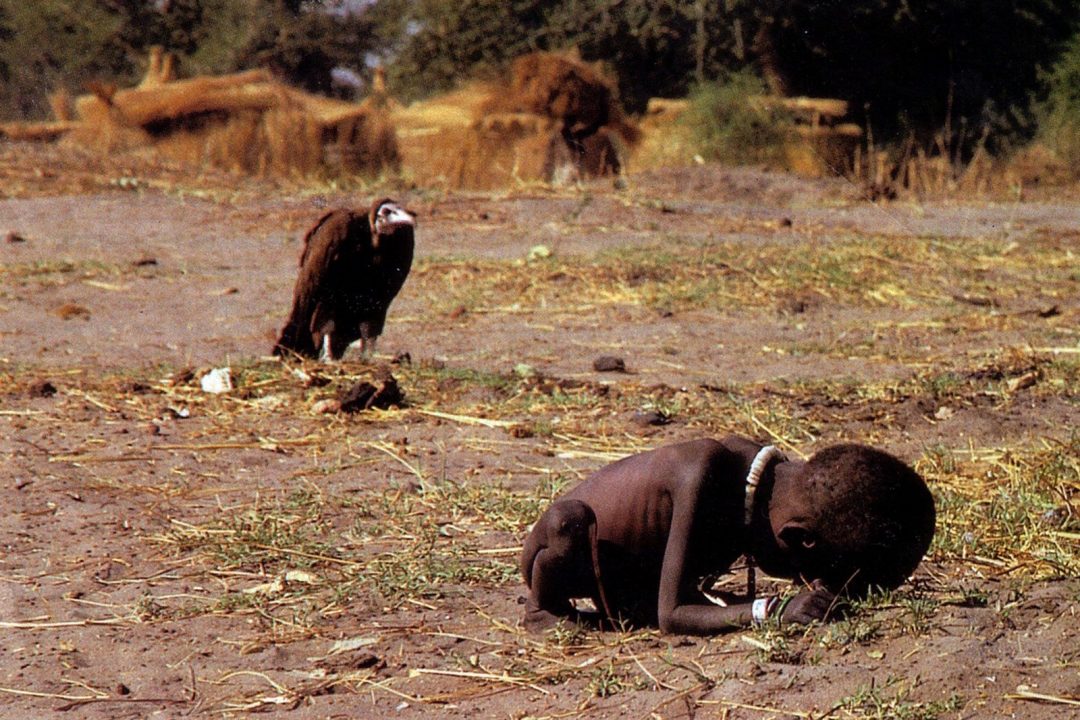 #TellHisStory: What It Really Means to Have Compassion
The museum was closing in half an hour, and I knew we wouldn't want to miss the Pulitzer Prize Photography Gallery on the first floor. The gallery includes prints of every Pulitzer-Prize winning photograph taken since 1942. We moved slowly along the wall, lingering at each image, all of us hushed in remembrance.
The images are deeply etched into our world's collective history and memory.
Then, one photo brought me to a full stop. I hadn't seen it in years, and had forgotten about it, despite its horrendous imagery. I stood in front of it for several minutes, taking in every inch of agony, captured and framed in a quiet hallway in Washington, D.C.
At first I saw the emaciated child, crouched with her forehead to the ground. Her shoulder blades point skyward; her rib cage looks like prison bars.
You can't look at the photo without wanting to jump behind the glass, to free her. You want to pick up the child and rescue her. She was trying to make it to a feeding center during Sudan's famine, and collapsed right there. The world wept over this image.
Then, I looked behind the girl to see it: the plump vulture, so eager, so patient, waiting for the child to die.
Somewhere, in a place we can't see, crouches the photographer, lens to eye.
It was 1993.
The photographer had found the girl when he heard a soft whimpering. He snapped frame after frame, hoping for the perfect picture. He told reporters later that he sat in his hiding spot for 20 minutes, quietly, so he wouldn't scare off the vulture. He got his image, and then shooed the bird away.
But he didn't pick up the child.
The New York Times ran the photo in March of that year. The reaction to the picture was strong. People were outraged when they learned that the photographer didn't pick up the child and carry her to the feeding center. The New York Times later reported that the child had resumed her trek to the feeding center, and made it there on her own.
But the photographer told a friend, "I'm really, really sorry I didn't pick the child up."
Months later, the photographer, Kevin Carter, won the Pulitzer Prize for the photo.
He told an interviewer that after he won, he sat under a tree for a long time, "smoking cigarettes and crying."
A few months later, he took his own life, leaving a note behind that said — "I am haunted by the vivid memories of killings & corpses & anger & pain . . . of starving or wounded children, of trigger-happy madmen, often police, of killer executioners . . . "
I stood in front of that photo at the museum with a range of emotions coursing through my body:
First, I felt horror over the reality of famine in our world. The photo is 1993, but the problem is so very 2015.
I felt anger at the photographer, then pity and sadness, and also — perhaps oddly — gratitude, because in many ways, this one photo brought the plight of the Sudanese into full focus. One of Carter's colleagues remarked that if it weren't for that photo, "we wouldn't know how to spell Sudan."
But more than anything else, I felt a sense of inner conviction.
The words of Kevin Carter stir in my heart today: "I'm really, really sorry I didn't pick the child up."
I have to ask myself: Who have I failed to pick up?
Where have I watched the wounded through the lens, and after my twenty minutes were up, when did I walk away?
Right now, somewhere in the world, a child is bent over dying, while a vulture waits. Who will pick the child up?
Right now, somewhere in my country, a child is beaten down by poverty and abuse. Who will pick the child up?
Right now, somewhere in my community, a child is quietly crying out for someone to notice her. Who will pick the child up?
I don't know if you or I will ever have an opportunity to pick up a Sudanese child, and carry her to the table. But right now, somewhere in our own corners of the world, we have the means to pick someone up, to invite them to the table, to carry them to a feast. If we know Jesus, we know where the feast is. And we know what our call is. To pick up crosses, and to pick up people.   
Turn down any street, walk through any airport corridor, step through the doors of any hospital or church or schoolhouse, and you'll see them: people who are begging that someone will pick them up.
Who will pick the child up today? Or the grieving widow? Or the cancer-ward patient? Or the homeless guy on the corner? Or the broken-down teenager in our own churches? Or the veteran suffering from PTSD?
I don't want to be found, at the end of my life, to have been an observer in the wings, watching through lenses as horrors unfold. The lenses are my car windows, my computer screens, … my sunglasses.
I don't want to be found, at the end of my life, with a prize that came with only earthly honor, and not Godly glory.
"I have always had it all at my feet," read the last words of Kevin Carter's suicide note. Sobering words for us all.
I don't want my tombstone to read: "Here lies a woman who lived with good intentions, but died with deep regret."
Kevin Carter's photo, called Struggling Girl, is a clarion call for all of us to keep our eyes open for the sufferers — to feed the sufferers, to stand with the sufferers, to kneel with the sufferers, to carry the sufferers to the table of grace.
We weren't meant to merely observe the sufferers; we are meant to suffer with them.
The word compassion is not a word of observation. It is a word of action. Compassion is a noun, but in the heart of a Christian, it ought to be a verb.  The word compassion comes from the Latin stem compati meaning "suffer with."
That afternoon at the museum, someone announced over the loudspeaker that it was time to go. The museum was closing.
Before I turned from the photo, I snapped a picture on my iPhone, to carry her with me … and to bring her to you. I want to always remember — God called me to be a picker-upper, a carrier, a woman whose compassion matched her conviction. I don't ever want to forget that we are called to love as Jesus loved. I can't forget that we have been carried by a Great Love who had compassion for us, who "suffered with," who made compassion a verb on a cross.
What a tragedy, if we were to live this life having "always had it all at our feet," but didn't fully let it change our hearts for our fellow man.
I won't forget you, little child. I won't forget you. I have picked you up, and I have carried you home. 
#TellHisStory
Hey Tell His Story crew! It's always a joy to gather here every week. The linkup goes live each Tuesday at 4 p.m. (CT). If you would use the badge on your blog, found here, that would be great. And if you would visit at least one other blogger in the link-up and encourage them with a comment, that would be beautiful! Be sure to check the sidebar later. I'll be featuring one of you over there! Our featured writer this week is Becky Keife. She is sharing the story behind a song she wrote in a Trader Joe's parking lot. Find Becky here. To be considered as our featured writer, be sure to use our badge or a link to my blog from your post. 🙂 )
xo Jennifer