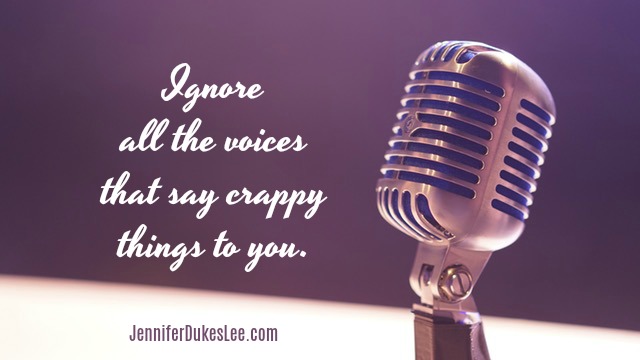 Six Words That Can Make ALL The Difference
I don't talk about the devil much. I hate to give him too much press or too much credit.
But some days, there's no way around it. He's got to be called out for who he is: liar, liar, pants on fire. 
Today is one of those days.
Today is a day when I might be tempted to believe the wrong stories about me. You too?
Yeah, it happens from time to time, to all of us. It doesn't matter how many initials you have behind your name, or how big your office is, or whether you're a life-long Christian, or if you just met the Lord for the first time yesterday afternoon. It doesn't matter if you wear yoga pants or three-piece suits or your pajamas all day long. If we are in Christ, the devil is prowling around us.
And it gets even worse than that. Because the devil doesn't just prowl around to mess with you, harass you or tease you. He wants to devour you.
"Your enemy the devil prowls around like a roaring lion looking for someone to devour" (1 Peter 5:8).
The main way he tries to devour you is by attacking the most precious thing about you: your identity in Christ. I've been under that kind of attack a lot lately.
My main job — aside from parenting — is ministry. So I constantly hear the lie that I am worthless when it comes to communicating a message. Lately, every time I sit at this computer, it feels like I'm entering a boxing ring. So frustrating!
The punches come in the form of soul-pulverizing messages that I'm not smart enough or capable enough to write books and blog posts and keynote addresses for you. When that happens, I have learned to call a friend, the kind of friend who will speak the truth into the darkiest dark parts of my heart. We all need friends like that — the kind of straight-talking friend you can get honest with, the kind of friend who won't let you believe your own false narratives.
I used to start those phone conversations like this: "Hey friend, Can we talk? I'm feeling like I'm not (_____) enough today."
But then, one day, I was on the phone with my friend Deidra. And she asked me two questions that changed things for me: "What's the lie that the devil is telling you? What's the lie that you are believing about yourself?"
That completely changed how I framed my not-enoughs. I had immediately assumed that the negativity I heard directed at me was the truth. Deidra, however, immediately assumed it was a lie.
After talking with Deidra, I took a step further than merely identifying my feelings — "I'm feeling like I'm not enough today." And I began to see my not-enoughs as actual lies that I was believing about myself.
So the other day, I got to feeling out of sorts about a few things and I began to walk down that bumpy road of intense self loathing, which can actually feel aggressively violent. But instead of telling someone how I was feeling, I reminded myself what the devil was saying.
These are the six words that can make all the difference today: "The lie I am believing is …"
Friend, you feel it, don't you? You feel the brush of a lion prowling around you. He wants to attack your identity and tell you that you're a loser. He wants to convince you that you don't have what it takes. He wants you to forget that you already have everything you need to carry out your work in this world.
But the devil is a liar (John 8:44).
Start here: Ignore all the voices that say crappy things to you. And then, ask yourself two questions: "What's the lie that the devil is telling me? What's the lie that I am believing about myself?"
Because when we realize we're listening to actual lies, we are one step closer to being the person we were made to be. We are taking the first step in carrying out the small and big acts of obedience that change things — possibly for all eternity.
You got this. Because God's got you. And that's the TRUTH.
#TellHisStory
Hey Tell His Story crew! It is a joy to gather here every week with you. The linkup goes live each Tuesday at 4 p.m. (CT). If you would use the badge on your blog, found here, that would be great! And if you would visit at least one other blogger in the link-up and encourage them with a comment, that would be beautiful! Be sure to check the sidebar later. I'll be featuring one of you over there!
Our featured writer this week is Julia Dale. I was challenged by her words here: As a mom, I have to stop and ask myself "Am I leaving a legacy of worship?" And, if the answer is "Yes," the more telling question might be "Of what?" Find Julia here.
To be considered as our featured writer, be sure to use our badge or a link to my blog from your post. xo Jennifer