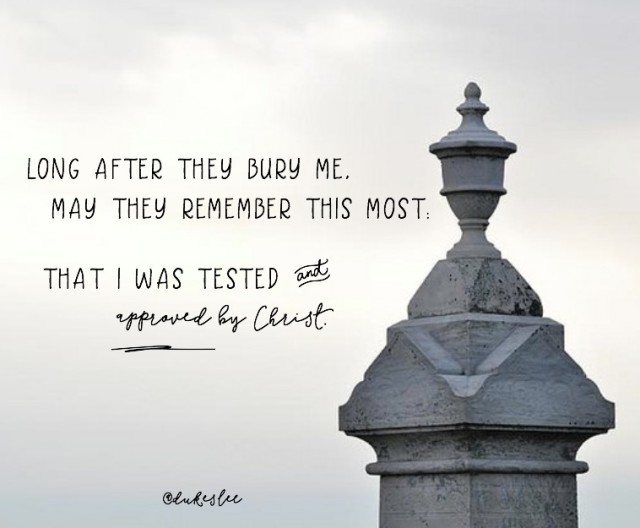 the secret to stop feeling like a failure – #TellHisStory
I always wanted the A. Anything less felt like failing.
But back during freshman year of university, I unfolded my mid-term grade report, smoothing it out on my desk.
That day, I found this fat D+ on the grid of my mid-term report. I was nearly failing math, and I took it personal. I felt a single letter wrap its whole self around my identity, and I became the D+.
Sometimes you can make the grade. And sometimes, the grade can make you.
Fast-forward.
We grow up, but still feel 18 on the inside.
We trade mid-term reports for the soft middle of middle-age. And we still go around looking for proof that we're making the grade.
We know better. We are the Jesus people. And we know that our worth isn't defined by magazine covers and report cards and the approval that the culture is hawking.
We don't want what they're selling.
But we are buying anyway.
How easy it is to believe what we don't really believe: that our value lies somewhere out in the lists of Who's Who.
Even among Christians — despite what we know in the depths of ourselves – there is great enthusiasm for being noticed, perhaps at the expense of the quiet acquisition of virtue.
We risk making rankings a religion.
Chuck Colson said it like this in 1984: "The church is in almost as much trouble as the culture, for the church has bought into the same value system: fame, success, materialism, and celebrity. We watch the leading churches and the leading Christians for our cues."
Decades earlier, A.W. Tozer wrote: "Promoting self under the guise of promoting Christ is currently so common as to excite little notice."
Go back further, to a dinner table where Jesus of Nazareth broke bread with His closest friends. The clock was ticking toward Jesus' betrayal and death, but a dispute arose among the disciples "as to which of them was considered to be the greatest."
It's part of our human condition: We want to be known. We want to be great.
And God is whispering it to our love-hungry hearts: You already are. You are known. You are loved. You are approved.
Look how much.
God is extending this invitation to all of us.
An invitation to focus on the inward life, hid with Christ in God.
Yes, the pixels flash and the gloss glares with a tired old message: Be more, climb higher, get bigger in this life.
There's a better way. There's the way of Apelles.
I found Apelles in Scripture, while writing a book about approval and identity. It was the happiest accident, when Apelles met me in my living room.
Find Apelles at the tail end of Romans, but don't blink, or your might miss him. His name is plopped, unpretentiously, in the middle of a list of names. He's neither first nor last.
Apelles is us — dwelling in the ordinary middle.
At the end of Romans, Paul closes his remarks with a long list of greetings to friends. Paul writes this of Apelles: "Greet Apelles, tested and approved in Christ."
That's it. No other mention of Apelles in all of Scripture.
Paul goes on and on about a whole lot of other folks, about how they were good and faithful servants.
But Apelles? He's not the star of the list. At most, he's Honorable Mention. He merits only five words: "Tested and approved in Christ."
But I drew in my breath when I read those words.
Because they may be the most important words of all. Those are the life-changing words: tested and approved in Christ.
What if we could live like that? What if we could live like Apelles? And what if, long after they bury our bodies, they remember this most — that we were tested and approved in Christ?
That morning, my fingers flew across the computer keys, as I tapped words that made their way into the final pages of a book:
"This is all Apelles will ever be known for, that he was 'approved in Christ.' And in the end, it may be all that really matters.
He was not Apelles the Great. He was not Apelles the Hero. No mention of Apelles the Popular, Apelles the Witty, Apelles the Man of the Year, Apelles the Valedictorian.
He was Apelles the Approved.
I wonder often about Apelles's earthly life.
He may have been the nobody in the back row. Or he might have a been a big somebody who preached about Jesus among crowds in Rome. Apelles may have fought the same battle we've been fighting. He may have, at times, been jealous or envious, or wished for a greater mention by key Christian leaders like Paul. Maybe he felt unloved by his parents. He may have fought approval until his last breath. …
I won't know on this side of life. But on the other side of forever, when I come into glory, I want a lunch date with Apelles.
Maybe he will tell me that he lived out his days satisfied what Christ's love and approval were enough. I am sure that Apelles will tell me that, in the end, he had the only stamp of approval that really mattered.
What if we became the Apelles Generation?
What if we became the generation that forewent the lists and tiresome rankings? What if we would patiently acquire virtue, not seeking human accolades but waiting in anticipation of the "divine accolade"?
What if we remembered that the only approval that really matters? Is God's.
What if our own epitaphs read like that of Apelles:
"[insert your name here], tested and approved in Christ."
Not the approval of our peers or the ones at the cool kids' tables.
But the approval of Christ.
We could break from the patterns of the world. We could stop making a religion out of rankings. We could refuse to put our worth in the bank of our accomplishments. We could live like Apelles, invested wholly in Christ.
Apelles, in Latin, means artist. He was the artist approved in Christ. And in Greek, the name means "excluded and separated."
Could we willingly be excluded? Could we, artists and writers and mothers and fathers and preachers and teachers and ordinary, everyday pilgrims — could we willingly lay down our lives for a life separated with Christ — a life hid in Christ with God?
And there, we would find the only approval that matters. 
And we would know it with certainty:
that it's the approval we always had.
The Prayer of the Apelles Generation
Lord, we ask you: Make us the Apelles Generation.
Make us about the cause of Christ.
Break any resume, platform, microphone, report card, accomplishment or act of service, if it does not bring You alone glory.
Strip us of any desire in our crowded hearts to be applauded. Don't let us get paralyzed by popularity. Make each of us a modern-day Apelles, content with being approved in Christ alone.
Make us servants. Make us holy.
Don't allow us to overlook the overlooked. Give us aprons and basins.
Because we don't want to get to heaven and find out that for everything we ever said or wrote or preached, that we missed out on the chance of serving You. Of kneeling beside. Of washing the feet of a King.
Of being known foremost as a window to Christ — tested and approved in You.
Amen.
#TellHisStory
Hey Tell His Story crew! It is a joy to gather here every week with you. The linkup goes live each Tuesday at 4 p.m. (CT). If you would use the badge on your blog, found here, that would be great! And if you would visit at least one other blogger in the link-up and encourage them with a comment, that would be beautiful! Be sure to check the sidebar later. I'll be featuring one of you over there! Our featured writer this week is Tammy Mashburn. She shares about a recent day that didn't go as planned… and how she found grace in the middle of it all. Find Tammy here. To be considered as our featured writer, be sure to use our badge or a link to my blog from your post. 🙂 xo Jennifer
post includes affiliate link